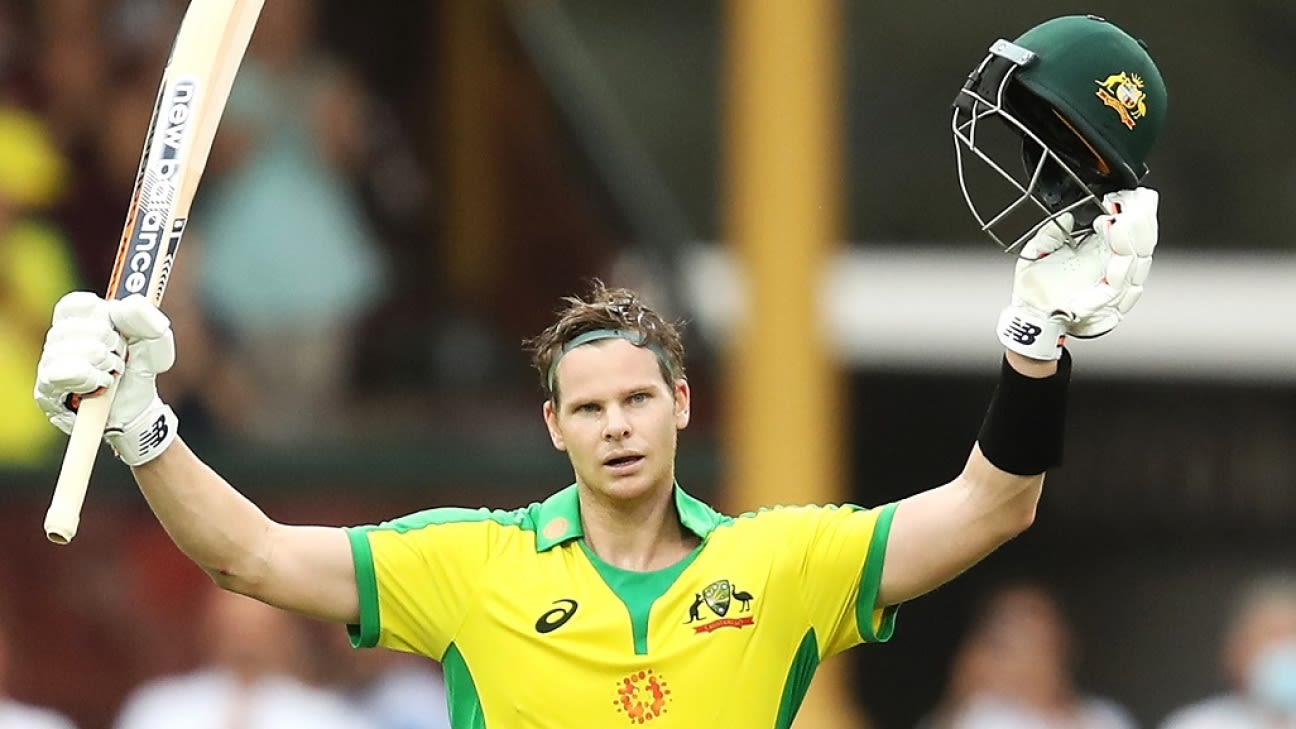 2021 T20 World Cup – Steven Smith says his role is to 'fix the higher order' if early wickets fall
New
Smith's floating stance is in part designed to overcome the harsh hitting conditions exposed to the UAE
Aussie hitter Steven Smith believes the T20 World Cup could become a piece to the finish line rather than a stunt of limits as he embarks on a new mid-order role that will be key to may Australia overcome the conditions if they turn out that way.
Australia's opener against South Africa in Abu Dhabi fell somewhere between the extremes, as 118 provided a difficult pursuit and although Smith suggested that two questionable
batting
displays played a role, he wouldn't be surprised to see this model more regularly.
"Even throughout the IPL there was a lot of really disjointed cricket, not huge scores, which made the games pretty interesting and pretty close," he said. "Slightly different from a lot of T20 cricket, it is often flat wickets and big scores, so you have to change the way you play slightly and adapt to what is required on that surface. It has been interesting so far. 'now.
"Don't think the other day 120 was telling from the surface. Both teams played and lined up really well and probably didn't hit very well, but I think we'll see a lot of rambling cricket in this tournament."
Smith's floating position in Australia's batting order is in part designed to overcome these difficult conditions. In both warm-up matches against New Zealand and India, and then in the group opener against South Africa, Smith came in at No.4 with Australia losing early wickets in numerical advantage. If David Warner's top three, Aaron Finch and Mitchell Marsh collectively shoot, Smith is likely to cede ground to Glenn Maxwell and Marcus Stoinis.
"It's a little different from what I've played before, but my job is basically to fix it if our first order doesn't end, so if our first order goes well, chances are I'll slip towards down the order and let our big strong boys come out and attack it, "he said." I think I did it pretty well in the first two test games and our first game. "
Renowned ball worker, Smith managed 35 of 34 balls against South Africa and looked set to bring Australia closer to victory before a nice power grab from Aiden Markram put an end to their stay.
"Think you need the ability to come out of the strike, to handle the ball in certain areas more than the power," Smith said. "Some of these wickets, even the powerful guys, struggled to hit the six, so you need a little bit of intelligence about yourself, playing the situation and having the ability to limit bullets to. points."
In the months leading up to this tournament – and the IPL before it – Smith was recovering from a recurrence of the elbow problem he suffered earlier in the year. At the start of his comeback he was limited to 10 minute net sessions as part of a gradual comeback to deal with the issue, which wouldn't have been easy for someone with such love of the stick. even outside of games.
He still manages his offside workloads somewhat by not beating for three straight days in practice, but he's confident he overcame the problem before the increased demands approached the Ashes.
"On the days I hit, I hit for as long as I want, which is really good," he said. "I'm still fine for now, just making sure I only beat two days in a row and I'm going to rebuild myself as we get closer to playing longer format stuff."
Smith is confident he will have adequate preparation when the team returns from the T20 World Cup which will involve a two-week quarantine although training is allowed. Whether the Australians will have a good game ahead of the first test at Gabba on December 8 remains to be confirmed, but a great team is expected to travel to Queensland to help with the preparation.
"It'll be fair to hit a lot of balls in the build-up," Smith said. "There's not much else we can do in this time of the pandemic. We're going to have some really strong head offices and practice sessions where I know our fast bowlers are going to be bracing themselves, so they won't be missing. no quality practice. "
Andrew McGlashan is Associate Editor at ESPNcricinfo