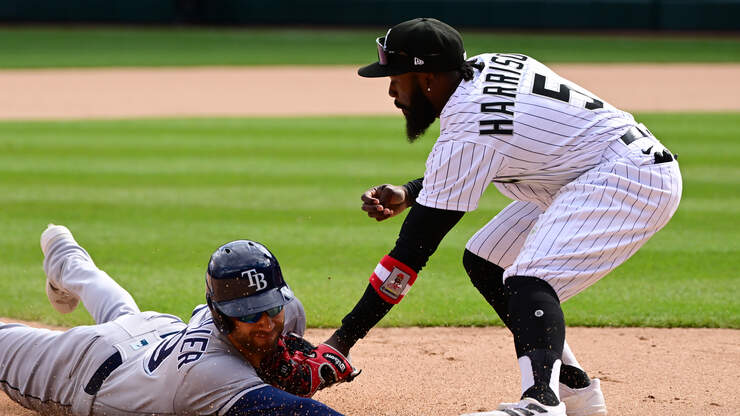 Baseline and fielding errors send rays to 4th straight loss | 95.3 WDAE
The Chicago White Sox (6-2) beat the Tampa Bay Rays (4-5) 3-2 on Saturday afternoon in Chicago. It was the fourth straight loss for the Rays and gives the White Sox a series win in the three-game series.
The Rays scored first in that game, thanks to a sacrifice fly from Harold Ramirez in the first inning to make it 1-0.
The White Sox got their first runs in the game in the fourth inning. Moments after a pitch error by pitcher Corey Kluber on an out attempt, Jose Abreu hit a two-run homer to make it 2-1 in Chicago.
Despite Kluber's error, he was mostly effective in his second start, allowing two earned runs on four hits while striking out four and walking none in five innings of work.
Tampa Bay tied the game with an RBI single from Manuel Margot in the top of the sixth, before the Rays again made a key error down the frame. After Luis Robert hit a field error by Rays shortstop Taylor Walls, he was able to steal second base. He then advanced to third on a through ball from Jose Abreu before Yasmani Grandal selected him to give Chicago a 3-2 lead.
The Rays tried to come back in the ninth inning, but another mistake proved costly. After Harold Ramirez picked to start the frame, Kevin Kiermaier came in to pinch the run. He advanced to second down on a wild Chicago pitch closer to Liam Hendriks, before running into a takedown when Yandy Diaz hit a ball to the left side of the infield that was ruled an outfielder's choice. Brett Phillips then scored a single and, with Ji-Man Choi at bat, stole second base. Chicago then intentionally walked Choi before Taylor Walls struck to end the game.
Ryan Thompson (0-1, 0.00) was the Rays' losing pitcher despite not allowing an earned run. Michael Kopech played five innings for Chicago in which he allowed an unearned run, before giving way to Reynaldo Lopez (2-0, 4.91) who took the win. Liam Hendriks made his fourth save of the season after closing the door for the Rays in the ninth inning.
Off the field, the Rays made a move Saturday, trading cash for right-handed pitcher Javy Guerra. He is expected to join the Rays bullpen in Chicago.
The Rays will now look to avoid being swept by the White Sox on Sunday. JP Feyereisen will be the Rays' first player on Sunday, with Tommy Romero expected to get most of the bulk work. The White Sox should send Vince Velasquez to the mound. The first pitch Sunday is scheduled for 2:10 p.m. – pregame coverage begins with Neil Solondz hosting This Week In Rays Baseball on 95.3 WDAE and AM 620.
PHOTO COURTESY OF GETTY IMAGES