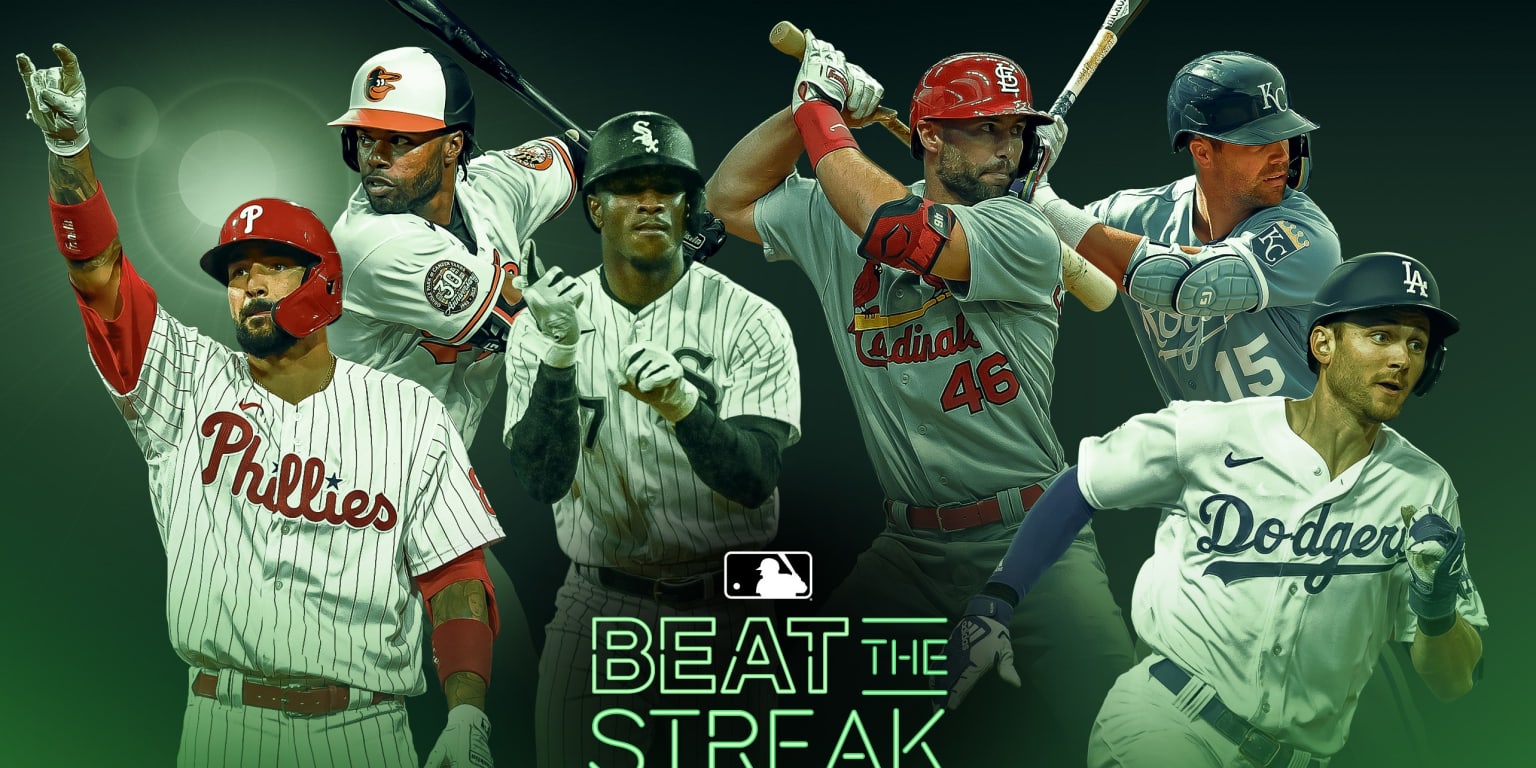 Beat the Streak Daily Update June 28
Beat the Streak is back for the 2022 season – and the $5.6 million prize is still up for grabs.
The idea is simple – pick a player (or two) each day that you think will get a hit. The goal — to surpass Joe DiMaggio's record 56-game hitting streak — is a bit more difficult.
Let's take a closer look at the action from yesterday and today:
Longest active streak: 31 (Fresh44)
Longest streak of the season: 45 (kiyoshilotus26)
Longest streak of all time: 51
Most Popular Picks (Yesterday)
1. Trea Turner, Dodgers (40.4%)
2. Freddie Freeman, Dodgers (14.7%)*
3. CJ Cron, Rockies (8.2%)*
4. JD Martinez, Red Sox (4.3%)
5. Mike Trout, Angels (2.3%)
* – Recorded a hit
Most popular picks (this season)
1. Trea Turner, Dodgers (8.4%)
2. Freddie Freeman, Dodgers (6.6%)
3. JD Martinez, Red Sox (5.9%)
4. Manny Machado, Padres (4.2%)
5. Michael Brantley, Astros (3.7%)
Trea Turner, Dodgers (at Rockies)
Turner enters Tuesday batting .340 with five homers and a .915 OPS in June. He gets Rockies left-hander Kyle Freeland, who has a 4.29 ERA, 86 hits allowed and 53 strikeouts in 79 2/3 innings this season – including a 5.32 ERA, 56 hits allowed and 25 strikeouts in 45 2/3 innings at Coors Field.
Jose Altuve, Astros (at Mets)
Altuve entered this week averaging .296 with 14 home runs and a .968 OPS since the start of May, and he's been consistently good against Mets starter Carlos Carrasco — Altuve is a lifetime .370 hitter against Carrasco (10 for 27 with a home run and just two strikeouts in 29 plate appearances). Carrasco has struggled lately, with an 8.78 ERA and 21 hits allowed in 13 1/3 innings in his last three starts.
Bryan Reynolds, Pirates (at Nationals)
On Tuesday, Reynolds is batting .319 with five homers, two triples and an .891 OPS in June. The hitter takes on Nats left-hander Patrick Corbin, who continues to be hit hard – Corbin has allowed at least seven hits in each of his last seven starts, with a total of 58 hits allowed and just 27 strikeouts in 35 sleeves during this period. .
Tigers (at Giants — Carlos Rodón)
Rodón has a .43 ERA, 26 strikeouts and just seven hits allowed in 21 innings over his last three starts. He has 101 strikeouts and 59 hits allowed in 80 innings this season. The Tigers have the worst scoring offense in baseball, averaging three runs per game, and their 78+ team OPS ranks 29th in MLB.
Orioles (at Mariners — Robbie Ray)
Ray has a .90 ERA, 20 strikeouts and 10 hits allowed in 20 innings over his last three starts. He's been much better at home this season, with a 2.84 ERA, 48 strikeouts and 31 hits allowed in 44 1/3 innings and a .193 batting average against.
NOTABLE BATTER VS. PITCHER MATCHUP
Odúbel Herrera (Phillis): 6 for 11 (.545), 2 HR, 2B against Charlie Morton
Josh Donaldson (Yankees): 4 for 7 (.571), 3 HR against Frankie Montas
Willson Contreras (Cubs): 7 for 15 (.467), HR, 3 2B against Luis Castillo
Mike Trout (Angels): 1 for 12 (.083), 4K against Johnny Cueto
Dansby Swanson (Braves): 5 for 31 (.161), 11 K against Zack Wheeler
Joey Gallo (Yankees): 2 for 11 (.182), 4K against Frankie Montas