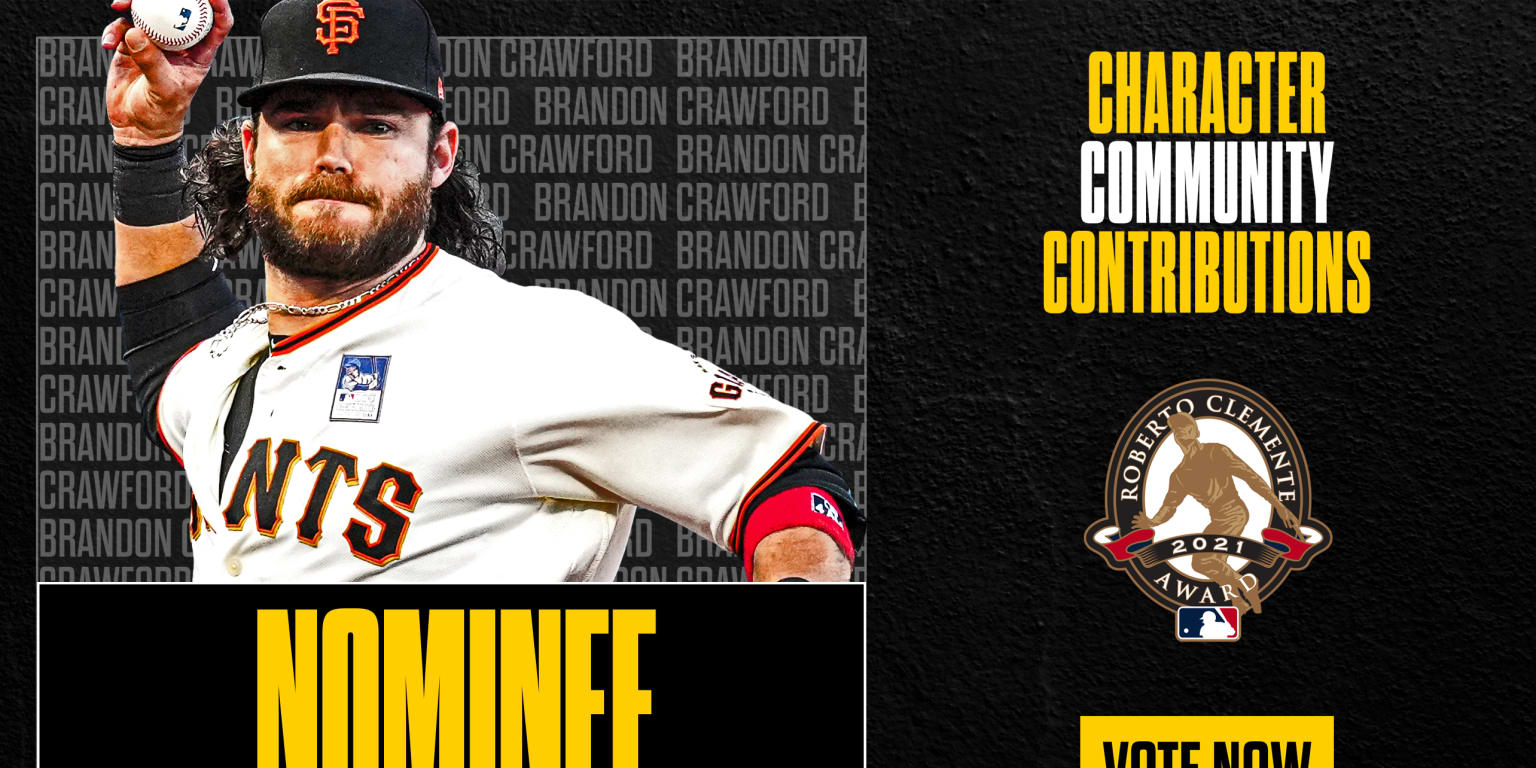 Brandon Crawford is Giants' nominee for 2021 Roberto Clemente Award
n","providerName":"Twitter","providerUrl":"https://twitter.com","type":"rich","width":550,"__typename":"ExternalEmbedContent"},"$ROOT_QUERY.getForgeContentBySlug({"locale":"en-us","slug":"brandon-crawford-giants-nominee-2021-roberto-clemente-award","type":"story"}).parts.2″:{"data":{"type":"id","generated":true,"id":"$ROOT_QUERY.getForgeContentBySlug({"locale":"en-us","slug":"brandon-crawford-giants-nominee-2021-roberto-clemente-award","type":"story"}).parts.2.data","typename":"ExternalEmbedContent"},"type":"oembed","__typename":"ExternalEmbed"},"$ROOT_QUERY.getForgeContentBySlug({"locale":"en-us","slug":"brandon-crawford-giants-nominee-2021-roberto-clemente-award","type":"story"}).parts.3″:{"content":" nn nn nn nn nn nn"It's definitely a huge honor to be nominated for an award named after not only such a great baseball player, but such a good person off the field," Crawford said. "He was generous with his time and money and tried to help out any way he could off the field. That's what we try to do. If we're in a position where we can help others, we try to do the same thing."","type":"markdown","__typename":"Markdown"},"$ROOT_QUERY.getForgeContentBySlug({"locale":"en-us","slug":"brandon-crawford-giants-nominee-2021-roberto-clemente-award","type":"story"}).parts.4″:{"content":" nn• All-time Roberto Clemente Award winners","type":"markdown","__typename":"Markdown"},"$ROOT_QUERY.getForgeContentBySlug({"locale":"en-us","slug":"brandon-crawford-giants-nominee-2021-roberto-clemente-award","type":"story"}).parts.5″:{"contentDate":"2021-09-16T03:50:27.419Z","description":"The Giants broadcast duo share some kind words on Roberto Clemente on his special day, celebrating Clemente's nostalgic legacy","duration":"00:01:15″,"slug":"giants-booth-on-clemente-day","source":null,"tags":[{"type":"id","generated":true,"id":"$ROOT_QUERY.getForgeContentBySlug({"locale":"en-us","slug":"brandon-crawford-giants-nominee-2021-roberto-clemente-award","type":"story"}).parts.5.tags.0″,"typename":"Tag"},{"type":"id","generated":true,"id":"$ROOT_QUERY.getForgeContentBySlug({"locale":"en-us","slug":"brandon-crawford-giants-nominee-2021-roberto-clemente-award","type":"story"}).parts.5.tags.1″,"typename":"Tag"},{"type":"id","generated":true,"id":"$ROOT_QUERY.getForgeContentBySlug({"locale":"en-us","slug":"brandon-crawford-giants-nominee-2021-roberto-clemente-award","type":"story"}).parts.5.tags.2″,"typename":"Tag"},{"type":"id","generated":true,"id":"$ROOT_QUERY.getForgeContentBySlug({"locale":"en-us","slug":"brandon-crawford-giants-nominee-2021-roberto-clemente-award","type":"story"}).parts.5.tags.3″,"typename":"Tag"},{"type":"id","generated":true,"id":"$ROOT_QUERY.getForgeContentBySlug({"locale":"en-us","slug":"brandon-crawford-giants-nominee-2021-roberto-clemente-award","type":"story"}).parts.5.tags.4″,"typename":"Tag"},{"type":"id","generated":true,"id":"$ROOT_QUERY.getForgeContentBySlug({"locale":"en-us","slug":"brandon-crawford-giants-nominee-2021-roberto-clemente-award","type":"story"}).parts.5.tags.5″,"typename":"Tag"}],"templateUrl":"https://img.mlbstatic.com/mlb-images/image/private/{formatInstructions}/mlb/asvnx1v0wuxa8ddd2guq","title":"Giants booth on Clemente Day","type":"video","url":"/video/giants-booth-on-clemente-day","__typename":"Video"},"$ROOT_QUERY.getForgeContentBySlug({"locale":"en-us","slug":"brandon-crawford-giants-nominee-2021-roberto-clemente-award","type":"story"}).parts.5.tags.0″:{"slug":"gamepk-632464″,"title":"2021/09/15 [email protected]","__typename":"Tag"},"$ROOT_QUERY.getForgeContentBySlug({"locale":"en-us","slug":"brandon-crawford-giants-nominee-2021-roberto-clemente-award","type":"story"}).parts.5.tags.1″:{"slug":"teamid-137″,"title":"San Francisco Giants","__typename":"Tag"},"$ROOT_QUERY.getForgeContentBySlug({"locale":"en-us","slug":"brandon-crawford-giants-nominee-2021-roberto-clemente-award","type":"story"}).parts.5.tags.2″:{"slug":"no-pre-roll","title":"no pre-roll","__typename":"Tag"},"$ROOT_QUERY.getForgeContentBySlug({"locale":"en-us","slug":"brandon-crawford-giants-nominee-2021-roberto-clemente-award","type":"story"}).parts.5.tags.3″:{"slug":"highlight","title":"highlight","__typename":"Tag"},"$ROOT_QUERY.getForgeContentBySlug({"locale":"en-us","slug":"brandon-crawford-giants-nominee-2021-roberto-clemente-award","type":"story"}).parts.5.tags.4″:{"slug":"international-feed","title":"International Partner feed","__typename":"Tag"},"$ROOT_QUERY.getForgeContentBySlug({"locale":"en-us","slug":"brandon-crawford-giants-nominee-2021-roberto-clemente-award","type":"story"}).parts.5.tags.5″:{"slug":"eclat-feed","title":"Eclat feed","__typename":"Tag"},"$ROOT_QUERY.getForgeContentBySlug({"locale":"en-us","slug":"brandon-crawford-giants-nominee-2021-roberto-clemente-award","type":"story"}).parts.6″:{"content":" nnCrawford and his wife, Jalynne, have lended their support to numerous charitable endeavors over the years, including the ALS Cure Project, which became the beneficiary of the annual Crawford Family Golf Tournament in 2019. Crawford's relationship to A's outfielder Stephen Piscotty, a fellow Pleasanton native who lost his mother, Gretchen, to ALS, helped inspire him to join the mission to find a cure for the disease.nn"We try to spread it around a little bit to any project that needs a little bit of extra help, but knowing the Piscottys for a little while — our dads were friends for a long time — to be able to help with ALS Cure is definitely special to us," Crawford said.nnCrawford also teamed up with the Giants Community Fund to help renovate Gilman Field in San Francisco's Bayview-Hunters Point neighborhood, just blocks from where the All-Star shortstop grew up attending Giants games at Candlestick Park. That project had been in the works since Crawford signed his first six-year, $75 million extension with the Giants in November 2015, as he elected to donate a portion of his contract to the Giants Community Fund. The field renovation was completed this year, with Crawford on hand for the official unveiling in July.","type":"markdown","__typename":"Markdown"},"$ROOT_QUERY.getForgeContentBySlug({"locale":"en-us","slug":"brandon-crawford-giants-nominee-2021-roberto-clemente-award","type":"story"}).parts.7.data":{"html":"
Earlier today, @giantscommunity revealed the newly renovated Gilman Playground Field in San Francisco's Bayview—Hunters Point community. Partnering on the project: @goodtidingsSF, @RecParkSF & @bcraw35 🧡 pic.twitter.com/Ep4cgAvfwx

— SFGiants (@SFGiants) July 30, 2021
nn","providerName":"Twitter","providerUrl":"https://twitter.com","type":"rich","width":550,"__typename":"ExternalEmbedContent"},"$ROOT_QUERY.getForgeContentBySlug({"locale":"en-us","slug":"brandon-crawford-giants-nominee-2021-roberto-clemente-award","type":"story"}).parts.7″:{"data":{"type":"id","generated":true,"id":"$ROOT_QUERY.getForgeContentBySlug({"locale":"en-us","slug":"brandon-crawford-giants-nominee-2021-roberto-clemente-award","type":"story"}).parts.7.data","typename":"ExternalEmbedContent"},"type":"oembed","__typename":"ExternalEmbed"},"$ROOT_QUERY.getForgeContentBySlug({"locale":"en-us","slug":"brandon-crawford-giants-nominee-2021-roberto-clemente-award","type":"story"}).parts.8″:{"content":" nn nn"We ended up landing on the Gilman Field project because of my history growing up in the Bay Area and going to Candlestick," Crawford said. "With Gilman Field being kind of in the shadow of Candlestick, it was kind of the perfect choice. It was nice, especially having a lot of the Junior Giants there and people from the community just thanking me for my help with putting it together. It was fun to be a part of."nnThe Crawfords also collaborated with former Giant Andrew McCutchen and his wife, Maria, on a "Catch a Cure" clothing line to raise money for the Peckham Center for Cancer and Blood Disorders at Rady Children's Hospital.nnWednesday marked the 20th annual Roberto Clemente Day, which will be held on Sept. 15 in perpetuity in conjunction with the beginning of Hispanic Heritage Month. Clemente, the first Latin American player to be elected to the Baseball Hall of Fame, starred for the Pirates for 18 seasons before he tragically died in a plane crash on New Year's Eve 1972 while attempting to deliver supplies to earthquake victims in Nicaragua.nnGiants quality assurance coach Nick Ortiz, a native of Puerto Rico, presented Crawford with his Clemente Award on Wednesday and wore No. 21 in honor of his venerated countryman.","type":"markdown","__typename":"Markdown"},"$ROOT_QUERY.getForgeContentBySlug({"locale":"en-us","slug":"brandon-crawford-giants-nominee-2021-roberto-clemente-award","type":"story"}).tags.0.data":{"__typename":"UnsupportedTagType"},"$ROOT_QUERY.getForgeContentBySlug({"locale":"en-us","slug":"brandon-crawford-giants-nominee-2021-roberto-clemente-award","type":"story"}).tags.0″:{"data":{"type":"id","generated":true,"id":"$ROOT_QUERY.getForgeContentBySlug({"locale":"en-us","slug":"brandon-crawford-giants-nominee-2021-roberto-clemente-award","type":"story"}).tags.0.data","typename":"UnsupportedTagType"},"externalSourceName":null,"slug":"storytype-article","title":"Article","type":"article","__typename":"Tag"},"Team:137″:{"id":"137″,"__typename":"Team"},"$ROOT_QUERY.getForgeContentBySlug({"locale":"en-us","slug":"brandon-crawford-giants-nominee-2021-roberto-clemente-award","type":"story"}).tags.1″:{"data":{"type":"id","generated":false,"id":"Team:137″,"typename":"Team"},"externalSourceName":"team","slug":"teamid-137″,"title":"San Francisco Giants","type":"team","__typename":"Tag"},"$ROOT_QUERY.getForgeContentBySlug({"locale":"en-us","slug":"brandon-crawford-giants-nominee-2021-roberto-clemente-award","type":"story"}).tags.2.data":{"__typename":"UnsupportedTagType"},"$ROOT_QUERY.getForgeContentBySlug({"locale":"en-us","slug":"brandon-crawford-giants-nominee-2021-roberto-clemente-award","type":"story"}).tags.2″:{"data":{"type":"id","generated":true,"id":"$ROOT_QUERY.getForgeContentBySlug({"locale":"en-us","slug":"brandon-crawford-giants-nominee-2021-roberto-clemente-award","type":"story"}).tags.2.data","typename":"UnsupportedTagType"},"externalSourceName":"customentity.contributor","slug":"maria-guardado","title":"Maria Guardado","type":"contributor","__typename":"Tag"},"$ROOT_QUERY.getForgeContentBySlug({"locale":"en-us","slug":"brandon-crawford-giants-nominee-2021-roberto-clemente-award","type":"story"}).tags.3.data":{"__typename":"UnsupportedTagType"},"$ROOT_QUERY.getForgeContentBySlug({"locale":"en-us","slug":"brandon-crawford-giants-nominee-2021-roberto-clemente-award","type":"story"}).tags.3″:{"data":{"type":"id","generated":true,"id":"$ROOT_QUERY.getForgeContentBySlug({"locale":"en-us","slug":"brandon-crawford-giants-nominee-2021-roberto-clemente-award","type":"story"}).tags.3.data","typename":"UnsupportedTagType"},"externalSourceName":"game","slug":"gamepk-632464″,"title":"2021/09/15 [email protected]","type":"unsupported","__typename":"Tag"},"Player:543063″:{"id":"543063″,"__typename":"Player"},"$ROOT_QUERY.getForgeContentBySlug({"locale":"en-us","slug":"brandon-crawford-giants-nominee-2021-roberto-clemente-award","type":"story"}).tags.4″:{"data":{"type":"id","generated":false,"id":"Player:543063″,"typename":"Player"},"externalSourceName":"player","slug":"playerid-543063″,"title":"Brandon Crawford","type":"player","__typename":"Tag"},"$ROOT_QUERY.getForgeContentBySlug({"locale":"en-us","slug":"brandon-crawford-giants-nominee-2021-roberto-clemente-award","type":"story"}).tags.5.data":{"__typename":"UnsupportedTagType"},"$ROOT_QUERY.getForgeContentBySlug({"locale":"en-us","slug":"brandon-crawford-giants-nominee-2021-roberto-clemente-award","type":"story"}).tags.5″:{"data":{"type":"id","generated":true,"id":"$ROOT_QUERY.getForgeContentBySlug({"locale":"en-us","slug":"brandon-crawford-giants-nominee-2021-roberto-clemente-award","type":"story"}).tags.5.data","typename":"UnsupportedTagType"},"externalSourceName":"taxonomy","slug":"roberto-clemente-award","title":"Roberto Clemente Award","type":"taxonomy","__typename":"Tag"}},"appConfig":{"graphqlServiceUrl":"https://content-service.mlb.com"},"appState":{"adDomain":"mlb.mlb","appId":"","basePath":"news","club":"mlb","contentfulProperties":{"organismHeadlineFont":null,"urlLogo":null,"favicon":null,"headerMastheadTagline":null,"headerPrimaryLogo":null,"headerMastheadTaglineContainerWidth":"512px","headerMastheadTaglineContainerHeight":"56px","organismLogoVersion":"caplogo","organismLogoStyle":"light","headerMastheadLogoVersion":"cap","headerMastheadLogoStyle":"dark","footerLogoVersion":"primary","footerLogoStyle":"dark","headlineTextTransform":"none","headlineFontFamily":null,"headlineFontFamilySizeMultiplier":1,"articleVideoAutoPlay":true,"articleVideoAutoPlaySound":false,"__typename":"CF_WebProperties"},"contentfulPalette":{"headerNavigationBackgroundColor":"#041E42″,"headerNavigationTextColor":"#ffffff","headerNavigationTextColorHover":"#ffffff","headerNavigationBorderColor":"#057AFF","headerMastheadBackgroundColor":"#002D72″,"buttonSpotlightBackgroundColor":"#333333″,"buttonSpotlightBackgroundColorHover":"lighten","buttonSpotlightTextColor":"#ffffff","buttonSpotlightTextColorHover":"#ffffff","footerBackgroundColor":"#333″,"footerBorderColor":"#f3f3f3″,"footerLinkColorActive":"#fff","footerLinkColor":"#ffffff","footerLinkColorHover":"#147CD1″,"footerTextColor":"#d2d2d2″,"__typename":"CF_Palette"},"contextUrlPrefix":"","env":"production","footerState":{"clubId":"mlb","deviceProperties":{},"footerData":{"instanceId":"db2f8fb2-78c8-4d3c-a328-9e91c349dfee","name":"global-footer","variables":[],"menuItems":[{"itemId":"aec375d3-3afa-4491-ab28-60b736f38982″,"text":"Terms of Use","properties":{"link":"/official-information/terms-of-use","target":"_blank"},"menuItems":[]},{"itemId":"debe8dbf-de27-4eae-b7ec-adae43fc4642″,"text":"Privacy Policy","properties":{"link":"/official-information/privacy-policy"},"menuItems":[]},{"itemId":"345a1847-cac1-43a4-91bf-70c21ecee681″,"text":"Legal Notices","properties":{"link":"/official-information/legal-notices"},"menuItems":[]},{"itemId":"34014aad-1069-4bba-b22e-4b287a4f7df1″,"text":"Contact Us","properties":{"link":"/official-information/contact"},"menuItems":[]},{"itemId":"65e06970-7f8e-4328-ad82-9d90df0f3e87″,"text":"Do Not Sell My Personal Data","properties":{"link":"https://privacyportal.onetrust.com/webform/53a301ae-6882-46f9-af93-24f64f792aee/3251a424-8286-4725-9313-603f12c85a49″,"target":"_blank"},"menuItems":[]},{"itemId":"dd307e97-49c6-4f80-aff3-89a59696fb80″,"text":"Official Information","properties":{},"menuItems":[{"itemId":"bdf571d3-e8bb-403b-bb5f-7f28a7127c74″,"text":"Official Info","properties":{"link":"/official-information"},"menuItems":[]},{"itemId":"ecfd4d42-aa8d-4872-80a5-869c6b493018″,"text":"About MLB","properties":{"link":"/official-information/about-mlb"},"menuItems":[]},{"itemId":"bb62de22-5c84-4cab-b9fb-5429ea9d647c","text":"Team Information","properties":{"link":"https://www.mlb.com/team"},"menuItems":[]},{"itemId":"7cc37e2a-667c-4405-bd1f-87ad88bc4d9e","text":"Official Rules","properties":{"link":"https://img.mlbstatic.com/mlb-images/image/upload/mlb/atcjzj9j7wrgvsm8wnjq.pdf"},"menuItems":[]},{"itemId":"e658056b-608b-4eee-a04a-43772f9e6bb4″,"text":"Replay Review Regulations","properties":{"link":"/glossary/rules/replay-review"},"menuItems":[]},{"itemId":"0b3fc77c-c7d1-4584-a184-90fd8c4959e9″,"text":"Umpires","properties":{"link":"/official-information/umpires"},"menuItems":[]},{"itemId":"23dde9d7-6aba-4bec-a449-b1b4d5a5767c","text":"Advertise with Us","properties":{"link":"/sponsorship"},"menuItems":[]},{"itemId":"ca43b715-5423-4314-ac5a-f9229bee6fb6″,"text":"Press Releases","properties":{"link":"/news/topic/mlb-press-releases"},"menuItems":[]}]},{"itemId":"7a60a8fc-0c3c-4c87-b04b-2b57b6c9894c","text":"Help/Contact Us","properties":{},"menuItems":[{"itemId":"efb27376-accc-4ca4-9017-c3309ee122d3″,"text":"Accessibility Information","properties":{"link":"/official-information/accessibility"},"menuItems":[]},{"itemId":"cf3490fc-f093-4457-99a7-d2bc3f4d4cef","text":"Auctions Customer Service","properties":{"link":"http://auctions.mlb.com/iSynApp/manageUserEmail!showEmailContactUsForm.action?sid=1101001″},"menuItems":[]},{"itemId":"c6867706-11b7-4634-a78e-b5d513948f43″,"text":"Harassment Policy","properties":{"link":"/official-information/harassment-policy"},"menuItems":[]},{"itemId":"0e3932c9-beec-43f2-b712-66879a51ab63″,"text":"Help/Contact Us","properties":{"link":"/official-information/contact"},"menuItems":[]},{"itemId":"6d4ebef1-3168-4b79-a237-9f36931d3a2c","text":"MLB App FAQs","properties":{"link":"https://www.mlb.com/apps/mlb-app/faq-apple"},"menuItems":[]},{"itemId":"4b3c6ee8-d4ae-4265-a7e7-7e5bea8cde28″,"text":"MLB.com Account Information","properties":{"link":"/official-information/faqs"},"menuItems":[]},{"itemId":"4d33a7c1-38d5-4b3b-a999-53377f55738d","text":"MLB.TV Help Center","properties":{"link":"/live-stream-games/help-center"},"menuItems":[]},{"itemId":"36f01834-7979-4a42-aa12-52439c2e320b","text":"Shop Help","properties":{"link":"https://help-mlb.custhelp.com/"},"menuItems":[]},{"itemId":"bb6e7a31-4b7d-4e49-8c2e-00dda9e237ab","text":"Ticket Information","properties":{"link":"/official-information/ticket-faqs"},"menuItems":[]}]},{"itemId":"6ca8b189-8c54-428f-9f79-3c357ef18469″,"text":"More MLB Sites & Affiliates","properties":{},"menuItems":[{"itemId":"becc9309-94fc-491b-ad15-45f7c17f85a9″,"text":"MLB Players Alumni Association","properties":{"link":"/mlbpaa","target":""},"menuItems":[]},{"itemId":"9ff49c09-8a0d-41e6-b8b0-14f37f8e7f52″,"text":"MLB Players Association","properties":{"link":"http://www.mlbplayers.com/"},"menuItems":[]},{"itemId":"022ec2ca-bb20-4543-9cdc-95ba3a4443ca","text":"Minor League Baseball","properties":{"link":"https://www.milb.com/"},"menuItems":[]},{"itemId":"c6f9948e-3521-4788-83ed-b568f39e86aa","text":"MLB Network","properties":{"link":"https://www.mlb.com/network"},"menuItems":[]},{"itemId":"de2ea389-0a29-4600-8048-b4261916183d","text":"Baseball Assistance Team","properties":{"link":"/baseball-assistance-team"},"menuItems":[]},{"itemId":"e1a2af1c-ee36-4672-935b-17e62d0b4ddc","text":"Player Resource Center","properties":{"link":"/player-resource-center","target":""},"menuItems":[]},{"itemId":"75f0b763-612d-4557-ae38-227fb5b3b7f1″,"text":"Tickets.com","properties":{"link":"http://www.tickets.com/"},"menuItems":[]},{"itemId":"f8599d26-5069-4417-8c26-0965dd8d9435″,"text":"YES Network","properties":{"link":"https://www.yesnetwork.com/"},"menuItems":[]},{"itemId":"5c8f6196-a4d5-4ed5-b830-189580691d3e","text":"Australian Baseball League","properties":{"link":"https://theabl.com.au/"},"menuItems":[]},{"itemId":"ab6fc805-0bb7-439b-8c3c-92c61b035387″,"text":"World Baseball Classic","properties":{"link":"https://www.worldbaseballclassic.com/"},"menuItems":[]},{"itemId":"e218ed4d-89f9-4f7d-87e7-c05a3559cd74″,"text":"sabr.org","properties":{"link":"http://sabr.org/"},"menuItems":[]},{"itemId":"158a95a6-bd4f-4654-b57f-465d3c356a55″,"text":"College Baseball Hall of Fame","properties":{"link":"https://www.mlb.com/college-baseball-hall-of-fame"},"menuItems":[]},{"itemId":"5e602a1a-e518-455b-ac5f-5c0e80430e38″,"text":"Golden Spikes Award","properties":{"link":"https://www.usabaseball.com/golden-spikes-award"},"menuItems":[]},{"itemId":"ccd9020d-c619-45d2-bc1f-ef80ae2cd651″,"text":"USA Baseball","properties":{"link":"https://www.usabaseball.com"},"menuItems":[]},{"itemId":"75512a93-d52d-4d71-a6d3-70d6b44dfa0f","text":"LasMayores.com","properties":{"link":"https://www.mlb.com/es"},"menuItems":[]},{"itemId":"3b7bbad3-1ed5-468d-8703-205519315e04″,"text":"MLBCommunity.org","properties":{"link":"/mlb-community"},"menuItems":[]},{"itemId":"f8058121-3606-4ff2-be8a-d1a3d47642db","text":"AllStarGame.com","properties":{"link":"https://www.mlb.com/all-star"},"menuItems":[]},{"itemId":"a624b4e5-c8d8-44b9-9084-7522ed0cee59″,"text":"MLB.com/Kids","properties":{"link":"https://www.mlb.com/fans/kids"},"menuItems":[]},{"itemId":"43c6bc47-f7d9-445a-85a1-10b3cdc02ee0″,"text":"MLB Photostore","properties":{"link":"https://photostore.mlb.com/"},"menuItems":[]},{"itemId":"d9f4ea22-70a7-4085-a16e-83f70a5711b2″,"text":"Offseason Leagues","properties":{"link":"http://mlb.mlb.com/mlb/events/winterleagues/"},"menuItems":[]},{"itemId":"c574a4a2-45ec-47fe-8ca3-b5b99d1cb443″,"text":"PlayBall.org","properties":{"link":"https://www.playball.org"},"menuItems":[]},{"itemId":"517cf98f-063c-486a-a725-5380e1ae063f","text":"MLB Educators","properties":{"link":"/mlb-educators"},"menuItems":[]}]},{"itemId":"e3a86593-6da0-4d00-a512-0b8c78c9b8a5″,"text":"Careers","properties":{"link":""},"menuItems":[{"itemId":"35caab61-51c7-4b17-a9b8-e9ecd201058a","text":"Careers Home","properties":{"link":"/careers/home"},"menuItems":[]}]}]},"headerData":{"instanceId":"fbde1dcd-c837-4740-991c-1087d1db26d1″,"name":"global-nav","variables":[],"menuItems":[{"itemId":"tickets","text":"Tickets","properties":{"link":"https://www.mlb.com/tickets","customProperties":"align:right;"},"menuItems":[{"itemId":"764d21d8-0f58-4d63-b57c-035ec47d193c","text":"General Ticket Information","properties":{"link":"https://www.mlb.com/tickets","customProperties":"","visible":"false"},"menuItems":[]},{"itemId":"4e45f354-0ccd-4c89-ac5e-12f16dd11f3a","text":"Season Tickets","properties":{"link":"/tickets/season-tickets","customProperties":"","visible":"false"},"menuItems":[]},{"itemId":"020f5910-a69a-443a-b5a3-37b7664d8a4f","text":"Spring Training","properties":{"link":"/tickets/spring-training","visible":"false"},"menuItems":[]},{"itemId":"0a8ddc10-4b69-4a97-a677-6301ac30971b","text":"Fan Value","properties":{"link":"/tickets/fan-value","customProperties":"","visible":"false"},"menuItems":[]},{"itemId":"417de43e-baa5-4ca1-802d-c0814be88688″,"text":"Ballpark Tours","properties":{"link":"/tickets/ballpark-tours","visible":"false"},"menuItems":[]},{"itemId":"dc1ab63d-4195-4a41-8248-cfa5513a66e9″,"text":"StubHub.com","properties":{"link":"https://www.stubhub.com/mlb-tickets/grouping/81/?gcid=C12289x371″,"customProperties":""},"menuItems":[]},{"itemId":"a1fd4bc8-d136-4d65-a0cd-393f31e0e14e","text":"All-Star Game","properties":{"link":"/all-star/tickets","customProperties":"expires:1626228000″},"menuItems":[]},{"itemId":"92c55e19-5b07-4d4f-8bfe-ee6a86e64c8a","text":"World Baseball Classic","properties":{"link":"https://www.mlb.com/world-baseball-classic/newsletter"},"menuItems":[]},{"itemId":"5d7d5f77-3b9d-4d21-bece-8b3245b7bf2a","text":"International Events","properties":{"link":"https://www.mlb.com/international"},"menuItems":[]},{"itemId":"797c376f-524a-4e12-b431-1994c1d9127d","text":"Vaccinate at the Plate Ticket Offer","properties":{"link":"/tickets/vaccinate-ticket-offer","customProperties":"expires:1625112000″},"menuItems":[]},{"itemId":"5e7b162c-c994-4bad-89b3-0a1b2746710d","text":"Ticket Terms & Conditions","properties":{"link":"https://www.mlb.com/tickets/terms-and-conditions"},"menuItems":[]}]},{"itemId":"7b24aad4-85fb-4206-b915-85dc84bf8046″,"text":"MLB.TV","properties":{"link":"https://www.mlb.com/tv?&affiliateId=mlbMENU","customProperties":"amp:true;align:right;","icon":"watch"},"menuItems":[{"itemId":"6e4bf96d-d9e2-4c33-8d42-3e94aae42607″,"text":"Buy MLB.TV","properties":{"link":"https://www.mlb.com/live-stream-games/subscribe?&affiliateId=mlbMENU"},"menuItems":[]},{"itemId":"f33ef990-5609-45cd-be24-0e40cb0a5368″,"text":"Buy MLB Audio","properties":{"link":"https://www.mlb.com/live-stream-games/subscribe/mlb-audio?&affiliateId=mlbMENU"},"menuItems":[]},{"itemId":"993d3d74-7886-48fd-9d9f-12d189ed5630″,"text":"Watch MLB.TV","properties":{"link":"/live-stream-games?&affiliateId=mlbMENU","customProperties":""},"menuItems":[]},{"itemId":"ce445ca6-9a97-4b82-a6c9-d94f34579dd2″,"text":"Free MLB.TV For College Students","properties":{"link":"https://www.mlb.com/live-stream-games/students?&affiliateId=mlbMENU"},"menuItems":[]},{"itemId":"d7847412-c970-4b0a-b17e-61fded27c46a","text":"MLB Big Inning","properties":{"link":"https://www.mlb.com/live-stream-games/big-inning?&affiliateId=mlbMENU"},"menuItems":[]},{"itemId":"c2596a4c-2d08-459e-9173-2d799f070637″,"text":"MLB.TV Gift Giving","properties":{"link":"https://www.mlb.com/live-stream-games/subscribe/gift-giving"},"menuItems":[]},{"itemId":"05b81a24-a196-4ee9-86f6-443cc7ce6934″,"text":"MLB.TV with Extra Innings","properties":{"link":"https://www.mlb.com/live-stream-games/third-party?&affiliateId=mlbMENU"},"menuItems":[]},{"itemId":"00132689-c7ce-46b0-bfac-228fa9f70a22″,"text":"Watch MLB.TV Docs & Features","properties":{"link":"https://www.mlb.com/tv/featured?&affiliateId=mlbMENU"},"menuItems":[]},{"itemId":"68b755ed-4f9d-4c0a-96ea-ffafb22ca5c5″,"text":"MLB.TV Help Center","properties":{"link":"/live-stream-games/help-center?&affiliateId=mlbMENU","customProperties":""},"menuItems":[]}]},{"itemId":"6bfaf88e-891c-4e05-a935-8a32bd23086a","text":"Shop","properties":{"link":"https://www.mlbshop.com/?_s=bm-mlbcom-hp","customProperties":"align:right;","icon":"shopping-cart"},"menuItems":[{"itemId":"d7b3c8e0-42c4-45c5-8278-c51adb21b47f","text":"Auction","properties":{"link":"http://auction.mlb.com/"},"menuItems":[]},{"itemId":"216d4562-456b-442d-b078-9e9be9b35b20″,"text":"Authentication","properties":{"link":"https://www.mlb.com/authentication"},"menuItems":[]},{"itemId":"20f4725a-5dc1-4543-a153-7795cd789463″,"text":"Autographed","properties":{"link":"http://auctions.mlb.com/iSynApp/allAuction.action?sid=1101001&rc=25&selectedCatId=17342&sort=timeleft_asc&pgmode2=catpage"},"menuItems":[]},{"itemId":"f4f69cd4-2549-45f2-ba63-d97ddb0b564c","text":"Jerseys","properties":{"link":"https://www.mlbshop.com/jerseys/d-1250336792+z-990485-1677480024?_s=bm-mlbcom-hp","customProperties":""},"menuItems":[]},{"itemId":"a67b9b28-c511-47a8-87e6-594cb719c787″,"text":"Caps","properties":{"link":"https://www.mlbshop.com/caps/d-3494554436+z-921549-1032840697?_s=bm-mlbcom-hp","customProperties":""},"menuItems":[]},{"itemId":"f5b9b657-5322-40c1-b2e8-1bd31e27abf6″,"text":"Men's","properties":{"link":"https://www.mlbshop.com/men/ga-12+z-9112397524-3608394688?_s=bm-mlbcom-hp","customProperties":""},"menuItems":[]},{"itemId":"dfa13a6f-17fd-4a4a-9963-f3e3734e28bf","text":"Women's","properties":{"link":"https://www.mlbshop.com/women/ga-57+z-822989763-3950492570?_s=bm-mlbcom-hp","customProperties":""},"menuItems":[]},{"itemId":"c2bf810b-0d1f-4135-b7f8-919c53fc8cc2″,"text":"Kids","properties":{"link":"https://www.mlbshop.com/kids/ga-36+z-861270405-1171990865?_s=bm-mlbcom-hp","customProperties":""},"menuItems":[]},{"itemId":"1b321c96-eb8a-4077-9868-9420205878bc","text":"Collectibles & Memorabilia","properties":{"link":"https://www.mlbshop.com/collectibles-and-memorabilia/d-7883550038+z-87646-4052890706?_s=bm-mlbcom-hp","customProperties":""},"menuItems":[]},{"itemId":"91dcfa1d-f4de-4bf9-93f8-8f91f4069272″,"text":"Home & Office","properties":{"link":"https://www.mlbshop.com/home-and-office/d-3449556733+z-992406-855732365?_s=bm-mlbcom-hp","customProperties":""},"menuItems":[]},{"itemId":"c69e35fc-900e-4fcc-9348-085aa0febeab","text":"Gift Certificates","properties":{"link":"https://www.mlbshop.com/gift-cards/x-462351+z-94899005-3509039474?_s=bm-mlbcom-Home","customProperties":""},"menuItems":[]},{"itemId":"7423a9ca-3a6f-42fe-8d6e-9459bed284c7″,"text":"NYC Retail Store","properties":{"link":"https://www.mlb.com/shop/nyc-retail-store"},"menuItems":[]},{"itemId":"44958e84-599e-44b1-96b4-44f38a477942″,"text":"European Shop","properties":{"link":"http://www.mlbshopeurope.com/stores/mlb/en?portal=MLTS66FS&CMP=PSC-MLTS66FS","customProperties":""},"menuItems":[]},{"itemId":"51d3278e-90fd-4462-aec0-7cfd8de1cb79″,"text":"Photo Store","properties":{"link":"https://photostore.mlb.com/"},"menuItems":[]}]},{"itemId":"5052bac6-3f1d-4847-8739-42021d7cfc2d","text":"News","properties":{"link":"https://www.mlb.com/news","customProperties":"amp:true;"},"menuItems":[{"itemId":"7b725a20-961b-4511-bd88-20600551baf2″,"text":"In this section","properties":{"visible":"true"},"menuItems":[{"itemId":"82d45c9a-d055-4ab4-b785-576d982a2077″,"text":"Probable Pitchers","properties":{"link":"https://www.mlb.com/probable-pitchers","visible":"true","enabled":"true"},"menuItems":[]},{"itemId":"4bfdb502-31e4-49dd-bae1-89a4772d0739″,"text":"Prospect Rankings","properties":{"link":"https://www.mlb.com/prospects"},"menuItems":[]},{"itemId":"831050d9-d4d2-427f-85a3-fe56aad2682a","text":"Injury Report","properties":{"link":"https://www.mlb.com/injury-report"},"menuItems":[]},{"itemId":"02f947b5-cc72-40f9-9f37-a97b37dcaef3″,"text":"Transactions","properties":{"link":"http://mlb.mlb.com/mlb/transactions/?tcid=mm_mlb_news"},"menuItems":[]},{"itemId":"f499f46a-a51b-443e-82aa-3b6006f9b306″,"text":"Starting Lineups","properties":{"link":"https://www.mlb.com/starting-lineups"},"menuItems":[]},{"itemId":"53776d17-03af-4b04-8840-45b6c624df6b","text":"Hall of Fame","properties":{"link":"https://www.mlb.com/hall-of-fame"},"menuItems":[]},{"itemId":"6ee1c331-faa0-4865-a062-1c98a2f67c0d","text":"Longform","properties":{"link":"https://www.mlb.com/news/topic/longform"},"menuItems":[]},{"itemId":"844e328c-713f-46da-8183-965d19eb7dd8″,"text":"Awards","properties":{"link":"https://www.mlb.com/awards"},"menuItems":[]},{"itemId":"c1ac7886-1d18-4ad8-9fc4-326ab4753144″,"text":"MLB Draft","properties":{"link":"https://www.mlb.com/draft/2021″},"menuItems":[]}]},{"itemId":"dc121961-fe11-49ac-92b5-a8797acafa7c","text":"Featured","properties":{},"menuItems":[{"itemId":"230d1ec0-9d0a-4a3f-a04c-3cf16474390f","text":"Pipeline","properties":{"link":"https://www.mlb.com/pipeline"},"menuItems":[]},{"itemId":"216ae480-9b79-4faa-a748-98a8604e5cde","text":"Play Ball","properties":{"link":"https://www.mlb.com/play-ball"},"menuItems":[]},{"itemId":"c2182d4d-c537-410e-a63d-267e593fbb74″,"text":"Gaming","properties":{"link":"https://www.mlb.com/news/topic/gaming","enabled":"true","visible":"true"},"menuItems":[]},{"itemId":"d7d653b8-5585-44b7-b94f-226b51681ed8″,"text":"MLB Photos","properties":{"link":"https://www.mlb.com/photos/home"},"menuItems":[]},{"itemId":"eb4bceb4-bb14-4a84-8b60-12e51dab40f8″,"text":"Offbeat","properties":{"link":"https://www.mlb.com/news/topic/offbeat"},"menuItems":[]},{"itemId":"28a2e573-86ba-4cdc-a924-86d3b6500979″,"text":"Glossary","properties":{"link":"https://www.mlb.com/glossary"},"menuItems":[]},{"itemId":"7e424446-ea76-4b0d-8dc0-e7ee108993ef","text":"Rare Feats","properties":{"link":"https://www.mlb.com/news/topic/rare-feats"},"menuItems":[]},{"itemId":"38b78c07-c2e2-40be-9172-fb2ddc1d1817″,"text":"Baseball Cards","properties":{"link":"https://www.mlb.com/news/topic/baseball-cards"},"menuItems":[]},{"itemId":"7e316d55-5379-4151-a0e5-828b6b4f8ba8″,"text":"All-Star Game","properties":{"link":"https://www.mlb.com/all-star"},"menuItems":[]}]}]},{"itemId":"86b4ade1-0488-40d3-8472-b1e323f23914″,"text":"Video","properties":{"link":"https://www.mlb.com/video","customProperties":"mobile:true;amp:true;"},"menuItems":[{"itemId":"bbddb943-54df-4d88-a3ee-14265e727677″,"text":"In this section","properties":{"customProperties":""},"menuItems":[{"itemId":"d6f95b2e-b8ee-41f0-a313-e74537eff685″,"text":"Film Room","properties":{"link":"https://www.mlb.com/video/search"},"menuItems":[]},{"itemId":"a24a8e9d-471b-4626-9535-28e1b8f62bad","text":"Watch Live Games","properties":{"link":"https://www.mlb.com/live-stream-games?affiliateId=mlbMENU"},"menuItems":[]},{"itemId":"830b3ff1-c650-48a0-b8ee-6c910acc0204″,"text":"Game Stories","properties":{"link":"https://www.mlb.com/game-stories"},"menuItems":[]},{"itemId":"fb982f48-2253-46ec-84f2-ec3282782fb8″,"text":"Condensed Games","properties":{"link":"https://www.mlb.com/video/topic/condensed-games"},"menuItems":[]},{"itemId":"0f387774-edb6-4e09-84c1-3b6f9a8c65d5″,"text":"Game Recaps","properties":{"link":"https://www.mlb.com/video/topic/daily-recaps","enabled":"true"},"menuItems":[]},{"itemId":"3dcbafe8-f9f6-4a32-8534-7a00b6b07f4c","text":"Daily FastCast","properties":{"link":"https://www.mlb.com/video/topic/fastcast"},"menuItems":[]},{"itemId":"286ad1ca-abe4-4d67-b80a-9020e756750e","text":"MLB Network","properties":{"link":"https://www.mlb.com/network"},"menuItems":[]},{"itemId":"948d378c-7d73-49b1-b5ba-8729c59bca9a","text":"Podcasts","properties":{"link":"https://www.mlb.com/podcasts"},"menuItems":[]},{"itemId":"c3c36a7f-ac1d-4433-8ecb-b8689de715e5″,"text":"Front Office Focus","properties":{"link":"https://www.mlb.com/video/topic/front-office-focus"},"menuItems":[]},{"itemId":"e95e19ff-2024-4d84-b9e5-d5f0d1831e5b","text":"Business of Baseball","properties":{"link":"https://www.mlb.com/video/topic/business-of-baseball"},"menuItems":[]},{"itemId":"bf659638-4fb7-4c46-be4c-49b736c0fd69″,"text":"Untouchable Pitches","properties":{"link":"https://www.mlb.com/video/topic/untouchable-pitches-cristal-products"},"menuItems":[]},{"itemId":"0b56e21d-9a66-4fd0-99d6-59faf9805120″,"text":"Rapid Plays","properties":{"link":"https://www.mlb.com/video/topic/rapid-plays"},"menuItems":[]}]},{"itemId":"74f35bdb-7baf-4fa5-abb5-3c3613fa00fe","text":"Featured","properties":{"customProperties":""},"menuItems":[{"itemId":"d87342bf-bac9-4811-9863-4a5d7ddabe94″,"text":"Most Popular","properties":{"link":"https://www.mlb.com/video"},"menuItems":[]},{"itemId":"b4deff8a-ac2f-46bd-924a-108c63e6d4a6″,"text":"Home Runs","properties":{"link":"https://www.mlb.com/video/topic/home-runs"},"menuItems":[]},{"itemId":"d2add1e4-7ad6-417b-a04d-ffb83aa63332″,"text":"MLB Draft","properties":{"link":"https://www.mlb.com/video/topic/mlb-draft"},"menuItems":[]},{"itemId":"6a7e200b-2443-4e01-b95a-16bf6326a089″,"text":"Walk-Offs","properties":{"link":"https://www.mlb.com/video/topic/walk-offs"},"menuItems":[]},{"itemId":"cb8372c5-4ebe-44db-8b4b-de7364b80ec9″,"text":"Go Yard","properties":{"link":"https://www.mlb.com/video/topic/leadoff-home-runs"},"menuItems":[]},{"itemId":"e9fc5098-1904-4089-8fa2-c4b3d9a0feaf","text":"Top Defensive Plays","properties":{"link":"https://www.mlb.com/video/topic/top-defensive-plays"},"menuItems":[]},{"itemId":"d1a89b62-ed0e-4df5-a65d-9471b06eb3ad","text":"Grand Slams","properties":{"link":"https://www.mlb.com/video/topic/grand-slams"},"menuItems":[]},{"itemId":"c19fb88b-a3c7-4141-a616-0299dc17e774″,"text":"Best of Statcast","properties":{"link":"https://www.mlb.com/video/topic/statcast"},"menuItems":[]},{"itemId":"4cdb4f64-f058-43e3-a0f3-a078c3701cc9″,"text":"Extra Innings","properties":{"link":"https://www.mlb.com/video/topic/extra-innings"},"menuItems":[]},{"itemId":"3d4947a4-61d9-4ce6-9bec-5ef974a5aff1″,"text":"Curtain Calls","properties":{"link":"https://www.mlb.com/video/topic/curtain-calls"},"menuItems":[]},{"itemId":"ea8c81d8-3594-4318-b95e-7d7c4c92c1db","text":"Legendary Moments","properties":{"link":"https://www.mlb.com/video/topic/key-moments"},"menuItems":[]},{"itemId":"550155b7-3825-4c73-bf84-0250dec41903″,"text":"Carry the Freight","properties":{"link":"https://www.mlb.com/video/topic/carry-the-freight"},"menuItems":[]}]}]},{"itemId":"7c68f445-5095-46cc-bab3-73af6c921597″,"text":"Scores","properties":{"link":"https://www.mlb.com/scores","customProperties":"mobile:true;amp:true;","visible":"true"},"menuItems":[]},{"itemId":"9efaf5e3-6a93-4e4f-b8af-1219110ecb30″,"text":"Stats","properties":{"link":"https://www.mlb.com/stats","customProperties":"mobile:true;amp:true;"},"menuItems":[{"itemId":"f31b263b-34d4-46ab-aa46-9796e93b048b","text":"2021 Regular Season Stats","properties":{"link":"https://www.mlb.com/stats/2021″},"menuItems":[]},{"itemId":"62c5195b-2630-4d9e-9896-6aee0709aeee","text":"2021 Sortable Team Stats","properties":{"link":"https://www.mlb.com/stats/team/2021″},"menuItems":[]},{"itemId":"c26bdb6a-e2f7-48dc-bd44-39e522f7b5ca","text":"2021 Spring Training Stats","properties":{"link":"https://www.mlb.com/stats/2021/spring-training"},"menuItems":[]},{"itemId":"41566816-1cb8-421f-9a4a-9ccdefa7ed69″,"text":"Statcast Leaders","properties":{"link":"https://baseballsavant.mlb.com/statcast_leaderboard"},"menuItems":[]},{"itemId":"2d0a2684-64c6-4d9f-87a1-a7cf9f661e2f","text":"Baseball Savant","properties":{"link":"https://baseballsavant.mlb.com/"},"menuItems":[]},{"itemId":"b9d0ae31-f31d-449b-82fb-5a77f59293ba","text":"Top Prospect Stats","properties":{"link":"/prospects/stats/top-prospects?type=all&dateRange=Year2019&minPA=1″},"menuItems":[]},{"itemId":"2ae90479-df9d-458e-a47e-7acf851728e7″,"text":"Offseason Leagues","properties":{"link":"http://mlb.mlb.com/milb/stats/?tcid=mm_mlb_stats","customProperties":""},"menuItems":[]},{"itemId":"cf9eab1e-1dba-458c-949b-8db03f86d49e","text":"Glossary","properties":{"link":"http://m.mlb.com/glossary"},"menuItems":[]}]},{"itemId":"6af88ec1-9bfe-4494-abc0-898dc919a081″,"text":"Standings","properties":{"link":"https://www.mlb.com/standings","customProperties":"mobile:true;amp:true;"},"menuItems":[{"itemId":"121a61dc-a81a-45af-abbe-8230aee19b5e","text":"2021 Regular Season Standings","properties":{"link":"https://www.mlb.com/standings"},"menuItems":[]},{"itemId":"a9713ec1-4849-41b5-8f0b-fa0746a205e4″,"text":"2021 Spring Training Standings","properties":{"link":"https://www.mlb.com/standings/spring-training/2021″,"customProperties":""},"menuItems":[]},{"itemId":"4c250046-6a0d-4352-b3f2-3059a5881c2a","text":"2020 Regular Season Standings","properties":{"link":"https://www.mlb.com/standings/regular-season/2020″},"menuItems":[]},{"itemId":"a84f52a4-d7d4-4661-b193-8c81901e8e7e","text":"2020 Advanced Standings","properties":{"link":"https://www.mlb.com/standings/regular-season/advanced-splits/2020″},"menuItems":[]}]},{"itemId":"248fea7e-1d19-452a-bb5c-999e1a09b7cd","text":"Schedule","properties":{"link":"https://www.mlb.com/schedule","customProperties":"amp:true;"},"menuItems":[{"itemId":"12fd9194-8902-43f1-9686-f9f321c90450″,"text":"2021 Regular Season","properties":{"link":"https://www.mlb.com/schedule"},"menuItems":[]},{"itemId":"a29c951d-7d72-49b7-b290-35b5c261fa94″,"text":"2021 Postseason","properties":{"link":"https://www.mlb.com/news/2021-mlb-playoff-and-world-series-schedule"},"menuItems":[]},{"itemId":"f4010b7a-902c-41e0-b405-e0fa695b5c64″,"text":"2022 Regular Season","properties":{"link":"https://www.mlb.com/schedule/2022-03-31″},"menuItems":[]},{"itemId":"74ae0fd1-28f5-41ab-8861-23d056482243″,"text":"2022 Spring Training","properties":{"link":"https://www.mlb.com/schedule/2022-02-26″},"menuItems":[]},{"itemId":"94c9d7e4-3477-4217-87f3-008d2290b9ee","text":"Important Dates","properties":{"link":"https://www.mlb.com/schedule/events#important-dates"},"menuItems":[]},{"itemId":"d3566c69-34a7-4e6c-b2bb-28203c847f9e","text":"Probable Pitchers","properties":{"link":"https://www.mlb.com/probable-pitchers"},"menuItems":[]},{"itemId":"3747c1bc-9b3d-43f5-bd04-d1274c59c02a","text":"Team by Team Schedule","properties":{"link":"https://www.mlb.com/schedule/team-by-team"},"menuItems":[]},{"itemId":"e75ecc62-7e72-4b53-9705-a23e2b511f83″,"text":"National Broadcasts","properties":{"link":"http://mlb.mlb.com/mlb/official_info/broadcasts/national.jsp?tcid=mm_mlb_schedule"},"menuItems":[]},{"itemId":"bce30443-7f92-4c61-979f-058e5e6ebe17″,"text":"Sunday Night Broadcasts","properties":{"link":"http://m.mlb.com/promo/sunday-night-broadcasts"},"menuItems":[]}]},{"itemId":"8c842eeb-dedd-430c-a452-57a740d5c3df","text":"Players","properties":{"link":"https://www.mlb.com/players","customProperties":"","icon":"group"},"menuItems":[{"itemId":"650da3ef-b96d-4a7d-bf4b-47a55b2e6cb3″,"text":"Players A to Z","properties":{"link":"https://www.mlb.com/players"},"menuItems":[]},{"itemId":"b971e11e-c0ea-4f42-a693-a9e18e15447f","text":"Injury Updates","properties":{"link":"https://www.mlb.com/injury-report"},"menuItems":[]},{"itemId":"76a61c3c-c73a-497a-9d6f-f762ad0fdecd","text":"Depth Charts","properties":{"link":"https://www.mlb.com/team/roster/depth-chart"},"menuItems":[]},{"itemId":"b30fe902-714f-4f74-a901-d2397c750dab","text":"Transactions","properties":{"link":"http://mlb.mlb.com/mlb/transactions/?tcid=mm_mlb_players"},"menuItems":[]},{"itemId":"3e585331-af20-4e73-8419-2067bed2677c","text":"Starting Lineups","properties":{"link":"https://www.mlb.com/starting-lineups"},"menuItems":[]},{"itemId":"a327060e-962d-428e-91ee-40522edcda03″,"text":"Prospect Rankings","properties":{"link":"https://www.mlb.com/prospects"},"menuItems":[]},{"itemId":"a30f9694-b2cd-4a2a-9118-d3c7f00b39b1″,"text":"Mobile Player Alerts","properties":{"link":"http://mlb.mlb.com/mobile/text.jsp?tcid=mm_mlb_players","visible":"false"},"menuItems":[]},{"itemId":"f45e2471-de5a-4a07-b035-43f1b405f296″,"text":"MLB Players Association","properties":{"link":"https://www.mlbplayers.com"},"menuItems":[]},{"itemId":"6e855928-8a3d-41b6-8adc-71fe99a9508b","text":"Probable Pitchers","properties":{"link":"https://www.mlb.com/probable-pitchers"},"menuItems":[]},{"itemId":"e7ba059f-ad80-486d-bf9f-3992d718f129″,"text":"Negro Leagues","properties":{"link":"https://www.mlb.com/history/negro-leagues"},"menuItems":[]}]},{"itemId":"781f2bb2-a66a-44be-8fee-b0a0250d60e6″,"text":"Play Ball","properties":{"link":"https://www.mlb.com/play-ball","target":"_blank","customProperties":"topNav:false;","icon":"baseball"},"menuItems":[{"itemId":"2a74747c-e482-42f5-b750-ce710dea6568″,"text":"PlayBall.org","properties":{"link":"https://www.mlb.com/play-ball","target":"_blank"},"menuItems":[]},{"itemId":"9f5ab700-d2c0-43be-a398-6926ceef9e1c","text":"Hank Aaron Invitational","properties":{"link":"https://www.mlb.com/hank-aaron-invitational"},"menuItems":[]},{"itemId":"d7c7e170-573e-45c1-a1ab-b1bd3aec819f","text":"Videos","properties":{"link":"https://www.mlb.com/video/topic/play-ball"},"menuItems":[]},{"itemId":"5be26d3e-4ff2-4a84-8ea5-92aef9d759b2″,"text":"Photos","properties":{"link":"https://www.playball.org/photos","visible":"false"},"menuItems":[]},{"itemId":"14d9fdc8-ba24-44cf-9a77-7a867852f418″,"text":"News","properties":{"link":"https://www.mlb.com/news/topic/youth-baseball"},"menuItems":[]},{"itemId":"4c876067-e576-4874-b914-d86fe7f4a538″,"text":"Pitch Smart","properties":{"link":"https://www.mlb.com/pitch-smart"},"menuItems":[]},{"itemId":"6996ed01-d31d-4fc4-8d0d-a5baf177f69a","text":"Play Ball Near You","properties":{"link":"https://www.mlb.com/play-ball/play-ball-near-you"},"menuItems":[]},{"itemId":"4e66a4b2-0f27-483c-81d4-f27b0b630eac","text":"States Play","properties":{"link":"https://www.mlb.com/states-play"},"menuItems":[]},{"itemId":"aed729a5-4ff6-45cc-868c-f90b9b9190af","text":"MLB TOUR","properties":{"link":"https://www.mlb.com/mlb-tour"},"menuItems":[]},{"itemId":"28d79b33-aebd-4685-9cc9-c4ccce1262f8″,"text":"RBI","properties":{"link":"https://www.mlb.com/rbi"},"menuItems":[]},{"itemId":"18001329-d9d0-47b9-b2e0-5043b69cee9e","text":"Pitch, Hit & Run","properties":{"link":"https://www.mlb.com/pitch-hit-and-run"},"menuItems":[]},{"itemId":"df867e3c-db53-4d4f-9958-e10cb0939c8a","text":"Jr. Home Run Derby","properties":{"link":"https://www.mlb.com/junior-home-run-derby"},"menuItems":[]},{"itemId":"6af5ec56-5e26-45b3-93d6-2f79d929c046″,"text":"MLB Pipeline","properties":{"link":"https://www.mlb.com/pipeline"},"menuItems":[]},{"itemId":"bc715814-2692-4bde-9b1d-99cbd9ada5dc","text":"Youth Academies","properties":{"link":"https://www.mlb.com/mlb-youth-academy"},"menuItems":[]},{"itemId":"26715913-0ae8-4106-baa4-3d914b0a33b0″,"text":"Breakthrough Series","properties":{"link":"https://www.mlb.com/breakthrough-series"},"menuItems":[]},{"itemId":"56cb414b-eb00-4632-8acc-81d74ee4745e","text":"Elite Development Invitational","properties":{"link":"https://www.mlb.com/elite-development-invitational"},"menuItems":[]},{"itemId":"04697c74-2811-4d84-8150-aa1016aa6272″,"text":"USA Baseball","properties":{"link":"https://www.usabaseball.com/","target":"_blank"},"menuItems":[]},{"itemId":"ae77ea02-173a-4439-be6c-9ee75225bd50″,"text":"USA Softball","properties":{"link":"http://www.teamusa.org/USA-Softball","target":"_blank"},"menuItems":[]},{"itemId":"c293b7e0-f056-4102-89cd-d20649d4eff0″,"text":"Dream Series","properties":{"link":"https://www.mlb.com/dream-series"},"menuItems":[]},{"itemId":"181a47ba-9ea0-4a7a-8924-ccedef1cd372″,"text":"Trailblazer Series","properties":{"link":"https://www.mlb.com/trailblazer-series"},"menuItems":[]}]},{"itemId":"mlb-fans","text":"Fans","properties":{"link":"https://www.mlb.com/fans"},"menuItems":[{"itemId":"25c7540a-c3a3-42e8-a8f8-1e3be9f5d4fe","text":"MLB Kids","properties":{"link":"https://www.mlb.com/fans/kids"},"menuItems":[]},{"itemId":"8ee0a750-a1d7-4c8f-80ee-cb7beb4268ff","text":"MLB International","properties":{"link":"https://www.mlb.com/international"},"menuItems":[]},{"itemId":"841025ef-a361-46e1-b5d0-c963c1a42827″,"text":"Postseason Publications","properties":{"link":"https://www.mlb.com/postseason/publications"},"menuItems":[]},{"itemId":"59ffbbaf-a56c-4cb4-b874-d5a5ce36c9f1″,"text":"MLB Newsletters","properties":{"link":"https://www.mlb.com/fans/newsletters"},"menuItems":[]},{"itemId":"9e37a80a-34da-4e92-ae40-8462146aef1c","text":"Virtual Backgrounds","properties":{"link":"https://www.mlb.com/fans/virtual-backgrounds"},"menuItems":[]},{"itemId":"ef7c9f4a-5e11-4700-aad3-b29a8c5acc4c","text":"Podcasts","properties":{"link":"https://www.mlb.com/fans/podcasts"},"menuItems":[]},{"itemId":"fcc0e750-dbe2-47b3-b681-0e3e379390c8″,"text":"Walk-Up Music","properties":{"link":"https://www.mlb.com/fans/music"},"menuItems":[]},{"itemId":"ad51f9be-9a3e-41d5-83aa-27d4351d583f","text":"Connect with MLB","properties":{"link":"https://www.mlb.com/social"},"menuItems":[]},{"itemId":"5d6dbbbf-fdff-41e7-b187-793bdb998ec8″,"text":"MLB Photos","properties":{"link":"https://www.mlb.com/photos/home"},"menuItems":[]}]},{"itemId":"832ad058-32b1-4fbd-940d-a68456ad3c25″,"text":"Fantasy","properties":{"link":"https://www.mlb.com/fantasy","customProperties":""},"menuItems":[{"itemId":"ee7dde99-2f2c-49e4-a5df-b319f51afa21″,"text":"Yahoo Fantasy Baseball","properties":{"target":"","link":"http://yhoo.it/3aK5QQw"},"menuItems":[]},{"itemId":"82ecd1d5-6055-4846-99de-2e5d99461009″,"text":"MLB Rally","properties":{"link":"https://www.mlb.com/apps/rally","visible":"true"},"menuItems":[]},{"itemId":"82b08ad3-ff33-4c90-8303-277dbf8190a3″,"text":"MLB Quick Pick","properties":{"link":"https://www.mlb.com/apps/rally/quickpick"},"menuItems":[]},{"itemId":"4e35b374-27ca-40c1-8f4b-d0e861496179″,"text":"MLB Beat the Streak","properties":{"link":"https://www.mlb.com/apps/beat-the-streak"},"menuItems":[]},{"itemId":"4b2c552e-94c1-49f6-8e5e-5f947f0d683c","text":"MLB MOONBLASTS Pick 'Em","properties":{"link":"/sponsorship/ftx-moonblasts-pick-em","customProperties":"expires:1627754400″},"menuItems":[]},{"itemId":"fa818f3d-e28a-4dce-8ed8-928d7000a1f6″,"text":"The Vault","properties":{"link":"https://www.mlb.com/the-vault"},"menuItems":[]},{"itemId":"5342efbb-aee3-4b7a-bd6b-da451509d65b","text":"Yahoo Fantasy Baseball","properties":{"link":"https://yhoo.it/2w7w4vr","visible":"false"},"menuItems":[]},{"itemId":"36bd3b31-a5df-4061-9abb-33d42ffa1818″,"text":"R.B.I. Baseball 21″,"properties":{"link":"https://www.rbigame.com"},"menuItems":[]},{"itemId":"3dab9102-cd2d-442e-ab8a-ad07d7b159f4″,"text":"MLB Home Run Derby","properties":{"link":"https://www.mlb.com/fantasy/home-run-derby"},"menuItems":[]},{"itemId":"a3152a55-11b7-4772-86e0-58d7982a1c76″,"text":"Season Pick 'Em","properties":{"link":"/opening-day-pick-em?affiliateId=spe-fantasynav-mlb-2021″,"visible":"false"},"menuItems":[]},{"itemId":"7f0d66f2-44a0-4594-b5f9-db2c84c09356″,"text":"MLB Pre-Pick (AUS)","properties":{"link":"https://www.mlb.com/pre-pick/tab"},"menuItems":[]},{"itemId":"7af822e8-dc82-4b7e-818a-97080c0938f2″,"text":"Closer Report","properties":{"link":"/closer-report","visible":"false"},"menuItems":[]},{"itemId":"c2b4eeef-ec9c-4c5b-831c-1edca0316768″,"text":"Prospect Rankings","properties":{"link":"https://www.mlb.com/prospects"},"menuItems":[]},{"itemId":"3b212a3b-4687-4ea7-a276-3e780e18210c","text":"MLB Champions","properties":{"link":"https://www.mlbc-app.com/?ref=mlbcom"},"menuItems":[]}]},{"itemId":"f857d698-35a3-4b1b-8e88-d92056ca5507″,"text":"Apps","properties":{"link":"https://www.mlb.com/apps","customProperties":"topNav:false;","data":"Apps"},"menuItems":[{"itemId":"c974a38d-8537-4d03-9dfa-681ac5bd0f08″,"text":"MLB","properties":{"link":"https://www.mlb.com/apps/mlb-app"},"menuItems":[]},{"itemId":"13d77816-460d-4783-8ed7-f1ff1d3a97ed","text":"MLB Rally","properties":{"link":"https://www.mlb.com/apps/rally","visible":"true"},"menuItems":[]},{"itemId":"f2626a2d-160d-4682-96c6-bfe391c16398″,"text":"MLB Beat the Streak","properties":{"link":"https://www.mlb.com/apps/beat-the-streak"},"menuItems":[]},{"itemId":"89f7398c-7a79-46e4-a8cd-843a44ceee13″,"text":"MLB Ballpark","properties":{"link":"https://www.mlb.com/apps/ballpark"},"menuItems":[]},{"itemId":"03c8451e-6437-4aa6-8b5d-50c3fedad25e","text":"MiLB First Pitch","properties":{"link":"https://www.milb.com/about/first-pitch"},"menuItems":[]},{"itemId":"5d19666b-0c26-48ad-8465-09ed9f28dfc2″,"text":"R.B.I. Baseball 21″,"properties":{"link":"https://www.rbigame.com"},"menuItems":[]},{"itemId":"94808840-9046-445e-9a6a-83016bdadb72″,"text":"MLB Home Run Derby","properties":{"link":"https://www.mlb.com/fantasy/home-run-derby"},"menuItems":[]},{"itemId":"fbe4d233-e766-4207-8886-55a2fc1f7f74″,"text":"MLB FAQs","properties":{"link":"https://www.mlb.com/apps/mlb-app/faq-apple"},"menuItems":[]},{"itemId":"34d7bc2e-a216-4956-8105-b42f2ba4bea3″,"text":"MLB Ballpark FAQs","properties":{"link":"https://www.mlb.com/apps/ballpark/faq-apple"},"menuItems":[]},{"itemId":"c081befb-bde5-446d-a4d4-c9292d29d525″,"text":"MLB Rally FAQs","properties":{"link":"/apps/rally/faq-apple","visible":"true"},"menuItems":[]}]},{"itemId":"ba2b8aec-0e14-429e-ac96-dbb1f04edaf8″,"text":"Vote","properties":{"link":"https://www.mlb.com/all-star/ballot?affiliateId=asb-topnav-mlb-2021″,"customProperties":"appears:1622736000;expires:1625162400;","visible":"false"},"menuItems":[]},{"itemId":"57ec62ff-6517-49b7-8bef-7a3edc6874cb","text":"Auction","properties":{"link":"http://auction.mlb.com/","visible":"false","customProperties":"topNav:false;"},"menuItems":[{"itemId":"3ea7f7ac-0734-47d9-8804-967eba72da0e","text":"Authentication","properties":{"link":"https://www.mlb.com/authentication"},"menuItems":[]},{"itemId":"e3e18801-29de-4b11-86ac-a475342dff41″,"text":"Autographed","properties":{"link":"http://auctions.mlb.com/iSynApp/allAuction.action?sid=1101001&rc=25&selectedCatId=17342&sort=timeleft_asc&pgmode2=catpage"},"menuItems":[]},{"itemId":"f4c0200f-4437-47c0-8c15-1a54c26d22c0″,"text":"Baseball Cards","properties":{"link":"http://www.baseballcards.mlb.com/"},"menuItems":[]},{"itemId":"21b7a4a2-6c76-47b5-af79-51dc0334f2c9″,"text":"Baseballs","properties":{"link":"http://auctions.mlb.com/iSynApp/allAuction.action?sid=1101001&rc=25&selectedCatId=13020&sort=timeleft_asc&pgmode2=catpage"},"menuItems":[]},{"itemId":"6b056370-0888-43e4-9f8c-8100e2ee7653″,"text":"Bats","properties":{"link":"http://auctions.mlb.com/iSynApp/allAuction.action?sid=1101001&rc=25&selectedCatId=13041&sort=timeleft_asc&pgmode2=catpage"},"menuItems":[]},{"itemId":"1b036e35-5977-4af1-9cb0-736c76d18ec4″,"text":"Caps","properties":{"link":"http://auctions.mlb.com/iSynApp/allAuction.action?sid=1101001&rc=25&selectedCatId=13021&sort=timeleft_asc&pgmode2=catpage"},"menuItems":[]},{"itemId":"74ae99a1-5ed5-44e4-842c-b49dc99e982d","text":"Experiences","properties":{"link":"http://auctions.mlb.com/iSynApp/allAuction.action?sid=1101001&rc=25&selectedCatId=13060&sort=timeleft_asc&pgmode2=catpage"},"menuItems":[]},{"itemId":"d41a4007-2f65-4b0f-a0a8-7df58870e507″,"text":"Game-Used","properties":{"link":"http://auctions.mlb.com/iSynApp/allAuction.action?sid=1101001&rc=25&selectedCatId=13022&sort=timeleft_asc&pgmode2=catpage"},"menuItems":[]},{"itemId":"aafaf49c-cfb9-432d-9119-f86a64fdbb27″,"text":"Jerseys","properties":{"link":"http://auctions.mlb.com/iSynApp/allAuction.action?sid=1101001&rc=25&selectedCatId=13062&sort=timeleft_asc&pgmode2=catpage"},"menuItems":[]},{"itemId":"c0be3bdb-025a-42ac-b09d-c391d058342b","text":"Photos","properties":{"link":"http://auctions.mlb.com/iSynApp/allAuction.action?sid=1101001&rc=25&selectedCatId=13024&sort=timeleft_asc&pgmode2=catpage"},"menuItems":[]}]},{"itemId":"98430c25-7924-4112-a70f-0b32fd31594f","text":"Teams","properties":{"link":"https://www.mlb.com/team","customProperties":"amp:true;module:teammodule;align:right;"},"menuItems":[{"itemId":"9191834c-54c4-40a7-8aac-9745d3666084″,"text":"Team Module","properties":{"customProperties":"module:teammodule;"},"menuItems":[]}]},{"itemId":"397b9e10-6d65-4fc0-bbe6-8d07f5e8d3a8″,"text":"ES","properties":{"link":"https://www.mlb.com/es","customProperties":"align:right;","toolTip":"Español"},"menuItems":[{"itemId":"ceb83c80-eaf2-4dd4-bdc6-e23b1e11ae60″,"text":"日本語","properties":{"link":"http://www.mlb.jp/","customProperties":"lang:ja"},"menuItems":[]},{"itemId":"27ac6728-00c1-4965-963b-05d33268fb50″,"text":"한국어","properties":{"link":"https://www.mlbkor.com/","customProperties":"lang:ko"},"menuItems":[]}]}]},"locale":"en","reqPath":"/news/brandon-crawford-giants-nominee-2021-roberto-clemente-award","sharedNav":{"instanceId":"6c265854-d856-4f92-aea1-07dfe5cda020″,"name":"shared-nav","variables":[],"menuItems":[{"itemId":"93b3e9b2-65a9-4585-9185-03e255cb523c","text":"MLB.TV","properties":{"link":"https://www.mlb.com/tv?&affiliateId=clubMENU","icon":"watch","customProperties":"align:right;"},"menuItems":[{"itemId":"162f5687-7f5b-4422-a782-133dc3db8aa0″,"text":"Buy MLB.TV","properties":{"link":"https://www.mlb.com/live-stream-games/subscribe?&affiliateId=clubMENU"},"menuItems":[]},{"itemId":"f75d3e53-5cc5-4eb5-b64d-7e72c3f601b9″,"text":"Buy MLB Audio","properties":{"link":"https://www.mlb.com/live-stream-games/subscribe/mlb-audio?&affiliateId=clubMENU"},"menuItems":[]},{"itemId":"d54a2b21-9db9-4252-9ebe-e3a4b2a3cf83″,"text":"Watch MLB.TV","properties":{"link":"https://www.mlb.com/live-stream-games?&affiliateId=clubMENU"},"menuItems":[]},{"itemId":"dcd7d391-b324-4b75-81cd-47e27639771a","text":"Free MLB.TV For College Students","properties":{"link":"https://www.mlb.com/live-stream-games/students?&affiliateId=clubMENU"},"menuItems":[]},{"itemId":"28f71773-a34e-46c5-bdbc-ac6476c5fc7a","text":"MLB Big Inning","properties":{"link":"https://www.mlb.com/live-stream-games/big-inning"},"menuItems":[]},{"itemId":"703b5c44-a9b4-46a2-bc2e-33112a413980″,"text":"MLB.TV Gift Giving","properties":{"link":"https://www.mlb.com/live-stream-games/subscribe/gift-giving"},"menuItems":[]},{"itemId":"2d8d6ad8-dc2a-4971-9b12-f1853530c5d3″,"text":"Watch MLB.TV Docs & Features","properties":{"link":"https://www.mlb.com/tv/featured?&affiliateId=clubMENU"},"menuItems":[]},{"itemId":"6254640c-2069-4447-822f-084d0a38f161″,"text":"MLB.TV Help Center","properties":{"link":"https://www.mlb.com/live-stream-games/help-center?&affiliateId=clubMENU"},"menuItems":[]},{"itemId":"6d167d3d-4063-43ae-b13c-283e83c0e91c","text":"MLB.TV with Extra Innings","properties":{"link":"https://www.mlb.com/live-stream-games/third-party?&affiliateId=clubMENU"},"menuItems":[]}]},{"itemId":"d54d0be0-f610-4f8b-90ac-c246c361e2e2″,"text":"Fantasy","properties":{"link":"https://www.mlb.com/fantasy"},"menuItems":[{"itemId":"5ec4bde4-6bc1-412b-a92b-6b7cb3b2f07c","text":"Yahoo Fantasy Baseball","properties":{"link":"http://yhoo.it/3aK5QQw","visible":"true"},"menuItems":[]},{"itemId":"b2a63b51-03fc-423d-971e-1e566f6008f4″,"text":"MLB Rally","properties":{"link":"https://www.mlb.com/apps/rally","visible":"true"},"menuItems":[]},{"itemId":"f6929b88-632d-4a6f-ba73-8a64fccba1b0″,"text":"MLB Quick Pick","properties":{"link":"https://www.mlb.com/apps/rally/quickpick"},"menuItems":[]},{"itemId":"0ebe9e5d-3fc7-48d2-acb1-c33eb931b911″,"text":"MLB Beat the Streak","properties":{"link":"https://www.mlb.com/apps/beat-the-streak","visible":"true"},"menuItems":[]},{"itemId":"086bd307-a929-4414-9dd7-09bdac8d3f2e","text":"MLB MOONBLASTS Pick 'Em","properties":{"link":"https://www.mlb.com/sponsorship/ftx-moonblasts-pick-em","customProperties":"expires:1627754400″},"menuItems":[]},{"itemId":"14aa1d4b-0193-4670-a1fc-b4386d4977e8″,"text":"The Vault","properties":{"link":"https://www.mlb.com/the-vault"},"menuItems":[]},{"itemId":"1543c12c-66d1-4033-9e05-c025fcb71a6a","text":"R.B.I. Baseball 21″,"properties":{"link":"https://www.rbigame.com"},"menuItems":[]},{"itemId":"4e0abdd4-8a0f-4bc5-838f-91dd2796041e","text":"MLB Home Run Derby","properties":{"link":"https://www.mlb.com/fantasy/home-run-derby"},"menuItems":[]},{"itemId":"7d8dfda7-345a-46fa-82dc-105068ba223e","text":"Season Pick 'Em","properties":{"link":"https://www.mlb.com/season-pick-em?affiliateId=spe-fantasynav-club-2021″,"visible":"false"},"menuItems":[]},{"itemId":"6eda396d-199b-4772-b3c9-c0b032513b6c","text":"MLB Pre-Pick (AUS)","properties":{"customProperties":"","link":"https://www.mlb.com/pre-pick/tab"},"menuItems":[]},{"itemId":"9f1ff266-0ed8-4adb-ba77-428d1871b237″,"text":"Closer Report","properties":{"link":"https://www.mlb.com/closer-report","visible":"false"},"menuItems":[]},{"itemId":"4c4f57bd-e31a-46c9-8f73-0fa2227451d3″,"text":"Prospect Rankings","properties":{"link":"https://www.mlb.com/prospects"},"menuItems":[]},{"itemId":"1ebe4dc3-2c6a-469f-be59-474fe14dbbd7″,"text":"MLB Champions","properties":{"link":"https://www.mlbc-app.com/?ref=mlbcom"},"menuItems":[]}]},{"itemId":"d1f61f89-9fd0-4f03-be17-2c5e128711a4″,"text":"Apps","properties":{"link":"https://www.mlb.com/apps"},"menuItems":[{"itemId":"83ac2ddf-414b-47d1-afec-ffacd068ab57″,"text":"MLB","properties":{"link":"https://www.mlb.com/apps/mlb-app"},"menuItems":[]},{"itemId":"83dbba73-02ac-4ba0-bebf-2c62ef04c19e","text":"MLB Rally","properties":{"link":"https://www.mlb.com/apps/rally","visible":"true"},"menuItems":[]},{"itemId":"26fda476-348c-4f42-aa7c-92d1f9b1bf5c","text":"MLB Beat the Streak","properties":{"link":"https://www.mlb.com/apps/beat-the-streak"},"menuItems":[]},{"itemId":"e09e6978-fcf7-4c2f-8387-59d83b7be38e","text":"MLB Ballpark","properties":{"link":"https://www.mlb.com/apps/ballpark"},"menuItems":[]},{"itemId":"5e7b8019-9484-4872-abd7-8b963cd5969e","text":"MiLB First Pitch","properties":{"link":"https://www.milb.com/about/first-pitch"},"menuItems":[]},{"itemId":"e3a0183d-1b5f-4e56-9b81-02632ba4ec60″,"text":"R.B.I. Baseball 21″,"properties":{"link":"https://www.rbigame.com"},"menuItems":[]},{"itemId":"4fd8c1f8-a753-4501-916c-663390f1a566″,"text":"MLB Home Run Derby","properties":{"link":"https://www.mlb.com/fantasy/home-run-derby"},"menuItems":[]},{"itemId":"9d8dfe8b-be1a-4ebf-9509-6bd0165a868e","text":"MLB FAQs","properties":{"link":"https://www.mlb.com/apps/mlb-app/faq-apple"},"menuItems":[]},{"itemId":"df4e8527-e357-4272-bcf7-61876ed9455d","text":"MLB Ballpark FAQs","properties":{"link":"https://www.mlb.com/apps/ballpark/faq-apple","visible":"true"},"menuItems":[]},{"itemId":"c2943c65-a843-437a-9ef4-4ccfe5be088f","text":"MLB Rally FAQs","properties":{"link":"https://www.mlb.com/apps/rally/faq-apple","visible":"true"},"menuItems":[]}]}]},"styleProps":{},"teamNameSlug":"","teamsData":[{"id":133,"name":"Oakland Athletics","link":"/api/v1/teams/133″,"season":2021,"venue":{"id":10,"name":"Oakland Coliseum","link":"/api/v1/venues/10″,"location":{"address1″:"7000 Coliseum Way","city":"Oakland","state":"California","stateAbbrev":"CA","postalCode":"94621″,"defaultCoordinates":{"latitude":37.751511,"longitude":-122.200698},"country":"USA","phone":"(510) 638-4900″},"timeZone":{"id":"America/Los_Angeles","offset":-7,"tz":"PDT"},"active":true},"springVenue":{"id":2507,"link":"/api/v1/venues/2507″},"teamCode":"oak","fileCode":"oak","abbreviation":"OAK","teamName":"Athletics","locationName":"Oakland","firstYearOfPlay":"1901″,"league":{"id":103,"name":"American League","link":"/api/v1/league/103″},"division":{"id":200,"name":"American League West","link":"/api/v1/divisions/200″},"sport":{"id":1,"link":"/api/v1/sports/1″,"name":"Major League Baseball"},"shortName":"Oakland","franchiseName":"Oakland","clubName":"Athletics","springLeague":{"id":114,"name":"Cactus League","link":"/api/v1/league/114″,"abbreviation":"CL"},"allStarStatus":"N","active":true},{"id":134,"name":"Pittsburgh Pirates","link":"/api/v1/teams/134″,"season":2021,"venue":{"id":31,"name":"PNC Park","link":"/api/v1/venues/31″,"location":{"address1″:"115 Federal Street","city":"Pittsburgh","state":"Pennsylvania","stateAbbrev":"PA","postalCode":"15212″,"defaultCoordinates":{"latitude":40.446904,"longitude":-80.005753},"country":"USA","phone":"(412) 323-5000″},"timeZone":{"id":"America/New_York","offset":-4,"tz":"EDT"},"active":true},"springVenue":{"id":2526,"link":"/api/v1/venues/2526″},"teamCode":"pit","fileCode":"pit","abbreviation":"PIT","teamName":"Pirates","locationName":"Pittsburgh","firstYearOfPlay":"1882″,"league":{"id":104,"name":"National League","link":"/api/v1/league/104″},"division":{"id":205,"name":"National League Central","link":"/api/v1/divisions/205″},"sport":{"id":1,"link":"/api/v1/sports/1″,"name":"Major League Baseball"},"shortName":"Pittsburgh","franchiseName":"Pittsburgh","clubName":"Pirates","springLeague":{"id":115,"name":"Grapefruit League","link":"/api/v1/league/115″,"abbreviation":"GL"},"allStarStatus":"N","active":true},{"id":135,"name":"San Diego Padres","link":"/api/v1/teams/135″,"season":2021,"venue":{"id":2680,"name":"Petco Park","link":"/api/v1/venues/2680″,"location":{"address1″:"100 Park Boulevard","city":"San Diego","state":"California","stateAbbrev":"CA","postalCode":"92101″,"defaultCoordinates":{"latitude":32.707861,"longitude":-117.157278},"country":"USA","phone":"(619) 795-5000″},"timeZone":{"id":"America/Los_Angeles","offset":-7,"tz":"PDT"},"active":true},"springVenue":{"id":2530,"link":"/api/v1/venues/2530″},"teamCode":"sdn","fileCode":"sd","abbreviation":"SD","teamName":"Padres","locationName":"San Diego","firstYearOfPlay":"1968″,"league":{"id":104,"name":"National League","link":"/api/v1/league/104″},"division":{"id":203,"name":"National League West","link":"/api/v1/divisions/203″},"sport":{"id":1,"link":"/api/v1/sports/1″,"name":"Major League Baseball"},"shortName":"San Diego","franchiseName":"San Diego","clubName":"Padres","springLeague":{"id":114,"name":"Cactus League","link":"/api/v1/league/114″,"abbreviation":"CL"},"allStarStatus":"N","active":true},{"id":136,"name":"Seattle Mariners","link":"/api/v1/teams/136″,"season":2021,"venue":{"id":680,"name":"T-Mobile Park","link":"/api/v1/venues/680″,"location":{"address1″:"P.O. Box 4100″,"city":"Seattle","state":"Washington","stateAbbrev":"WA","postalCode":"98104″,"defaultCoordinates":{"latitude":47.591333,"longitude":-122.33251},"country":"USA","phone":"(206) 346-4000″},"timeZone":{"id":"America/Los_Angeles","offset":-7,"tz":"PDT"},"active":true},"springVenue":{"id":2530,"link":"/api/v1/venues/2530″},"teamCode":"sea","fileCode":"sea","abbreviation":"SEA","teamName":"Mariners","locationName":"Seattle","firstYearOfPlay":"1977″,"league":{"id":103,"name":"American League","link":"/api/v1/league/103″},"division":{"id":200,"name":"American League West","link":"/api/v1/divisions/200″},"sport":{"id":1,"link":"/api/v1/sports/1″,"name":"Major League Baseball"},"shortName":"Seattle","franchiseName":"Seattle","clubName":"Mariners","springLeague":{"id":114,"name":"Cactus League","link":"/api/v1/league/114″,"abbreviation":"CL"},"allStarStatus":"N","active":true},{"id":137,"name":"San Francisco Giants","link":"/api/v1/teams/137″,"season":2021,"venue":{"id":2395,"name":"Oracle Park","link":"/api/v1/venues/2395″,"location":{"address1″:"24 Willie Mays Plaza","city":"San Francisco","state":"California","stateAbbrev":"CA","postalCode":"94107″,"defaultCoordinates":{"latitude":37.778383,"longitude":-122.389448},"country":"USA","phone":"(415) 972-2000″},"timeZone":{"id":"America/Los_Angeles","offset":-7,"tz":"PDT"},"active":true},"springVenue":{"id":2532,"link":"/api/v1/venues/2532″},"teamCode":"sfn","fileCode":"sf","abbreviation":"SF","teamName":"Giants","locationName":"San Francisco","firstYearOfPlay":"1883″,"league":{"id":104,"name":"National League","link":"/api/v1/league/104″},"division":{"id":203,"name":"National League West","link":"/api/v1/divisions/203″},"sport":{"id":1,"link":"/api/v1/sports/1″,"name":"Major League Baseball"},"shortName":"San Francisco","franchiseName":"San Francisco","clubName":"Giants","springLeague":{"id":114,"name":"Cactus League","link":"/api/v1/league/114″,"abbreviation":"CL"},"allStarStatus":"N","active":true},{"id":138,"name":"St. Louis Cardinals","link":"/api/v1/teams/138″,"season":2021,"venue":{"id":2889,"name":"Busch Stadium","link":"/api/v1/venues/2889″,"location":{"address1″:"700 Clark Street","city":"St. Louis","state":"Missouri","stateAbbrev":"MO","postalCode":"63102″,"defaultCoordinates":{"latitude":38.62256667,"longitude":-90.19286667},"country":"USA","phone":"(314) 345-9600″},"timeZone":{"id":"America/Chicago","offset":-5,"tz":"CDT"},"active":true},"springVenue":{"id":2520,"link":"/api/v1/venues/2520″},"teamCode":"sln","fileCode":"stl","abbreviation":"STL","teamName":"Cardinals","locationName":"St. Louis","firstYearOfPlay":"1892″,"league":{"id":104,"name":"National League","link":"/api/v1/league/104″},"division":{"id":205,"name":"National League Central","link":"/api/v1/divisions/205″},"sport":{"id":1,"link":"/api/v1/sports/1″,"name":"Major League Baseball"},"shortName":"St. Louis","franchiseName":"St. Louis","clubName":"Cardinals","springLeague":{"id":115,"name":"Grapefruit League","link":"/api/v1/league/115″,"abbreviation":"GL"},"allStarStatus":"N","active":true},{"id":139,"name":"Tampa Bay Rays","link":"/api/v1/teams/139″,"season":2021,"venue":{"id":12,"name":"Tropicana Field","link":"/api/v1/venues/12″,"location":{"address1″:"One Tropicana Drive","city":"St. Petersburg","state":"Florida","stateAbbrev":"FL","postalCode":"33705″,"defaultCoordinates":{"latitude":27.767778,"longitude":-82.6525},"country":"USA","phone":"(727) 825-3137″},"timeZone":{"id":"America/New_York","offset":-4,"tz":"EDT"},"active":true},"springVenue":{"id":2534,"link":"/api/v1/venues/2534″},"teamCode":"tba","fileCode":"tb","abbreviation":"TB","teamName":"Rays","locationName":"St. Petersburg","firstYearOfPlay":"1996″,"league":{"id":103,"name":"American League","link":"/api/v1/league/103″},"division":{"id":201,"name":"American League East","link":"/api/v1/divisions/201″},"sport":{"id":1,"link":"/api/v1/sports/1″,"name":"Major League Baseball"},"shortName":"Tampa Bay","franchiseName":"Tampa Bay","clubName":"Rays","springLeague":{"id":115,"name":"Grapefruit League","link":"/api/v1/league/115″,"abbreviation":"GL"},"allStarStatus":"N","active":true},{"id":140,"name":"Texas Rangers","link":"/api/v1/teams/140″,"season":2021,"venue":{"id":5325,"name":"Globe Life Field","link":"/api/v1/venues/5325″,"location":{"address1″:"734 Stadium Drive","city":"Arlington","state":"Texas","stateAbbrev":"TX","postalCode":"76011″,"defaultCoordinates":{"latitude":32.747299,"longitude":-97.081818},"country":"USA","phone":"(817) 533-1972″},"timeZone":{"id":"America/Chicago","offset":-5,"tz":"CDT"},"active":true},"springVenue":{"id":2603,"link":"/api/v1/venues/2603″},"teamCode":"tex","fileCode":"tex","abbreviation":"TEX","teamName":"Rangers","locationName":"Arlington","firstYearOfPlay":"1961″,"league":{"id":103,"name":"American League","link":"/api/v1/league/103″},"division":{"id":200,"name":"American League West","link":"/api/v1/divisions/200″},"sport":{"id":1,"link":"/api/v1/sports/1″,"name":"Major League Baseball"},"shortName":"Texas","franchiseName":"Texas","clubName":"Rangers","springLeague":{"id":114,"name":"Cactus League","link":"/api/v1/league/114″,"abbreviation":"CL"},"allStarStatus":"N","active":true},{"id":141,"name":"Toronto Blue Jays","link":"/api/v1/teams/141″,"season":2021,"venue":{"id":14,"name":"Rogers Centre","link":"/api/v1/venues/14″,"location":{"address1″:"1 Blue Jays Way, Suite 3200″,"city":"Toronto","state":"Ontario","stateAbbrev":"ON","postalCode":"M5V1J1″,"defaultCoordinates":{"latitude":43.64155,"longitude":-79.38915},"country":"Canada","phone":"(416) 341-1000″},"timeZone":{"id":"America/Toronto","offset":-4,"tz":"EDT"},"active":true},"springVenue":{"id":2536,"link":"/api/v1/venues/2536″},"teamCode":"tor","fileCode":"tor","abbreviation":"TOR","teamName":"Blue Jays","locationName":"Toronto","firstYearOfPlay":"1977″,"league":{"id":103,"name":"American League","link":"/api/v1/league/103″},"division":{"id":201,"name":"American League East","link":"/api/v1/divisions/201″},"sport":{"id":1,"link":"/api/v1/sports/1″,"name":"Major League Baseball"},"shortName":"Toronto","franchiseName":"Toronto","clubName":"Blue Jays","springLeague":{"id":115,"name":"Grapefruit League","link":"/api/v1/league/115″,"abbreviation":"GL"},"allStarStatus":"N","active":true},{"id":142,"name":"Minnesota Twins","link":"/api/v1/teams/142″,"season":2021,"venue":{"id":3312,"name":"Target Field","link":"/api/v1/venues/3312″,"location":{"address1″:"1 Twins Way","city":"Minneapolis","state":"Minnesota","stateAbbrev":"MN","postalCode":"55403″,"defaultCoordinates":{"latitude":44.981829,"longitude":-93.277891},"country":"USA","phone":"(612) 659-3400″},"timeZone":{"id":"America/Chicago","offset":-5,"tz":"CDT"},"active":true},"springVenue":{"id":2862,"link":"/api/v1/venues/2862″},"teamCode":"min","fileCode":"min","abbreviation":"MIN","teamName":"Twins","locationName":"Minneapolis","firstYearOfPlay":"1901″,"league":{"id":103,"name":"American League","link":"/api/v1/league/103″},"division":{"id":202,"name":"American League Central","link":"/api/v1/divisions/202″},"sport":{"id":1,"link":"/api/v1/sports/1″,"name":"Major League Baseball"},"shortName":"Minnesota","franchiseName":"Minnesota","clubName":"Twins","springLeague":{"id":115,"name":"Grapefruit League","link":"/api/v1/league/115″,"abbreviation":"GL"},"allStarStatus":"N","active":true},{"id":143,"name":"Philadelphia Phillies","link":"/api/v1/teams/143″,"season":2021,"venue":{"id":2681,"name":"Citizens Bank Park","link":"/api/v1/venues/2681″,"location":{"address1″:"One Citizens Bank Way","city":"Philadelphia","state":"Pennsylvania","stateAbbrev":"PA","postalCode":"19148″,"defaultCoordinates":{"latitude":39.90539086,"longitude":-75.16716957},"country":"USA","phone":"(215) 463-6000″},"timeZone":{"id":"America/New_York","offset":-4,"tz":"EDT"},"active":true},"springVenue":{"id":2700,"link":"/api/v1/venues/2700″},"teamCode":"phi","fileCode":"phi","abbreviation":"PHI","teamName":"Phillies","locationName":"Philadelphia","firstYearOfPlay":"1883″,"league":{"id":104,"name":"National League","link":"/api/v1/league/104″},"division":{"id":204,"name":"National League East","link":"/api/v1/divisions/204″},"sport":{"id":1,"link":"/api/v1/sports/1″,"name":"Major League Baseball"},"shortName":"Philadelphia","franchiseName":"Philadelphia","clubName":"Phillies","springLeague":{"id":115,"name":"Grapefruit League","link":"/api/v1/league/115″,"abbreviation":"GL"},"allStarStatus":"N","active":true},{"id":144,"name":"Atlanta Braves","link":"/api/v1/teams/144″,"season":2021,"venue":{"id":4705,"name":"Truist Park","link":"/api/v1/venues/4705″,"location":{"address1″:"755 Battery Avenue","city":"Atlanta","state":"Georgia","stateAbbrev":"GA","postalCode":"30339″,"defaultCoordinates":{"latitude":33.890672,"longitude":-84.467641},"country":"USA"},"timeZone":{"id":"America/New_York","offset":-4,"tz":"EDT"},"active":true},"springVenue":{"id":5380,"link":"/api/v1/venues/5380″},"teamCode":"atl","fileCode":"atl","abbreviation":"ATL","teamName":"Braves","locationName":"Atlanta","firstYearOfPlay":"1871″,"league":{"id":104,"name":"National League","link":"/api/v1/league/104″},"division":{"id":204,"name":"National League East","link":"/api/v1/divisions/204″},"sport":{"id":1,"link":"/api/v1/sports/1″,"name":"Major League Baseball"},"shortName":"Atlanta","franchiseName":"Atlanta","clubName":"Braves","springLeague":{"id":115,"name":"Grapefruit League","link":"/api/v1/league/115″,"abbreviation":"GL"},"allStarStatus":"N","active":true},{"id":145,"name":"Chicago White Sox","link":"/api/v1/teams/145″,"season":2021,"venue":{"id":4,"name":"Guaranteed Rate Field","link":"/api/v1/venues/4″,"location":{"address1″:"333 West 35th Street","city":"Chicago","state":"Illinois","stateAbbrev":"IL","postalCode":"60616″,"defaultCoordinates":{"latitude":41.83,"longitude":-87.634167},"country":"USA","phone":"(312) 674-1000″},"timeZone":{"id":"America/Chicago","offset":-5,"tz":"CDT"},"active":true},"springVenue":{"id":3809,"link":"/api/v1/venues/3809″},"teamCode":"cha","fileCode":"cws","abbreviation":"CWS","teamName":"White Sox","locationName":"Chicago","firstYearOfPlay":"1901″,"league":{"id":103,"name":"American League","link":"/api/v1/league/103″},"division":{"id":202,"name":"American League Central","link":"/api/v1/divisions/202″},"sport":{"id":1,"link":"/api/v1/sports/1″,"name":"Major League Baseball"},"shortName":"Chi White Sox","franchiseName":"Chicago","clubName":"White Sox","springLeague":{"id":114,"name":"Cactus League","link":"/api/v1/league/114″,"abbreviation":"CL"},"allStarStatus":"N","active":true},{"id":146,"name":"Miami Marlins","link":"/api/v1/teams/146″,"season":2021,"venue":{"id":4169,"name":"loanDepot park","link":"/api/v1/venues/4169″,"location":{"address1″:"501 Marlins Way","city":"Miami","state":"Florida","stateAbbrev":"FL","postalCode":"33125″,"defaultCoordinates":{"latitude":25.77796236,"longitude":-80.21951795},"country":"USA"},"timeZone":{"id":"America/New_York","offset":-4,"tz":"EDT"},"active":true},"springVenue":{"id":2520,"link":"/api/v1/venues/2520″},"teamCode":"mia","fileCode":"mia","abbreviation":"MIA","teamName":"Marlins","locationName":"Miami","firstYearOfPlay":"1991″,"league":{"id":104,"name":"National League","link":"/api/v1/league/104″},"division":{"id":204,"name":"National League East","link":"/api/v1/divisions/204″},"sport":{"id":1,"link":"/api/v1/sports/1″,"name":"Major League Baseball"},"shortName":"Miami","franchiseName":"Miami","clubName":"Marlins","springLeague":{"id":115,"name":"Grapefruit League","link":"/api/v1/league/115″,"abbreviation":"GL"},"allStarStatus":"N","active":true},{"id":147,"name":"New York Yankees","link":"/api/v1/teams/147″,"season":2021,"venue":{"id":3313,"name":"Yankee Stadium","link":"/api/v1/venues/3313″,"location":{"address1″:"One East 161st Street","city":"Bronx","state":"New York","stateAbbrev":"NY","postalCode":"10451″,"defaultCoordinates":{"latitude":40.82919482,"longitude":-73.9264977},"country":"USA","phone":"(718) 293-4300″},"timeZone":{"id":"America/New_York","offset":-4,"tz":"EDT"},"active":true},"springVenue":{"id":2523,"link":"/api/v1/venues/2523″},"teamCode":"nya","fileCode":"nyy","abbreviation":"NYY","teamName":"Yankees","locationName":"Bronx","firstYearOfPlay":"1903″,"league":{"id":103,"name":"American League","link":"/api/v1/league/103″},"division":{"id":201,"name":"American League East","link":"/api/v1/divisions/201″},"sport":{"id":1,"link":"/api/v1/sports/1″,"name":"Major League Baseball"},"shortName":"NY Yankees","franchiseName":"New York","clubName":"Yankees","springLeague":{"id":115,"name":"Grapefruit League","link":"/api/v1/league/115″,"abbreviation":"GL"},"allStarStatus":"N","active":true},{"id":158,"name":"Milwaukee Brewers","link":"/api/v1/teams/158″,"season":2021,"venue":{"id":32,"name":"American Family Field","link":"/api/v1/venues/32″,"location":{"address1″:"One Brewers Way","city":"Milwaukee","state":"Wisconsin","stateAbbrev":"WI","postalCode":"53214″,"defaultCoordinates":{"latitude":43.02838,"longitude":-87.97099},"country":"USA","phone":"(414) 902-4400″},"timeZone":{"id":"America/Chicago","offset":-5,"tz":"CDT"},"active":true},"springVenue":{"id":2518,"link":"/api/v1/venues/2518″},"teamCode":"mil","fileCode":"mil","abbreviation":"MIL","teamName":"Brewers","locationName":"Milwaukee","firstYearOfPlay":"1968″,"league":{"id":104,"name":"National League","link":"/api/v1/league/104″},"division":{"id":205,"name":"National League Central","link":"/api/v1/divisions/205″},"sport":{"id":1,"link":"/api/v1/sports/1″,"name":"Major League Baseball"},"shortName":"Milwaukee","franchiseName":"Milwaukee","clubName":"Brewers","springLeague":{"id":114,"name":"Cactus League","link":"/api/v1/league/114″,"abbreviation":"CL"},"allStarStatus":"N","active":true},{"id":108,"name":"Los Angeles Angels","link":"/api/v1/teams/108″,"season":2021,"venue":{"id":1,"name":"Angel Stadium","link":"/api/v1/venues/1″,"location":{"address1″:"2000 Gene Autry Way","city":"Anaheim","state":"California","stateAbbrev":"CA","postalCode":"92806″,"defaultCoordinates":{"latitude":33.80019044,"longitude":-117.8823996},"country":"USA","phone":"(714) 940-2000″},"timeZone":{"id":"America/Los_Angeles","offset":-7,"tz":"PDT"},"active":true},"springVenue":{"id":2500,"link":"/api/v1/venues/2500″},"teamCode":"ana","fileCode":"ana","abbreviation":"LAA","teamName":"Angels","locationName":"Anaheim","firstYearOfPlay":"1961″,"league":{"id":103,"name":"American League","link":"/api/v1/league/103″},"division":{"id":200,"name":"American League West","link":"/api/v1/divisions/200″},"sport":{"id":1,"link":"/api/v1/sports/1″,"name":"Major League Baseball"},"shortName":"LA Angels","franchiseName":"Los Angeles","clubName":"Angels","springLeague":{"id":114,"name":"Cactus League","link":"/api/v1/league/114″,"abbreviation":"CL"},"allStarStatus":"N","active":true},{"id":109,"name":"Arizona Diamondbacks","link":"/api/v1/teams/109″,"season":2021,"venue":{"id":15,"name":"Chase Field","link":"/api/v1/venues/15″,"location":{"address1″:"401 East Jefferson Street","city":"Phoenix","state":"Arizona","stateAbbrev":"AZ","postalCode":"85004″,"defaultCoordinates":{"latitude":33.445302,"longitude":-112.066687},"country":"USA","phone":"(602) 462-6500″},"timeZone":{"id":"America/Phoenix","offset":-7,"tz":"MST"},"active":true},"springVenue":{"id":4249,"link":"/api/v1/venues/4249″},"teamCode":"ari","fileCode":"ari","abbreviation":"ARI","teamName":"D-backs","locationName":"Phoenix","firstYearOfPlay":"1996″,"league":{"id":104,"name":"National League","link":"/api/v1/league/104″},"division":{"id":203,"name":"National League West","link":"/api/v1/divisions/203″},"sport":{"id":1,"link":"/api/v1/sports/1″,"name":"Major League Baseball"},"shortName":"Arizona","franchiseName":"Arizona","clubName":"Diamondbacks","springLeague":{"id":114,"name":"Cactus League","link":"/api/v1/league/114″,"abbreviation":"CL"},"allStarStatus":"N","active":true},{"id":110,"name":"Baltimore Orioles","link":"/api/v1/teams/110″,"season":2021,"venue":{"id":2,"name":"Oriole Park at Camden Yards","link":"/api/v1/venues/2″,"location":{"address1″:"333 West Camden Street","city":"Baltimore","state":"Maryland","stateAbbrev":"MD","postalCode":"21201″,"defaultCoordinates":{"latitude":39.283787,"longitude":-76.621689},"country":"USA","phone":"(410) 685-9800″},"timeZone":{"id":"America/New_York","offset":-4,"tz":"EDT"},"active":true},"springVenue":{"id":2508,"link":"/api/v1/venues/2508″},"teamCode":"bal","fileCode":"bal","abbreviation":"BAL","teamName":"Orioles","locationName":"Baltimore","firstYearOfPlay":"1901″,"league":{"id":103,"name":"American League","link":"/api/v1/league/103″},"division":{"id":201,"name":"American League East","link":"/api/v1/divisions/201″},"sport":{"id":1,"link":"/api/v1/sports/1″,"name":"Major League Baseball"},"shortName":"Baltimore","franchiseName":"Baltimore","clubName":"Orioles","springLeague":{"id":115,"name":"Grapefruit League","link":"/api/v1/league/115″,"abbreviation":"GL"},"allStarStatus":"N","active":true},{"id":111,"name":"Boston Red Sox","link":"/api/v1/teams/111″,"season":2021,"venue":{"id":3,"name":"Fenway Park","link":"/api/v1/venues/3″,"location":{"address1″:"4 Yawkey Way","city":"Boston","state":"Massachusetts","stateAbbrev":"MA","postalCode":"2215″,"defaultCoordinates":{"latitude":42.346456,"longitude":-71.097441},"country":"USA","phone":"(617) 267-9440″},"timeZone":{"id":"America/New_York","offset":-4,"tz":"EDT"},"active":true},"springVenue":{"id":4309,"link":"/api/v1/venues/4309″},"teamCode":"bos","fileCode":"bos","abbreviation":"BOS","teamName":"Red Sox","locationName":"Boston","firstYearOfPlay":"1901″,"league":{"id":103,"name":"American League","link":"/api/v1/league/103″},"division":{"id":201,"name":"American League East","link":"/api/v1/divisions/201″},"sport":{"id":1,"link":"/api/v1/sports/1″,"name":"Major League Baseball"},"shortName":"Boston","franchiseName":"Boston","clubName":"Red Sox","springLeague":{"id":115,"name":"Grapefruit League","link":"/api/v1/league/115″,"abbreviation":"GL"},"allStarStatus":"N","active":true},{"id":112,"name":"Chicago Cubs","link":"/api/v1/teams/112″,"season":2021,"venue":{"id":17,"name":"Wrigley Field","link":"/api/v1/venues/17″,"location":{"address1″:"1060 West Addison","city":"Chicago","state":"Illinois","stateAbbrev":"IL","postalCode":"60613-4397″,"defaultCoordinates":{"latitude":41.948171,"longitude":-87.655503},"country":"USA","phone":"(773) 404-2827″},"timeZone":{"id":"America/Chicago","offset":-5,"tz":"CDT"},"active":true},"springVenue":{"id":4629,"link":"/api/v1/venues/4629″},"teamCode":"chn","fileCode":"chc","abbreviation":"CHC","teamName":"Cubs","locationName":"Chicago","firstYearOfPlay":"1874″,"league":{"id":104,"name":"National League","link":"/api/v1/league/104″},"division":{"id":205,"name":"National League Central","link":"/api/v1/divisions/205″},"sport":{"id":1,"link":"/api/v1/sports/1″,"name":"Major League Baseball"},"shortName":"Chi Cubs","franchiseName":"Chicago","clubName":"Cubs","springLeague":{"id":114,"name":"Cactus League","link":"/api/v1/league/114″,"abbreviation":"CL"},"allStarStatus":"N","active":true},{"id":113,"name":"Cincinnati Reds","link":"/api/v1/teams/113″,"season":2021,"venue":{"id":2602,"name":"Great American Ball Park","link":"/api/v1/venues/2602″,"location":{"address1″:"100 Main Street","city":"Cincinnati","state":"Ohio","stateAbbrev":"OH","postalCode":"45202-4109″,"defaultCoordinates":{"latitude":39.097389,"longitude":-84.506611},"country":"USA","phone":"(513) 765-7000″},"timeZone":{"id":"America/New_York","offset":-4,"tz":"EDT"},"active":true},"springVenue":{"id":3834,"link":"/api/v1/venues/3834″},"teamCode":"cin","fileCode":"cin","abbreviation":"CIN","teamName":"Reds","locationName":"Cincinnati","firstYearOfPlay":"1882″,"league":{"id":104,"name":"National League","link":"/api/v1/league/104″},"division":{"id":205,"name":"National League Central","link":"/api/v1/divisions/205″},"sport":{"id":1,"link":"/api/v1/sports/1″,"name":"Major League Baseball"},"shortName":"Cincinnati","franchiseName":"Cincinnati","clubName":"Reds","springLeague":{"id":114,"name":"Cactus League","link":"/api/v1/league/114″,"abbreviation":"CL"},"allStarStatus":"N","active":true},{"id":114,"name":"Cleveland Indians","link":"/api/v1/teams/114″,"season":2021,"venue":{"id":5,"name":"Progressive Field","link":"/api/v1/venues/5″,"location":{"address1″:"2401 Ontario Street","city":"Cleveland","state":"Ohio","stateAbbrev":"OH","postalCode":"44115″,"defaultCoordinates":{"latitude":41.495861,"longitude":-81.685255},"country":"USA","phone":"(216) 420-4200″},"timeZone":{"id":"America/New_York","offset":-4,"tz":"EDT"},"active":true},"springVenue":{"id":3834,"link":"/api/v1/venues/3834″},"teamCode":"cle","fileCode":"cle","abbreviation":"CLE","teamName":"Indians","locationName":"Cleveland","firstYearOfPlay":"1901″,"league":{"id":103,"name":"American League","link":"/api/v1/league/103″},"division":{"id":202,"name":"American League Central","link":"/api/v1/divisions/202″},"sport":{"id":1,"link":"/api/v1/sports/1″,"name":"Major League Baseball"},"shortName":"Cleveland","franchiseName":"Cleveland","clubName":"Indians","springLeague":{"id":114,"name":"Cactus League","link":"/api/v1/league/114″,"abbreviation":"CL"},"allStarStatus":"N","active":true},{"id":115,"name":"Colorado Rockies","link":"/api/v1/teams/115″,"season":2021,"venue":{"id":19,"name":"Coors Field","link":"/api/v1/venues/19″,"location":{"address1″:"2001 Blake Street","city":"Denver","state":"Colorado","stateAbbrev":"CO","postalCode":"80205-2000″,"defaultCoordinates":{"latitude":39.756042,"longitude":-104.994136},"country":"USA","phone":"(303) 292-0200″},"timeZone":{"id":"America/Denver","offset":-6,"tz":"MDT"},"active":true},"springVenue":{"id":4249,"link":"/api/v1/venues/4249″},"teamCode":"col","fileCode":"col","abbreviation":"COL","teamName":"Rockies","locationName":"Denver","firstYearOfPlay":"1992″,"league":{"id":104,"name":"National League","link":"/api/v1/league/104″},"division":{"id":203,"name":"National League West","link":"/api/v1/divisions/203″},"sport":{"id":1,"link":"/api/v1/sports/1″,"name":"Major League Baseball"},"shortName":"Colorado","franchiseName":"Colorado","clubName":"Rockies","springLeague":{"id":114,"name":"Cactus League","link":"/api/v1/league/114″,"abbreviation":"CL"},"allStarStatus":"N","active":true},{"id":116,"name":"Detroit Tigers","link":"/api/v1/teams/116″,"season":2021,"venue":{"id":2394,"name":"Comerica Park","link":"/api/v1/venues/2394″,"location":{"address1″:"2100 Woodward Avenue","city":"Detroit","state":"Michigan","stateAbbrev":"MI","postalCode":"48201″,"defaultCoordinates":{"latitude":42.3391151,"longitude":-83.048695},"country":"USA","phone":"(313) 471-2000″},"timeZone":{"id":"America/Detroit","offset":-4,"tz":"EDT"},"active":true},"springVenue":{"id":2511,"link":"/api/v1/venues/2511″},"teamCode":"det","fileCode":"det","abbreviation":"DET","teamName":"Tigers","locationName":"Detroit","firstYearOfPlay":"1901″,"league":{"id":103,"name":"American League","link":"/api/v1/league/103″},"division":{"id":202,"name":"American League Central","link":"/api/v1/divisions/202″},"sport":{"id":1,"link":"/api/v1/sports/1″,"name":"Major League Baseball"},"shortName":"Detroit","franchiseName":"Detroit","clubName":"Tigers","springLeague":{"id":115,"name":"Grapefruit League","link":"/api/v1/league/115″,"abbreviation":"GL"},"allStarStatus":"N","active":true},{"id":117,"name":"Houston Astros","link":"/api/v1/teams/117″,"season":2021,"venue":{"id":2392,"name":"Minute Maid Park","link":"/api/v1/venues/2392″,"location":{"address1″:"501 Crawford Street","city":"Houston","state":"Texas","stateAbbrev":"TX","postalCode":"77002″,"defaultCoordinates":{"latitude":29.756967,"longitude":-95.355509},"country":"USA","phone":"(713) 259-8000″},"timeZone":{"id":"America/Chicago","offset":-5,"tz":"CDT"},"active":true},"springVenue":{"id":5000,"link":"/api/v1/venues/5000″},"teamCode":"hou","fileCode":"hou","abbreviation":"HOU","teamName":"Astros","locationName":"Houston","firstYearOfPlay":"1962″,"league":{"id":103,"name":"American League","link":"/api/v1/league/103″},"division":{"id":200,"name":"American League West","link":"/api/v1/divisions/200″},"sport":{"id":1,"link":"/api/v1/sports/1″,"name":"Major League Baseball"},"shortName":"Houston","franchiseName":"Houston","clubName":"Astros","springLeague":{"id":115,"name":"Grapefruit League","link":"/api/v1/league/115″,"abbreviation":"GL"},"allStarStatus":"N","active":true},{"id":118,"name":"Kansas City Royals","link":"/api/v1/teams/118″,"season":2021,"venue":{"id":7,"name":"Kauffman Stadium","link":"/api/v1/venues/7″,"location":{"address1″:"One Royal Way","city":"Kansas City","state":"Missouri","stateAbbrev":"MO","postalCode":"64129″,"defaultCoordinates":{"latitude":39.051567,"longitude":-94.480483},"country":"USA","phone":"(816) 921-8000″},"timeZone":{"id":"America/Chicago","offset":-5,"tz":"CDT"},"active":true},"springVenue":{"id":2603,"link":"/api/v1/venues/2603″},"teamCode":"kca","fileCode":"kc","abbreviation":"KC","teamName":"Royals","locationName":"Kansas City","firstYearOfPlay":"1968″,"league":{"id":103,"name":"American League","link":"/api/v1/league/103″},"division":{"id":202,"name":"American League Central","link":"/api/v1/divisions/202″},"sport":{"id":1,"link":"/api/v1/sports/1″,"name":"Major League Baseball"},"shortName":"Kansas City","franchiseName":"Kansas City","clubName":"Royals","springLeague":{"id":114,"name":"Cactus League","link":"/api/v1/league/114″,"abbreviation":"CL"},"allStarStatus":"N","active":true},{"id":119,"name":"Los Angeles Dodgers","link":"/api/v1/teams/119″,"season":2021,"venue":{"id":22,"name":"Dodger Stadium","link":"/api/v1/venues/22″,"location":{"address1″:"1000 Vin Scully Avenue","city":"Los Angeles","state":"California","stateAbbrev":"CA","postalCode":"90012-1199″,"defaultCoordinates":{"latitude":34.07368,"longitude":-118.24053},"country":"USA","phone":"(323) 224-1500″},"timeZone":{"id":"America/Los_Angeles","offset":-7,"tz":"PDT"},"active":true},"springVenue":{"id":3809,"link":"/api/v1/venues/3809″},"teamCode":"lan","fileCode":"la","abbreviation":"LAD","teamName":"Dodgers","locationName":"Los Angeles","firstYearOfPlay":"1884″,"league":{"id":104,"name":"National League","link":"/api/v1/league/104″},"division":{"id":203,"name":"National League West","link":"/api/v1/divisions/203″},"sport":{"id":1,"link":"/api/v1/sports/1″,"name":"Major League Baseball"},"shortName":"LA Dodgers","franchiseName":"Los Angeles","clubName":"Dodgers","springLeague":{"id":114,"name":"Cactus League","link":"/api/v1/league/114″,"abbreviation":"CL"},"allStarStatus":"N","active":true},{"id":120,"name":"Washington Nationals","link":"/api/v1/teams/120″,"season":2021,"venue":{"id":3309,"name":"Nationals Park","link":"/api/v1/venues/3309″,"location":{"address1″:"1500 South Capitol Street, SE","city":"Washington","state":"District of Columbia","stateAbbrev":"DC","postalCode":"20003-1507″,"defaultCoordinates":{"latitude":38.872861,"longitude":-77.007501},"country":"USA","phone":"(202) 349-0400″},"timeZone":{"id":"America/New_York","offset":-4,"tz":"EDT"},"active":true},"springVenue":{"id":5000,"link":"/api/v1/venues/5000″},"teamCode":"was","fileCode":"was","abbreviation":"WSH","teamName":"Nationals","locationName":"Washington","firstYearOfPlay":"1968″,"league":{"id":104,"name":"National League","link":"/api/v1/league/104″},"division":{"id":204,"name":"National League East","link":"/api/v1/divisions/204″},"sport":{"id":1,"link":"/api/v1/sports/1″,"name":"Major League Baseball"},"shortName":"Washington","franchiseName":"Washington","clubName":"Nationals","springLeague":{"id":115,"name":"Grapefruit League","link":"/api/v1/league/115″,"abbreviation":"GL"},"allStarStatus":"N","active":true},{"id":121,"name":"New York Mets","link":"/api/v1/teams/121″,"season":2021,"venue":{"id":3289,"name":"Citi Field","link":"/api/v1/venues/3289″,"location":{"address1″:"Citi Field","city":"Flushing","state":"New York","stateAbbrev":"NY","postalCode":"11368″,"defaultCoordinates":{"latitude":40.75753012,"longitude":-73.84559155},"country":"USA","phone":"(718) 507-6387″},"timeZone":{"id":"America/New_York","offset":-4,"tz":"EDT"},"active":true},"springVenue":{"id":2856,"link":"/api/v1/venues/2856″},"teamCode":"nyn","fileCode":"nym","abbreviation":"NYM","teamName":"Mets","locationName":"Flushing","firstYearOfPlay":"1962″,"league":{"id":104,"name":"National League","link":"/api/v1/league/104″},"division":{"id":204,"name":"National League East","link":"/api/v1/divisions/204″},"sport":{"id":1,"link":"/api/v1/sports/1″,"name":"Major League Baseball"},"shortName":"NY Mets","franchiseName":"New York","clubName":"Mets","springLeague":{"id":115,"name":"Grapefruit League","link":"/api/v1/league/115″,"abbreviation":"GL"},"allStarStatus":"N","active":true}]},"graphqlVariables":{"getInitialData":{"contentfulLocale":"en-US","forgeLocale":"en-us","isApp":false,"preview":false,"storySlug":"brandon-crawford-giants-nominee-2021-roberto-clemente-award","teamId":"mlb","teamPropertiesId":"mlb-global-properties","teamPaletteId":"mlb-base-palette"},"getRelatedContent":{"slug":"brandon-crawford-giants-nominee-2021-roberto-clemente-award","options":{"locale":"en-us","teamId":"mlb","topicSlug":""}},"getTopic":{"forgeLocale":"en-us","topicSlug":""}},"headerState":{"clubId":"mlb","deviceProperties":{},"footerData":{"instanceId":"db2f8fb2-78c8-4d3c-a328-9e91c349dfee","name":"global-footer","variables":[],"menuItems":[{"itemId":"aec375d3-3afa-4491-ab28-60b736f38982″,"text":"Terms of Use","properties":{"link":"/official-information/terms-of-use","target":"_blank"},"menuItems":[]},{"itemId":"debe8dbf-de27-4eae-b7ec-adae43fc4642″,"text":"Privacy Policy","properties":{"link":"/official-information/privacy-policy"},"menuItems":[]},{"itemId":"345a1847-cac1-43a4-91bf-70c21ecee681″,"text":"Legal Notices","properties":{"link":"/official-information/legal-notices"},"menuItems":[]},{"itemId":"34014aad-1069-4bba-b22e-4b287a4f7df1″,"text":"Contact Us","properties":{"link":"/official-information/contact"},"menuItems":[]},{"itemId":"65e06970-7f8e-4328-ad82-9d90df0f3e87″,"text":"Do Not Sell My Personal Data","properties":{"link":"https://privacyportal.onetrust.com/webform/53a301ae-6882-46f9-af93-24f64f792aee/3251a424-8286-4725-9313-603f12c85a49″,"target":"_blank"},"menuItems":[]},{"itemId":"dd307e97-49c6-4f80-aff3-89a59696fb80″,"text":"Official Information","properties":{},"menuItems":[{"itemId":"bdf571d3-e8bb-403b-bb5f-7f28a7127c74″,"text":"Official Info","properties":{"link":"/official-information"},"menuItems":[]},{"itemId":"ecfd4d42-aa8d-4872-80a5-869c6b493018″,"text":"About MLB","properties":{"link":"/official-information/about-mlb"},"menuItems":[]},{"itemId":"bb62de22-5c84-4cab-b9fb-5429ea9d647c","text":"Team Information","properties":{"link":"https://www.mlb.com/team"},"menuItems":[]},{"itemId":"7cc37e2a-667c-4405-bd1f-87ad88bc4d9e","text":"Official Rules","properties":{"link":"https://img.mlbstatic.com/mlb-images/image/upload/mlb/atcjzj9j7wrgvsm8wnjq.pdf"},"menuItems":[]},{"itemId":"e658056b-608b-4eee-a04a-43772f9e6bb4″,"text":"Replay Review Regulations","properties":{"link":"/glossary/rules/replay-review"},"menuItems":[]},{"itemId":"0b3fc77c-c7d1-4584-a184-90fd8c4959e9″,"text":"Umpires","properties":{"link":"/official-information/umpires"},"menuItems":[]},{"itemId":"23dde9d7-6aba-4bec-a449-b1b4d5a5767c","text":"Advertise with Us","properties":{"link":"/sponsorship"},"menuItems":[]},{"itemId":"ca43b715-5423-4314-ac5a-f9229bee6fb6″,"text":"Press Releases","properties":{"link":"/news/topic/mlb-press-releases"},"menuItems":[]}]},{"itemId":"7a60a8fc-0c3c-4c87-b04b-2b57b6c9894c","text":"Help/Contact Us","properties":{},"menuItems":[{"itemId":"efb27376-accc-4ca4-9017-c3309ee122d3″,"text":"Accessibility Information","properties":{"link":"/official-information/accessibility"},"menuItems":[]},{"itemId":"cf3490fc-f093-4457-99a7-d2bc3f4d4cef","text":"Auctions Customer Service","properties":{"link":"http://auctions.mlb.com/iSynApp/manageUserEmail!showEmailContactUsForm.action?sid=1101001″},"menuItems":[]},{"itemId":"c6867706-11b7-4634-a78e-b5d513948f43″,"text":"Harassment Policy","properties":{"link":"/official-information/harassment-policy"},"menuItems":[]},{"itemId":"0e3932c9-beec-43f2-b712-66879a51ab63″,"text":"Help/Contact Us","properties":{"link":"/official-information/contact"},"menuItems":[]},{"itemId":"6d4ebef1-3168-4b79-a237-9f36931d3a2c","text":"MLB App FAQs","properties":{"link":"https://www.mlb.com/apps/mlb-app/faq-apple"},"menuItems":[]},{"itemId":"4b3c6ee8-d4ae-4265-a7e7-7e5bea8cde28″,"text":"MLB.com Account Information","properties":{"link":"/official-information/faqs"},"menuItems":[]},{"itemId":"4d33a7c1-38d5-4b3b-a999-53377f55738d","text":"MLB.TV Help Center","properties":{"link":"/live-stream-games/help-center"},"menuItems":[]},{"itemId":"36f01834-7979-4a42-aa12-52439c2e320b","text":"Shop Help","properties":{"link":"https://help-mlb.custhelp.com/"},"menuItems":[]},{"itemId":"bb6e7a31-4b7d-4e49-8c2e-00dda9e237ab","text":"Ticket Information","properties":{"link":"/official-information/ticket-faqs"},"menuItems":[]}]},{"itemId":"6ca8b189-8c54-428f-9f79-3c357ef18469″,"text":"More MLB Sites & Affiliates","properties":{},"menuItems":[{"itemId":"becc9309-94fc-491b-ad15-45f7c17f85a9″,"text":"MLB Players Alumni Association","properties":{"link":"/mlbpaa","target":""},"menuItems":[]},{"itemId":"9ff49c09-8a0d-41e6-b8b0-14f37f8e7f52″,"text":"MLB Players Association","properties":{"link":"http://www.mlbplayers.com/"},"menuItems":[]},{"itemId":"022ec2ca-bb20-4543-9cdc-95ba3a4443ca","text":"Minor League Baseball","properties":{"link":"https://www.milb.com/"},"menuItems":[]},{"itemId":"c6f9948e-3521-4788-83ed-b568f39e86aa","text":"MLB Network","properties":{"link":"https://www.mlb.com/network"},"menuItems":[]},{"itemId":"de2ea389-0a29-4600-8048-b4261916183d","text":"Baseball Assistance Team","properties":{"link":"/baseball-assistance-team"},"menuItems":[]},{"itemId":"e1a2af1c-ee36-4672-935b-17e62d0b4ddc","text":"Player Resource Center","properties":{"link":"/player-resource-center","target":""},"menuItems":[]},{"itemId":"75f0b763-612d-4557-ae38-227fb5b3b7f1″,"text":"Tickets.com","properties":{"link":"http://www.tickets.com/"},"menuItems":[]},{"itemId":"f8599d26-5069-4417-8c26-0965dd8d9435″,"text":"YES Network","properties":{"link":"https://www.yesnetwork.com/"},"menuItems":[]},{"itemId":"5c8f6196-a4d5-4ed5-b830-189580691d3e","text":"Australian Baseball League","properties":{"link":"https://theabl.com.au/"},"menuItems":[]},{"itemId":"ab6fc805-0bb7-439b-8c3c-92c61b035387″,"text":"World Baseball Classic","properties":{"link":"https://www.worldbaseballclassic.com/"},"menuItems":[]},{"itemId":"e218ed4d-89f9-4f7d-87e7-c05a3559cd74″,"text":"sabr.org","properties":{"link":"http://sabr.org/"},"menuItems":[]},{"itemId":"158a95a6-bd4f-4654-b57f-465d3c356a55″,"text":"College Baseball Hall of Fame","properties":{"link":"https://www.mlb.com/college-baseball-hall-of-fame"},"menuItems":[]},{"itemId":"5e602a1a-e518-455b-ac5f-5c0e80430e38″,"text":"Golden Spikes Award","properties":{"link":"https://www.usabaseball.com/golden-spikes-award"},"menuItems":[]},{"itemId":"ccd9020d-c619-45d2-bc1f-ef80ae2cd651″,"text":"USA Baseball","properties":{"link":"https://www.usabaseball.com"},"menuItems":[]},{"itemId":"75512a93-d52d-4d71-a6d3-70d6b44dfa0f","text":"LasMayores.com","properties":{"link":"https://www.mlb.com/es"},"menuItems":[]},{"itemId":"3b7bbad3-1ed5-468d-8703-205519315e04″,"text":"MLBCommunity.org","properties":{"link":"/mlb-community"},"menuItems":[]},{"itemId":"f8058121-3606-4ff2-be8a-d1a3d47642db","text":"AllStarGame.com","properties":{"link":"https://www.mlb.com/all-star"},"menuItems":[]},{"itemId":"a624b4e5-c8d8-44b9-9084-7522ed0cee59″,"text":"MLB.com/Kids","properties":{"link":"https://www.mlb.com/fans/kids"},"menuItems":[]},{"itemId":"43c6bc47-f7d9-445a-85a1-10b3cdc02ee0″,"text":"MLB Photostore","properties":{"link":"https://photostore.mlb.com/"},"menuItems":[]},{"itemId":"d9f4ea22-70a7-4085-a16e-83f70a5711b2″,"text":"Offseason Leagues","properties":{"link":"http://mlb.mlb.com/mlb/events/winterleagues/"},"menuItems":[]},{"itemId":"c574a4a2-45ec-47fe-8ca3-b5b99d1cb443″,"text":"PlayBall.org","properties":{"link":"https://www.playball.org"},"menuItems":[]},{"itemId":"517cf98f-063c-486a-a725-5380e1ae063f","text":"MLB Educators","properties":{"link":"/mlb-educators"},"menuItems":[]}]},{"itemId":"e3a86593-6da0-4d00-a512-0b8c78c9b8a5″,"text":"Careers","properties":{"link":""},"menuItems":[{"itemId":"35caab61-51c7-4b17-a9b8-e9ecd201058a","text":"Careers Home","properties":{"link":"/careers/home"},"menuItems":[]}]}]},"headerData":{"instanceId":"fbde1dcd-c837-4740-991c-1087d1db26d1″,"name":"global-nav","variables":[],"menuItems":[{"itemId":"tickets","text":"Tickets","properties":{"link":"https://www.mlb.com/tickets","customProperties":"align:right;"},"menuItems":[{"itemId":"764d21d8-0f58-4d63-b57c-035ec47d193c","text":"General Ticket Information","properties":{"link":"https://www.mlb.com/tickets","customProperties":"","visible":"false"},"menuItems":[]},{"itemId":"4e45f354-0ccd-4c89-ac5e-12f16dd11f3a","text":"Season Tickets","properties":{"link":"/tickets/season-tickets","customProperties":"","visible":"false"},"menuItems":[]},{"itemId":"020f5910-a69a-443a-b5a3-37b7664d8a4f","text":"Spring Training","properties":{"link":"/tickets/spring-training","visible":"false"},"menuItems":[]},{"itemId":"0a8ddc10-4b69-4a97-a677-6301ac30971b","text":"Fan Value","properties":{"link":"/tickets/fan-value","customProperties":"","visible":"false"},"menuItems":[]},{"itemId":"417de43e-baa5-4ca1-802d-c0814be88688″,"text":"Ballpark Tours","properties":{"link":"/tickets/ballpark-tours","visible":"false"},"menuItems":[]},{"itemId":"dc1ab63d-4195-4a41-8248-cfa5513a66e9″,"text":"StubHub.com","properties":{"link":"https://www.stubhub.com/mlb-tickets/grouping/81/?gcid=C12289x371″,"customProperties":""},"menuItems":[]},{"itemId":"a1fd4bc8-d136-4d65-a0cd-393f31e0e14e","text":"All-Star Game","properties":{"link":"/all-star/tickets","customProperties":"expires:1626228000″},"menuItems":[]},{"itemId":"92c55e19-5b07-4d4f-8bfe-ee6a86e64c8a","text":"World Baseball Classic","properties":{"link":"https://www.mlb.com/world-baseball-classic/newsletter"},"menuItems":[]},{"itemId":"5d7d5f77-3b9d-4d21-bece-8b3245b7bf2a","text":"International Events","properties":{"link":"https://www.mlb.com/international"},"menuItems":[]},{"itemId":"797c376f-524a-4e12-b431-1994c1d9127d","text":"Vaccinate at the Plate Ticket Offer","properties":{"link":"/tickets/vaccinate-ticket-offer","customProperties":"expires:1625112000″},"menuItems":[]},{"itemId":"5e7b162c-c994-4bad-89b3-0a1b2746710d","text":"Ticket Terms & Conditions","properties":{"link":"https://www.mlb.com/tickets/terms-and-conditions"},"menuItems":[]}]},{"itemId":"7b24aad4-85fb-4206-b915-85dc84bf8046″,"text":"MLB.TV","properties":{"link":"https://www.mlb.com/tv?&affiliateId=mlbMENU","customProperties":"amp:true;align:right;","icon":"watch"},"menuItems":[{"itemId":"6e4bf96d-d9e2-4c33-8d42-3e94aae42607″,"text":"Buy MLB.TV","properties":{"link":"https://www.mlb.com/live-stream-games/subscribe?&affiliateId=mlbMENU"},"menuItems":[]},{"itemId":"f33ef990-5609-45cd-be24-0e40cb0a5368″,"text":"Buy MLB Audio","properties":{"link":"https://www.mlb.com/live-stream-games/subscribe/mlb-audio?&affiliateId=mlbMENU"},"menuItems":[]},{"itemId":"993d3d74-7886-48fd-9d9f-12d189ed5630″,"text":"Watch MLB.TV","properties":{"link":"/live-stream-games?&affiliateId=mlbMENU","customProperties":""},"menuItems":[]},{"itemId":"ce445ca6-9a97-4b82-a6c9-d94f34579dd2″,"text":"Free MLB.TV For College Students","properties":{"link":"https://www.mlb.com/live-stream-games/students?&affiliateId=mlbMENU"},"menuItems":[]},{"itemId":"d7847412-c970-4b0a-b17e-61fded27c46a","text":"MLB Big Inning","properties":{"link":"https://www.mlb.com/live-stream-games/big-inning?&affiliateId=mlbMENU"},"menuItems":[]},{"itemId":"c2596a4c-2d08-459e-9173-2d799f070637″,"text":"MLB.TV Gift Giving","properties":{"link":"https://www.mlb.com/live-stream-games/subscribe/gift-giving"},"menuItems":[]},{"itemId":"05b81a24-a196-4ee9-86f6-443cc7ce6934″,"text":"MLB.TV with Extra Innings","properties":{"link":"https://www.mlb.com/live-stream-games/third-party?&affiliateId=mlbMENU"},"menuItems":[]},{"itemId":"00132689-c7ce-46b0-bfac-228fa9f70a22″,"text":"Watch MLB.TV Docs & Features","properties":{"link":"https://www.mlb.com/tv/featured?&affiliateId=mlbMENU"},"menuItems":[]},{"itemId":"68b755ed-4f9d-4c0a-96ea-ffafb22ca5c5″,"text":"MLB.TV Help Center","properties":{"link":"/live-stream-games/help-center?&affiliateId=mlbMENU","customProperties":""},"menuItems":[]}]},{"itemId":"6bfaf88e-891c-4e05-a935-8a32bd23086a","text":"Shop","properties":{"link":"https://www.mlbshop.com/?_s=bm-mlbcom-hp","customProperties":"align:right;","icon":"shopping-cart"},"menuItems":[{"itemId":"d7b3c8e0-42c4-45c5-8278-c51adb21b47f","text":"Auction","properties":{"link":"http://auction.mlb.com/"},"menuItems":[]},{"itemId":"216d4562-456b-442d-b078-9e9be9b35b20″,"text":"Authentication","properties":{"link":"https://www.mlb.com/authentication"},"menuItems":[]},{"itemId":"20f4725a-5dc1-4543-a153-7795cd789463″,"text":"Autographed","properties":{"link":"http://auctions.mlb.com/iSynApp/allAuction.action?sid=1101001&rc=25&selectedCatId=17342&sort=timeleft_asc&pgmode2=catpage"},"menuItems":[]},{"itemId":"f4f69cd4-2549-45f2-ba63-d97ddb0b564c","text":"Jerseys","properties":{"link":"https://www.mlbshop.com/jerseys/d-1250336792+z-990485-1677480024?_s=bm-mlbcom-hp","customProperties":""},"menuItems":[]},{"itemId":"a67b9b28-c511-47a8-87e6-594cb719c787″,"text":"Caps","properties":{"link":"https://www.mlbshop.com/caps/d-3494554436+z-921549-1032840697?_s=bm-mlbcom-hp","customProperties":""},"menuItems":[]},{"itemId":"f5b9b657-5322-40c1-b2e8-1bd31e27abf6″,"text":"Men's","properties":{"link":"https://www.mlbshop.com/men/ga-12+z-9112397524-3608394688?_s=bm-mlbcom-hp","customProperties":""},"menuItems":[]},{"itemId":"dfa13a6f-17fd-4a4a-9963-f3e3734e28bf","text":"Women's","properties":{"link":"https://www.mlbshop.com/women/ga-57+z-822989763-3950492570?_s=bm-mlbcom-hp","customProperties":""},"menuItems":[]},{"itemId":"c2bf810b-0d1f-4135-b7f8-919c53fc8cc2″,"text":"Kids","properties":{"link":"https://www.mlbshop.com/kids/ga-36+z-861270405-1171990865?_s=bm-mlbcom-hp","customProperties":""},"menuItems":[]},{"itemId":"1b321c96-eb8a-4077-9868-9420205878bc","text":"Collectibles & Memorabilia","properties":{"link":"https://www.mlbshop.com/collectibles-and-memorabilia/d-7883550038+z-87646-4052890706?_s=bm-mlbcom-hp","customProperties":""},"menuItems":[]},{"itemId":"91dcfa1d-f4de-4bf9-93f8-8f91f4069272″,"text":"Home & Office","properties":{"link":"https://www.mlbshop.com/home-and-office/d-3449556733+z-992406-855732365?_s=bm-mlbcom-hp","customProperties":""},"menuItems":[]},{"itemId":"c69e35fc-900e-4fcc-9348-085aa0febeab","text":"Gift Certificates","properties":{"link":"https://www.mlbshop.com/gift-cards/x-462351+z-94899005-3509039474?_s=bm-mlbcom-Home","customProperties":""},"menuItems":[]},{"itemId":"7423a9ca-3a6f-42fe-8d6e-9459bed284c7″,"text":"NYC Retail Store","properties":{"link":"https://www.mlb.com/shop/nyc-retail-store"},"menuItems":[]},{"itemId":"44958e84-599e-44b1-96b4-44f38a477942″,"text":"European Shop","properties":{"link":"http://www.mlbshopeurope.com/stores/mlb/en?portal=MLTS66FS&CMP=PSC-MLTS66FS","customProperties":""},"menuItems":[]},{"itemId":"51d3278e-90fd-4462-aec0-7cfd8de1cb79″,"text":"Photo Store","properties":{"link":"https://photostore.mlb.com/"},"menuItems":[]}]},{"itemId":"5052bac6-3f1d-4847-8739-42021d7cfc2d","text":"News","properties":{"link":"https://www.mlb.com/news","customProperties":"amp:true;"},"menuItems":[{"itemId":"7b725a20-961b-4511-bd88-20600551baf2″,"text":"In this section","properties":{"visible":"true"},"menuItems":[{"itemId":"82d45c9a-d055-4ab4-b785-576d982a2077″,"text":"Probable Pitchers","properties":{"link":"https://www.mlb.com/probable-pitchers","visible":"true","enabled":"true"},"menuItems":[]},{"itemId":"4bfdb502-31e4-49dd-bae1-89a4772d0739″,"text":"Prospect Rankings","properties":{"link":"https://www.mlb.com/prospects"},"menuItems":[]},{"itemId":"831050d9-d4d2-427f-85a3-fe56aad2682a","text":"Injury Report","properties":{"link":"https://www.mlb.com/injury-report"},"menuItems":[]},{"itemId":"02f947b5-cc72-40f9-9f37-a97b37dcaef3″,"text":"Transactions","properties":{"link":"http://mlb.mlb.com/mlb/transactions/?tcid=mm_mlb_news"},"menuItems":[]},{"itemId":"f499f46a-a51b-443e-82aa-3b6006f9b306″,"text":"Starting Lineups","properties":{"link":"https://www.mlb.com/starting-lineups"},"menuItems":[]},{"itemId":"53776d17-03af-4b04-8840-45b6c624df6b","text":"Hall of Fame","properties":{"link":"https://www.mlb.com/hall-of-fame"},"menuItems":[]},{"itemId":"6ee1c331-faa0-4865-a062-1c98a2f67c0d","text":"Longform","properties":{"link":"https://www.mlb.com/news/topic/longform"},"menuItems":[]},{"itemId":"844e328c-713f-46da-8183-965d19eb7dd8″,"text":"Awards","properties":{"link":"https://www.mlb.com/awards"},"menuItems":[]},{"itemId":"c1ac7886-1d18-4ad8-9fc4-326ab4753144″,"text":"MLB Draft","properties":{"link":"https://www.mlb.com/draft/2021″},"menuItems":[]}]},{"itemId":"dc121961-fe11-49ac-92b5-a8797acafa7c","text":"Featured","properties":{},"menuItems":[{"itemId":"230d1ec0-9d0a-4a3f-a04c-3cf16474390f","text":"Pipeline","properties":{"link":"https://www.mlb.com/pipeline"},"menuItems":[]},{"itemId":"216ae480-9b79-4faa-a748-98a8604e5cde","text":"Play Ball","properties":{"link":"https://www.mlb.com/play-ball"},"menuItems":[]},{"itemId":"c2182d4d-c537-410e-a63d-267e593fbb74″,"text":"Gaming","properties":{"link":"https://www.mlb.com/news/topic/gaming","enabled":"true","visible":"true"},"menuItems":[]},{"itemId":"d7d653b8-5585-44b7-b94f-226b51681ed8″,"text":"MLB Photos","properties":{"link":"https://www.mlb.com/photos/home"},"menuItems":[]},{"itemId":"eb4bceb4-bb14-4a84-8b60-12e51dab40f8″,"text":"Offbeat","properties":{"link":"https://www.mlb.com/news/topic/offbeat"},"menuItems":[]},{"itemId":"28a2e573-86ba-4cdc-a924-86d3b6500979″,"text":"Glossary","properties":{"link":"https://www.mlb.com/glossary"},"menuItems":[]},{"itemId":"7e424446-ea76-4b0d-8dc0-e7ee108993ef","text":"Rare Feats","properties":{"link":"https://www.mlb.com/news/topic/rare-feats"},"menuItems":[]},{"itemId":"38b78c07-c2e2-40be-9172-fb2ddc1d1817″,"text":"Baseball Cards","properties":{"link":"https://www.mlb.com/news/topic/baseball-cards"},"menuItems":[]},{"itemId":"7e316d55-5379-4151-a0e5-828b6b4f8ba8″,"text":"All-Star Game","properties":{"link":"https://www.mlb.com/all-star"},"menuItems":[]}]}]},{"itemId":"86b4ade1-0488-40d3-8472-b1e323f23914″,"text":"Video","properties":{"link":"https://www.mlb.com/video","customProperties":"mobile:true;amp:true;"},"menuItems":[{"itemId":"bbddb943-54df-4d88-a3ee-14265e727677″,"text":"In this section","properties":{"customProperties":""},"menuItems":[{"itemId":"d6f95b2e-b8ee-41f0-a313-e74537eff685″,"text":"Film Room","properties":{"link":"https://www.mlb.com/video/search"},"menuItems":[]},{"itemId":"a24a8e9d-471b-4626-9535-28e1b8f62bad","text":"Watch Live Games","properties":{"link":"https://www.mlb.com/live-stream-games?affiliateId=mlbMENU"},"menuItems":[]},{"itemId":"830b3ff1-c650-48a0-b8ee-6c910acc0204″,"text":"Game Stories","properties":{"link":"https://www.mlb.com/game-stories"},"menuItems":[]},{"itemId":"fb982f48-2253-46ec-84f2-ec3282782fb8″,"text":"Condensed Games","properties":{"link":"https://www.mlb.com/video/topic/condensed-games"},"menuItems":[]},{"itemId":"0f387774-edb6-4e09-84c1-3b6f9a8c65d5″,"text":"Game Recaps","properties":{"link":"https://www.mlb.com/video/topic/daily-recaps","enabled":"true"},"menuItems":[]},{"itemId":"3dcbafe8-f9f6-4a32-8534-7a00b6b07f4c","text":"Daily FastCast","properties":{"link":"https://www.mlb.com/video/topic/fastcast"},"menuItems":[]},{"itemId":"286ad1ca-abe4-4d67-b80a-9020e756750e","text":"MLB Network","properties":{"link":"https://www.mlb.com/network"},"menuItems":[]},{"itemId":"948d378c-7d73-49b1-b5ba-8729c59bca9a","text":"Podcasts","properties":{"link":"https://www.mlb.com/podcasts"},"menuItems":[]},{"itemId":"c3c36a7f-ac1d-4433-8ecb-b8689de715e5″,"text":"Front Office Focus","properties":{"link":"https://www.mlb.com/video/topic/front-office-focus"},"menuItems":[]},{"itemId":"e95e19ff-2024-4d84-b9e5-d5f0d1831e5b","text":"Business of Baseball","properties":{"link":"https://www.mlb.com/video/topic/business-of-baseball"},"menuItems":[]},{"itemId":"bf659638-4fb7-4c46-be4c-49b736c0fd69″,"text":"Untouchable Pitches","properties":{"link":"https://www.mlb.com/video/topic/untouchable-pitches-cristal-products"},"menuItems":[]},{"itemId":"0b56e21d-9a66-4fd0-99d6-59faf9805120″,"text":"Rapid Plays","properties":{"link":"https://www.mlb.com/video/topic/rapid-plays"},"menuItems":[]}]},{"itemId":"74f35bdb-7baf-4fa5-abb5-3c3613fa00fe","text":"Featured","properties":{"customProperties":""},"menuItems":[{"itemId":"d87342bf-bac9-4811-9863-4a5d7ddabe94″,"text":"Most Popular","properties":{"link":"https://www.mlb.com/video"},"menuItems":[]},{"itemId":"b4deff8a-ac2f-46bd-924a-108c63e6d4a6″,"text":"Home Runs","properties":{"link":"https://www.mlb.com/video/topic/home-runs"},"menuItems":[]},{"itemId":"d2add1e4-7ad6-417b-a04d-ffb83aa63332″,"text":"MLB Draft","properties":{"link":"https://www.mlb.com/video/topic/mlb-draft"},"menuItems":[]},{"itemId":"6a7e200b-2443-4e01-b95a-16bf6326a089″,"text":"Walk-Offs","properties":{"link":"https://www.mlb.com/video/topic/walk-offs"},"menuItems":[]},{"itemId":"cb8372c5-4ebe-44db-8b4b-de7364b80ec9″,"text":"Go Yard","properties":{"link":"https://www.mlb.com/video/topic/leadoff-home-runs"},"menuItems":[]},{"itemId":"e9fc5098-1904-4089-8fa2-c4b3d9a0feaf","text":"Top Defensive Plays","properties":{"link":"https://www.mlb.com/video/topic/top-defensive-plays"},"menuItems":[]},{"itemId":"d1a89b62-ed0e-4df5-a65d-9471b06eb3ad","text":"Grand Slams","properties":{"link":"https://www.mlb.com/video/topic/grand-slams"},"menuItems":[]},{"itemId":"c19fb88b-a3c7-4141-a616-0299dc17e774″,"text":"Best of Statcast","properties":{"link":"https://www.mlb.com/video/topic/statcast"},"menuItems":[]},{"itemId":"4cdb4f64-f058-43e3-a0f3-a078c3701cc9″,"text":"Extra Innings","properties":{"link":"https://www.mlb.com/video/topic/extra-innings"},"menuItems":[]},{"itemId":"3d4947a4-61d9-4ce6-9bec-5ef974a5aff1″,"text":"Curtain Calls","properties":{"link":"https://www.mlb.com/video/topic/curtain-calls"},"menuItems":[]},{"itemId":"ea8c81d8-3594-4318-b95e-7d7c4c92c1db","text":"Legendary Moments","properties":{"link":"https://www.mlb.com/video/topic/key-moments"},"menuItems":[]},{"itemId":"550155b7-3825-4c73-bf84-0250dec41903″,"text":"Carry the Freight","properties":{"link":"https://www.mlb.com/video/topic/carry-the-freight"},"menuItems":[]}]}]},{"itemId":"7c68f445-5095-46cc-bab3-73af6c921597″,"text":"Scores","properties":{"link":"https://www.mlb.com/scores","customProperties":"mobile:true;amp:true;","visible":"true"},"menuItems":[]},{"itemId":"9efaf5e3-6a93-4e4f-b8af-1219110ecb30″,"text":"Stats","properties":{"link":"https://www.mlb.com/stats","customProperties":"mobile:true;amp:true;"},"menuItems":[{"itemId":"f31b263b-34d4-46ab-aa46-9796e93b048b","text":"2021 Regular Season Stats","properties":{"link":"https://www.mlb.com/stats/2021″},"menuItems":[]},{"itemId":"62c5195b-2630-4d9e-9896-6aee0709aeee","text":"2021 Sortable Team Stats","properties":{"link":"https://www.mlb.com/stats/team/2021″},"menuItems":[]},{"itemId":"c26bdb6a-e2f7-48dc-bd44-39e522f7b5ca","text":"2021 Spring Training Stats","properties":{"link":"https://www.mlb.com/stats/2021/spring-training"},"menuItems":[]},{"itemId":"41566816-1cb8-421f-9a4a-9ccdefa7ed69″,"text":"Statcast Leaders","properties":{"link":"https://baseballsavant.mlb.com/statcast_leaderboard"},"menuItems":[]},{"itemId":"2d0a2684-64c6-4d9f-87a1-a7cf9f661e2f","text":"Baseball Savant","properties":{"link":"https://baseballsavant.mlb.com/"},"menuItems":[]},{"itemId":"b9d0ae31-f31d-449b-82fb-5a77f59293ba","text":"Top Prospect Stats","properties":{"link":"/prospects/stats/top-prospects?type=all&dateRange=Year2019&minPA=1″},"menuItems":[]},{"itemId":"2ae90479-df9d-458e-a47e-7acf851728e7″,"text":"Offseason Leagues","properties":{"link":"http://mlb.mlb.com/milb/stats/?tcid=mm_mlb_stats","customProperties":""},"menuItems":[]},{"itemId":"cf9eab1e-1dba-458c-949b-8db03f86d49e","text":"Glossary","properties":{"link":"http://m.mlb.com/glossary"},"menuItems":[]}]},{"itemId":"6af88ec1-9bfe-4494-abc0-898dc919a081″,"text":"Standings","properties":{"link":"https://www.mlb.com/standings","customProperties":"mobile:true;amp:true;"},"menuItems":[{"itemId":"121a61dc-a81a-45af-abbe-8230aee19b5e","text":"2021 Regular Season Standings","properties":{"link":"https://www.mlb.com/standings"},"menuItems":[]},{"itemId":"a9713ec1-4849-41b5-8f0b-fa0746a205e4″,"text":"2021 Spring Training Standings","properties":{"link":"https://www.mlb.com/standings/spring-training/2021″,"customProperties":""},"menuItems":[]},{"itemId":"4c250046-6a0d-4352-b3f2-3059a5881c2a","text":"2020 Regular Season Standings","properties":{"link":"https://www.mlb.com/standings/regular-season/2020″},"menuItems":[]},{"itemId":"a84f52a4-d7d4-4661-b193-8c81901e8e7e","text":"2020 Advanced Standings","properties":{"link":"https://www.mlb.com/standings/regular-season/advanced-splits/2020″},"menuItems":[]}]},{"itemId":"248fea7e-1d19-452a-bb5c-999e1a09b7cd","text":"Schedule","properties":{"link":"https://www.mlb.com/schedule","customProperties":"amp:true;"},"menuItems":[{"itemId":"12fd9194-8902-43f1-9686-f9f321c90450″,"text":"2021 Regular Season","properties":{"link":"https://www.mlb.com/schedule"},"menuItems":[]},{"itemId":"a29c951d-7d72-49b7-b290-35b5c261fa94″,"text":"2021 Postseason","properties":{"link":"https://www.mlb.com/news/2021-mlb-playoff-and-world-series-schedule"},"menuItems":[]},{"itemId":"f4010b7a-902c-41e0-b405-e0fa695b5c64″,"text":"2022 Regular Season","properties":{"link":"https://www.mlb.com/schedule/2022-03-31″},"menuItems":[]},{"itemId":"74ae0fd1-28f5-41ab-8861-23d056482243″,"text":"2022 Spring Training","properties":{"link":"https://www.mlb.com/schedule/2022-02-26″},"menuItems":[]},{"itemId":"94c9d7e4-3477-4217-87f3-008d2290b9ee","text":"Important Dates","properties":{"link":"https://www.mlb.com/schedule/events#important-dates"},"menuItems":[]},{"itemId":"d3566c69-34a7-4e6c-b2bb-28203c847f9e","text":"Probable Pitchers","properties":{"link":"https://www.mlb.com/probable-pitchers"},"menuItems":[]},{"itemId":"3747c1bc-9b3d-43f5-bd04-d1274c59c02a","text":"Team by Team Schedule","properties":{"link":"https://www.mlb.com/schedule/team-by-team"},"menuItems":[]},{"itemId":"e75ecc62-7e72-4b53-9705-a23e2b511f83″,"text":"National Broadcasts","properties":{"link":"http://mlb.mlb.com/mlb/official_info/broadcasts/national.jsp?tcid=mm_mlb_schedule"},"menuItems":[]},{"itemId":"bce30443-7f92-4c61-979f-058e5e6ebe17″,"text":"Sunday Night Broadcasts","properties":{"link":"http://m.mlb.com/promo/sunday-night-broadcasts"},"menuItems":[]}]},{"itemId":"8c842eeb-dedd-430c-a452-57a740d5c3df","text":"Players","properties":{"link":"https://www.mlb.com/players","customProperties":"","icon":"group"},"menuItems":[{"itemId":"650da3ef-b96d-4a7d-bf4b-47a55b2e6cb3″,"text":"Players A to Z","properties":{"link":"https://www.mlb.com/players"},"menuItems":[]},{"itemId":"b971e11e-c0ea-4f42-a693-a9e18e15447f","text":"Injury Updates","properties":{"link":"https://www.mlb.com/injury-report"},"menuItems":[]},{"itemId":"76a61c3c-c73a-497a-9d6f-f762ad0fdecd","text":"Depth Charts","properties":{"link":"https://www.mlb.com/team/roster/depth-chart"},"menuItems":[]},{"itemId":"b30fe902-714f-4f74-a901-d2397c750dab","text":"Transactions","properties":{"link":"http://mlb.mlb.com/mlb/transactions/?tcid=mm_mlb_players"},"menuItems":[]},{"itemId":"3e585331-af20-4e73-8419-2067bed2677c","text":"Starting Lineups","properties":{"link":"https://www.mlb.com/starting-lineups"},"menuItems":[]},{"itemId":"a327060e-962d-428e-91ee-40522edcda03″,"text":"Prospect Rankings","properties":{"link":"https://www.mlb.com/prospects"},"menuItems":[]},{"itemId":"a30f9694-b2cd-4a2a-9118-d3c7f00b39b1″,"text":"Mobile Player Alerts","properties":{"link":"http://mlb.mlb.com/mobile/text.jsp?tcid=mm_mlb_players","visible":"false"},"menuItems":[]},{"itemId":"f45e2471-de5a-4a07-b035-43f1b405f296″,"text":"MLB Players Association","properties":{"link":"https://www.mlbplayers.com"},"menuItems":[]},{"itemId":"6e855928-8a3d-41b6-8adc-71fe99a9508b","text":"Probable Pitchers","properties":{"link":"https://www.mlb.com/probable-pitchers"},"menuItems":[]},{"itemId":"e7ba059f-ad80-486d-bf9f-3992d718f129″,"text":"Negro Leagues","properties":{"link":"https://www.mlb.com/history/negro-leagues"},"menuItems":[]}]},{"itemId":"781f2bb2-a66a-44be-8fee-b0a0250d60e6″,"text":"Play Ball","properties":{"link":"https://www.mlb.com/play-ball","target":"_blank","customProperties":"topNav:false;","icon":"baseball"},"menuItems":[{"itemId":"2a74747c-e482-42f5-b750-ce710dea6568″,"text":"PlayBall.org","properties":{"link":"https://www.mlb.com/play-ball","target":"_blank"},"menuItems":[]},{"itemId":"9f5ab700-d2c0-43be-a398-6926ceef9e1c","text":"Hank Aaron Invitational","properties":{"link":"https://www.mlb.com/hank-aaron-invitational"},"menuItems":[]},{"itemId":"d7c7e170-573e-45c1-a1ab-b1bd3aec819f","text":"Videos","properties":{"link":"https://www.mlb.com/video/topic/play-ball"},"menuItems":[]},{"itemId":"5be26d3e-4ff2-4a84-8ea5-92aef9d759b2″,"text":"Photos","properties":{"link":"https://www.playball.org/photos","visible":"false"},"menuItems":[]},{"itemId":"14d9fdc8-ba24-44cf-9a77-7a867852f418″,"text":"News","properties":{"link":"https://www.mlb.com/news/topic/youth-baseball"},"menuItems":[]},{"itemId":"4c876067-e576-4874-b914-d86fe7f4a538″,"text":"Pitch Smart","properties":{"link":"https://www.mlb.com/pitch-smart"},"menuItems":[]},{"itemId":"6996ed01-d31d-4fc4-8d0d-a5baf177f69a","text":"Play Ball Near You","properties":{"link":"https://www.mlb.com/play-ball/play-ball-near-you"},"menuItems":[]},{"itemId":"4e66a4b2-0f27-483c-81d4-f27b0b630eac","text":"States Play","properties":{"link":"https://www.mlb.com/states-play"},"menuItems":[]},{"itemId":"aed729a5-4ff6-45cc-868c-f90b9b9190af","text":"MLB TOUR","properties":{"link":"https://www.mlb.com/mlb-tour"},"menuItems":[]},{"itemId":"28d79b33-aebd-4685-9cc9-c4ccce1262f8″,"text":"RBI","properties":{"link":"https://www.mlb.com/rbi"},"menuItems":[]},{"itemId":"18001329-d9d0-47b9-b2e0-5043b69cee9e","text":"Pitch, Hit & Run","properties":{"link":"https://www.mlb.com/pitch-hit-and-run"},"menuItems":[]},{"itemId":"df867e3c-db53-4d4f-9958-e10cb0939c8a","text":"Jr. Home Run Derby","properties":{"link":"https://www.mlb.com/junior-home-run-derby"},"menuItems":[]},{"itemId":"6af5ec56-5e26-45b3-93d6-2f79d929c046″,"text":"MLB Pipeline","properties":{"link":"https://www.mlb.com/pipeline"},"menuItems":[]},{"itemId":"bc715814-2692-4bde-9b1d-99cbd9ada5dc","text":"Youth Academies","properties":{"link":"https://www.mlb.com/mlb-youth-academy"},"menuItems":[]},{"itemId":"26715913-0ae8-4106-baa4-3d914b0a33b0″,"text":"Breakthrough Series","properties":{"link":"https://www.mlb.com/breakthrough-series"},"menuItems":[]},{"itemId":"56cb414b-eb00-4632-8acc-81d74ee4745e","text":"Elite Development Invitational","properties":{"link":"https://www.mlb.com/elite-development-invitational"},"menuItems":[]},{"itemId":"04697c74-2811-4d84-8150-aa1016aa6272″,"text":"USA Baseball","properties":{"link":"https://www.usabaseball.com/","target":"_blank"},"menuItems":[]},{"itemId":"ae77ea02-173a-4439-be6c-9ee75225bd50″,"text":"USA Softball","properties":{"link":"http://www.teamusa.org/USA-Softball","target":"_blank"},"menuItems":[]},{"itemId":"c293b7e0-f056-4102-89cd-d20649d4eff0″,"text":"Dream Series","properties":{"link":"https://www.mlb.com/dream-series"},"menuItems":[]},{"itemId":"181a47ba-9ea0-4a7a-8924-ccedef1cd372″,"text":"Trailblazer Series","properties":{"link":"https://www.mlb.com/trailblazer-series"},"menuItems":[]}]},{"itemId":"mlb-fans","text":"Fans","properties":{"link":"https://www.mlb.com/fans"},"menuItems":[{"itemId":"25c7540a-c3a3-42e8-a8f8-1e3be9f5d4fe","text":"MLB Kids","properties":{"link":"https://www.mlb.com/fans/kids"},"menuItems":[]},{"itemId":"8ee0a750-a1d7-4c8f-80ee-cb7beb4268ff","text":"MLB International","properties":{"link":"https://www.mlb.com/international"},"menuItems":[]},{"itemId":"841025ef-a361-46e1-b5d0-c963c1a42827″,"text":"Postseason Publications","properties":{"link":"https://www.mlb.com/postseason/publications"},"menuItems":[]},{"itemId":"59ffbbaf-a56c-4cb4-b874-d5a5ce36c9f1″,"text":"MLB Newsletters","properties":{"link":"https://www.mlb.com/fans/newsletters"},"menuItems":[]},{"itemId":"9e37a80a-34da-4e92-ae40-8462146aef1c","text":"Virtual Backgrounds","properties":{"link":"https://www.mlb.com/fans/virtual-backgrounds"},"menuItems":[]},{"itemId":"ef7c9f4a-5e11-4700-aad3-b29a8c5acc4c","text":"Podcasts","properties":{"link":"https://www.mlb.com/fans/podcasts"},"menuItems":[]},{"itemId":"fcc0e750-dbe2-47b3-b681-0e3e379390c8″,"text":"Walk-Up Music","properties":{"link":"https://www.mlb.com/fans/music"},"menuItems":[]},{"itemId":"ad51f9be-9a3e-41d5-83aa-27d4351d583f","text":"Connect with MLB","properties":{"link":"https://www.mlb.com/social"},"menuItems":[]},{"itemId":"5d6dbbbf-fdff-41e7-b187-793bdb998ec8″,"text":"MLB Photos","properties":{"link":"https://www.mlb.com/photos/home"},"menuItems":[]}]},{"itemId":"832ad058-32b1-4fbd-940d-a68456ad3c25″,"text":"Fantasy","properties":{"link":"https://www.mlb.com/fantasy","customProperties":""},"menuItems":[{"itemId":"ee7dde99-2f2c-49e4-a5df-b319f51afa21″,"text":"Yahoo Fantasy Baseball","properties":{"target":"","link":"http://yhoo.it/3aK5QQw"},"menuItems":[]},{"itemId":"82ecd1d5-6055-4846-99de-2e5d99461009″,"text":"MLB Rally","properties":{"link":"https://www.mlb.com/apps/rally","visible":"true"},"menuItems":[]},{"itemId":"82b08ad3-ff33-4c90-8303-277dbf8190a3″,"text":"MLB Quick Pick","properties":{"link":"https://www.mlb.com/apps/rally/quickpick"},"menuItems":[]},{"itemId":"4e35b374-27ca-40c1-8f4b-d0e861496179″,"text":"MLB Beat the Streak","properties":{"link":"https://www.mlb.com/apps/beat-the-streak"},"menuItems":[]},{"itemId":"4b2c552e-94c1-49f6-8e5e-5f947f0d683c","text":"MLB MOONBLASTS Pick 'Em","properties":{"link":"/sponsorship/ftx-moonblasts-pick-em","customProperties":"expires:1627754400″},"menuItems":[]},{"itemId":"fa818f3d-e28a-4dce-8ed8-928d7000a1f6″,"text":"The Vault","properties":{"link":"https://www.mlb.com/the-vault"},"menuItems":[]},{"itemId":"5342efbb-aee3-4b7a-bd6b-da451509d65b","text":"Yahoo Fantasy Baseball","properties":{"link":"https://yhoo.it/2w7w4vr","visible":"false"},"menuItems":[]},{"itemId":"36bd3b31-a5df-4061-9abb-33d42ffa1818″,"text":"R.B.I. Baseball 21″,"properties":{"link":"https://www.rbigame.com"},"menuItems":[]},{"itemId":"3dab9102-cd2d-442e-ab8a-ad07d7b159f4″,"text":"MLB Home Run Derby","properties":{"link":"https://www.mlb.com/fantasy/home-run-derby"},"menuItems":[]},{"itemId":"a3152a55-11b7-4772-86e0-58d7982a1c76″,"text":"Season Pick 'Em","properties":{"link":"/opening-day-pick-em?affiliateId=spe-fantasynav-mlb-2021″,"visible":"false"},"menuItems":[]},{"itemId":"7f0d66f2-44a0-4594-b5f9-db2c84c09356″,"text":"MLB Pre-Pick (AUS)","properties":{"link":"https://www.mlb.com/pre-pick/tab"},"menuItems":[]},{"itemId":"7af822e8-dc82-4b7e-818a-97080c0938f2″,"text":"Closer Report","properties":{"link":"/closer-report","visible":"false"},"menuItems":[]},{"itemId":"c2b4eeef-ec9c-4c5b-831c-1edca0316768″,"text":"Prospect Rankings","properties":{"link":"https://www.mlb.com/prospects"},"menuItems":[]},{"itemId":"3b212a3b-4687-4ea7-a276-3e780e18210c","text":"MLB Champions","properties":{"link":"https://www.mlbc-app.com/?ref=mlbcom"},"menuItems":[]}]},{"itemId":"f857d698-35a3-4b1b-8e88-d92056ca5507″,"text":"Apps","properties":{"link":"https://www.mlb.com/apps","customProperties":"topNav:false;","data":"Apps"},"menuItems":[{"itemId":"c974a38d-8537-4d03-9dfa-681ac5bd0f08″,"text":"MLB","properties":{"link":"https://www.mlb.com/apps/mlb-app"},"menuItems":[]},{"itemId":"13d77816-460d-4783-8ed7-f1ff1d3a97ed","text":"MLB Rally","properties":{"link":"https://www.mlb.com/apps/rally","visible":"true"},"menuItems":[]},{"itemId":"f2626a2d-160d-4682-96c6-bfe391c16398″,"text":"MLB Beat the Streak","properties":{"link":"https://www.mlb.com/apps/beat-the-streak"},"menuItems":[]},{"itemId":"89f7398c-7a79-46e4-a8cd-843a44ceee13″,"text":"MLB Ballpark","properties":{"link":"https://www.mlb.com/apps/ballpark"},"menuItems":[]},{"itemId":"03c8451e-6437-4aa6-8b5d-50c3fedad25e","text":"MiLB First Pitch","properties":{"link":"https://www.milb.com/about/first-pitch"},"menuItems":[]},{"itemId":"5d19666b-0c26-48ad-8465-09ed9f28dfc2″,"text":"R.B.I. Baseball 21″,"properties":{"link":"https://www.rbigame.com"},"menuItems":[]},{"itemId":"94808840-9046-445e-9a6a-83016bdadb72″,"text":"MLB Home Run Derby","properties":{"link":"https://www.mlb.com/fantasy/home-run-derby"},"menuItems":[]},{"itemId":"fbe4d233-e766-4207-8886-55a2fc1f7f74″,"text":"MLB FAQs","properties":{"link":"https://www.mlb.com/apps/mlb-app/faq-apple"},"menuItems":[]},{"itemId":"34d7bc2e-a216-4956-8105-b42f2ba4bea3″,"text":"MLB Ballpark FAQs","properties":{"link":"https://www.mlb.com/apps/ballpark/faq-apple"},"menuItems":[]},{"itemId":"c081befb-bde5-446d-a4d4-c9292d29d525″,"text":"MLB Rally FAQs","properties":{"link":"/apps/rally/faq-apple","visible":"true"},"menuItems":[]}]},{"itemId":"ba2b8aec-0e14-429e-ac96-dbb1f04edaf8″,"text":"Vote","properties":{"link":"https://www.mlb.com/all-star/ballot?affiliateId=asb-topnav-mlb-2021″,"customProperties":"appears:1622736000;expires:1625162400;","visible":"false"},"menuItems":[]},{"itemId":"57ec62ff-6517-49b7-8bef-7a3edc6874cb","text":"Auction","properties":{"link":"http://auction.mlb.com/","visible":"false","customProperties":"topNav:false;"},"menuItems":[{"itemId":"3ea7f7ac-0734-47d9-8804-967eba72da0e","text":"Authentication","properties":{"link":"https://www.mlb.com/authentication"},"menuItems":[]},{"itemId":"e3e18801-29de-4b11-86ac-a475342dff41″,"text":"Autographed","properties":{"link":"http://auctions.mlb.com/iSynApp/allAuction.action?sid=1101001&rc=25&selectedCatId=17342&sort=timeleft_asc&pgmode2=catpage"},"menuItems":[]},{"itemId":"f4c0200f-4437-47c0-8c15-1a54c26d22c0″,"text":"Baseball Cards","properties":{"link":"http://www.baseballcards.mlb.com/"},"menuItems":[]},{"itemId":"21b7a4a2-6c76-47b5-af79-51dc0334f2c9″,"text":"Baseballs","properties":{"link":"http://auctions.mlb.com/iSynApp/allAuction.action?sid=1101001&rc=25&selectedCatId=13020&sort=timeleft_asc&pgmode2=catpage"},"menuItems":[]},{"itemId":"6b056370-0888-43e4-9f8c-8100e2ee7653″,"text":"Bats","properties":{"link":"http://auctions.mlb.com/iSynApp/allAuction.action?sid=1101001&rc=25&selectedCatId=13041&sort=timeleft_asc&pgmode2=catpage"},"menuItems":[]},{"itemId":"1b036e35-5977-4af1-9cb0-736c76d18ec4″,"text":"Caps","properties":{"link":"http://auctions.mlb.com/iSynApp/allAuction.action?sid=1101001&rc=25&selectedCatId=13021&sort=timeleft_asc&pgmode2=catpage"},"menuItems":[]},{"itemId":"74ae99a1-5ed5-44e4-842c-b49dc99e982d","text":"Experiences","properties":{"link":"http://auctions.mlb.com/iSynApp/allAuction.action?sid=1101001&rc=25&selectedCatId=13060&sort=timeleft_asc&pgmode2=catpage"},"menuItems":[]},{"itemId":"d41a4007-2f65-4b0f-a0a8-7df58870e507″,"text":"Game-Used","properties":{"link":"http://auctions.mlb.com/iSynApp/allAuction.action?sid=1101001&rc=25&selectedCatId=13022&sort=timeleft_asc&pgmode2=catpage"},"menuItems":[]},{"itemId":"aafaf49c-cfb9-432d-9119-f86a64fdbb27″,"text":"Jerseys","properties":{"link":"http://auctions.mlb.com/iSynApp/allAuction.action?sid=1101001&rc=25&selectedCatId=13062&sort=timeleft_asc&pgmode2=catpage"},"menuItems":[]},{"itemId":"c0be3bdb-025a-42ac-b09d-c391d058342b","text":"Photos","properties":{"link":"http://auctions.mlb.com/iSynApp/allAuction.action?sid=1101001&rc=25&selectedCatId=13024&sort=timeleft_asc&pgmode2=catpage"},"menuItems":[]}]},{"itemId":"98430c25-7924-4112-a70f-0b32fd31594f","text":"Teams","properties":{"link":"https://www.mlb.com/team","customProperties":"amp:true;module:teammodule;align:right;"},"menuItems":[{"itemId":"9191834c-54c4-40a7-8aac-9745d3666084″,"text":"Team Module","properties":{"customProperties":"module:teammodule;"},"menuItems":[]}]},{"itemId":"397b9e10-6d65-4fc0-bbe6-8d07f5e8d3a8″,"text":"ES","properties":{"link":"https://www.mlb.com/es","customProperties":"align:right;","toolTip":"Español"},"menuItems":[{"itemId":"ceb83c80-eaf2-4dd4-bdc6-e23b1e11ae60″,"text":"日本語","properties":{"link":"http://www.mlb.jp/","customProperties":"lang:ja"},"menuItems":[]},{"itemId":"27ac6728-00c1-4965-963b-05d33268fb50″,"text":"한국어","properties":{"link":"https://www.mlbkor.com/","customProperties":"lang:ko"},"menuItems":[]}]}]},"locale":"en","reqPath":"/news/brandon-crawford-giants-nominee-2021-roberto-clemente-award","sharedNav":{"instanceId":"6c265854-d856-4f92-aea1-07dfe5cda020″,"name":"shared-nav","variables":[],"menuItems":[{"itemId":"93b3e9b2-65a9-4585-9185-03e255cb523c","text":"MLB.TV","properties":{"link":"https://www.mlb.com/tv?&affiliateId=clubMENU","icon":"watch","customProperties":"align:right;"},"menuItems":[{"itemId":"162f5687-7f5b-4422-a782-133dc3db8aa0″,"text":"Buy MLB.TV","properties":{"link":"https://www.mlb.com/live-stream-games/subscribe?&affiliateId=clubMENU"},"menuItems":[]},{"itemId":"f75d3e53-5cc5-4eb5-b64d-7e72c3f601b9″,"text":"Buy MLB Audio","properties":{"link":"https://www.mlb.com/live-stream-games/subscribe/mlb-audio?&affiliateId=clubMENU"},"menuItems":[]},{"itemId":"d54a2b21-9db9-4252-9ebe-e3a4b2a3cf83″,"text":"Watch MLB.TV","properties":{"link":"https://www.mlb.com/live-stream-games?&affiliateId=clubMENU"},"menuItems":[]},{"itemId":"dcd7d391-b324-4b75-81cd-47e27639771a","text":"Free MLB.TV For College Students","properties":{"link":"https://www.mlb.com/live-stream-games/students?&affiliateId=clubMENU"},"menuItems":[]},{"itemId":"28f71773-a34e-46c5-bdbc-ac6476c5fc7a","text":"MLB Big Inning","properties":{"link":"https://www.mlb.com/live-stream-games/big-inning"},"menuItems":[]},{"itemId":"703b5c44-a9b4-46a2-bc2e-33112a413980″,"text":"MLB.TV Gift Giving","properties":{"link":"https://www.mlb.com/live-stream-games/subscribe/gift-giving"},"menuItems":[]},{"itemId":"2d8d6ad8-dc2a-4971-9b12-f1853530c5d3″,"text":"Watch MLB.TV Docs & Features","properties":{"link":"https://www.mlb.com/tv/featured?&affiliateId=clubMENU"},"menuItems":[]},{"itemId":"6254640c-2069-4447-822f-084d0a38f161″,"text":"MLB.TV Help Center","properties":{"link":"https://www.mlb.com/live-stream-games/help-center?&affiliateId=clubMENU"},"menuItems":[]},{"itemId":"6d167d3d-4063-43ae-b13c-283e83c0e91c","text":"MLB.TV with Extra Innings","properties":{"link":"https://www.mlb.com/live-stream-games/third-party?&affiliateId=clubMENU"},"menuItems":[]}]},{"itemId":"d54d0be0-f610-4f8b-90ac-c246c361e2e2″,"text":"Fantasy","properties":{"link":"https://www.mlb.com/fantasy"},"menuItems":[{"itemId":"5ec4bde4-6bc1-412b-a92b-6b7cb3b2f07c","text":"Yahoo Fantasy Baseball","properties":{"link":"http://yhoo.it/3aK5QQw","visible":"true"},"menuItems":[]},{"itemId":"b2a63b51-03fc-423d-971e-1e566f6008f4″,"text":"MLB Rally","properties":{"link":"https://www.mlb.com/apps/rally","visible":"true"},"menuItems":[]},{"itemId":"f6929b88-632d-4a6f-ba73-8a64fccba1b0″,"text":"MLB Quick Pick","properties":{"link":"https://www.mlb.com/apps/rally/quickpick"},"menuItems":[]},{"itemId":"0ebe9e5d-3fc7-48d2-acb1-c33eb931b911″,"text":"MLB Beat the Streak","properties":{"link":"https://www.mlb.com/apps/beat-the-streak","visible":"true"},"menuItems":[]},{"itemId":"086bd307-a929-4414-9dd7-09bdac8d3f2e","text":"MLB MOONBLASTS Pick 'Em","properties":{"link":"https://www.mlb.com/sponsorship/ftx-moonblasts-pick-em","customProperties":"expires:1627754400″},"menuItems":[]},{"itemId":"14aa1d4b-0193-4670-a1fc-b4386d4977e8″,"text":"The Vault","properties":{"link":"https://www.mlb.com/the-vault"},"menuItems":[]},{"itemId":"1543c12c-66d1-4033-9e05-c025fcb71a6a","text":"R.B.I. Baseball 21″,"properties":{"link":"https://www.rbigame.com"},"menuItems":[]},{"itemId":"4e0abdd4-8a0f-4bc5-838f-91dd2796041e","text":"MLB Home Run Derby","properties":{"link":"https://www.mlb.com/fantasy/home-run-derby"},"menuItems":[]},{"itemId":"7d8dfda7-345a-46fa-82dc-105068ba223e","text":"Season Pick 'Em","properties":{"link":"https://www.mlb.com/season-pick-em?affiliateId=spe-fantasynav-club-2021″,"visible":"false"},"menuItems":[]},{"itemId":"6eda396d-199b-4772-b3c9-c0b032513b6c","text":"MLB Pre-Pick (AUS)","properties":{"customProperties":"","link":"https://www.mlb.com/pre-pick/tab"},"menuItems":[]},{"itemId":"9f1ff266-0ed8-4adb-ba77-428d1871b237″,"text":"Closer Report","properties":{"link":"https://www.mlb.com/closer-report","visible":"false"},"menuItems":[]},{"itemId":"4c4f57bd-e31a-46c9-8f73-0fa2227451d3″,"text":"Prospect Rankings","properties":{"link":"https://www.mlb.com/prospects"},"menuItems":[]},{"itemId":"1ebe4dc3-2c6a-469f-be59-474fe14dbbd7″,"text":"MLB Champions","properties":{"link":"https://www.mlbc-app.com/?ref=mlbcom"},"menuItems":[]}]},{"itemId":"d1f61f89-9fd0-4f03-be17-2c5e128711a4″,"text":"Apps","properties":{"link":"https://www.mlb.com/apps"},"menuItems":[{"itemId":"83ac2ddf-414b-47d1-afec-ffacd068ab57″,"text":"MLB","properties":{"link":"https://www.mlb.com/apps/mlb-app"},"menuItems":[]},{"itemId":"83dbba73-02ac-4ba0-bebf-2c62ef04c19e","text":"MLB Rally","properties":{"link":"https://www.mlb.com/apps/rally","visible":"true"},"menuItems":[]},{"itemId":"26fda476-348c-4f42-aa7c-92d1f9b1bf5c","text":"MLB Beat the Streak","properties":{"link":"https://www.mlb.com/apps/beat-the-streak"},"menuItems":[]},{"itemId":"e09e6978-fcf7-4c2f-8387-59d83b7be38e","text":"MLB Ballpark","properties":{"link":"https://www.mlb.com/apps/ballpark"},"menuItems":[]},{"itemId":"5e7b8019-9484-4872-abd7-8b963cd5969e","text":"MiLB First Pitch","properties":{"link":"https://www.milb.com/about/first-pitch"},"menuItems":[]},{"itemId":"e3a0183d-1b5f-4e56-9b81-02632ba4ec60″,"text":"R.B.I. Baseball 21″,"properties":{"link":"https://www.rbigame.com"},"menuItems":[]},{"itemId":"4fd8c1f8-a753-4501-916c-663390f1a566″,"text":"MLB Home Run Derby","properties":{"link":"https://www.mlb.com/fantasy/home-run-derby"},"menuItems":[]},{"itemId":"9d8dfe8b-be1a-4ebf-9509-6bd0165a868e","text":"MLB FAQs","properties":{"link":"https://www.mlb.com/apps/mlb-app/faq-apple"},"menuItems":[]},{"itemId":"df4e8527-e357-4272-bcf7-61876ed9455d","text":"MLB Ballpark FAQs","properties":{"link":"https://www.mlb.com/apps/ballpark/faq-apple","visible":"true"},"menuItems":[]},{"itemId":"c2943c65-a843-437a-9ef4-4ccfe5be088f","text":"MLB Rally FAQs","properties":{"link":"https://www.mlb.com/apps/rally/faq-apple","visible":"true"},"menuItems":[]}]}]},"styleProps":{},"teamNameSlug":"","teamsData":[{"id":133,"name":"Oakland Athletics","link":"/api/v1/teams/133″,"season":2021,"venue":{"id":10,"name":"Oakland Coliseum","link":"/api/v1/venues/10″,"location":{"address1″:"7000 Coliseum Way","city":"Oakland","state":"California","stateAbbrev":"CA","postalCode":"94621″,"defaultCoordinates":{"latitude":37.751511,"longitude":-122.200698},"country":"USA","phone":"(510) 638-4900″},"timeZone":{"id":"America/Los_Angeles","offset":-7,"tz":"PDT"},"active":true},"springVenue":{"id":2507,"link":"/api/v1/venues/2507″},"teamCode":"oak","fileCode":"oak","abbreviation":"OAK","teamName":"Athletics","locationName":"Oakland","firstYearOfPlay":"1901″,"league":{"id":103,"name":"American League","link":"/api/v1/league/103″},"division":{"id":200,"name":"American League West","link":"/api/v1/divisions/200″},"sport":{"id":1,"link":"/api/v1/sports/1″,"name":"Major League Baseball"},"shortName":"Oakland","franchiseName":"Oakland","clubName":"Athletics","springLeague":{"id":114,"name":"Cactus League","link":"/api/v1/league/114″,"abbreviation":"CL"},"allStarStatus":"N","active":true},{"id":134,"name":"Pittsburgh Pirates","link":"/api/v1/teams/134″,"season":2021,"venue":{"id":31,"name":"PNC Park","link":"/api/v1/venues/31″,"location":{"address1″:"115 Federal Street","city":"Pittsburgh","state":"Pennsylvania","stateAbbrev":"PA","postalCode":"15212″,"defaultCoordinates":{"latitude":40.446904,"longitude":-80.005753},"country":"USA","phone":"(412) 323-5000″},"timeZone":{"id":"America/New_York","offset":-4,"tz":"EDT"},"active":true},"springVenue":{"id":2526,"link":"/api/v1/venues/2526″},"teamCode":"pit","fileCode":"pit","abbreviation":"PIT","teamName":"Pirates","locationName":"Pittsburgh","firstYearOfPlay":"1882″,"league":{"id":104,"name":"National League","link":"/api/v1/league/104″},"division":{"id":205,"name":"National League Central","link":"/api/v1/divisions/205″},"sport":{"id":1,"link":"/api/v1/sports/1″,"name":"Major League Baseball"},"shortName":"Pittsburgh","franchiseName":"Pittsburgh","clubName":"Pirates","springLeague":{"id":115,"name":"Grapefruit League","link":"/api/v1/league/115″,"abbreviation":"GL"},"allStarStatus":"N","active":true},{"id":135,"name":"San Diego Padres","link":"/api/v1/teams/135″,"season":2021,"venue":{"id":2680,"name":"Petco Park","link":"/api/v1/venues/2680″,"location":{"address1″:"100 Park Boulevard","city":"San Diego","state":"California","stateAbbrev":"CA","postalCode":"92101″,"defaultCoordinates":{"latitude":32.707861,"longitude":-117.157278},"country":"USA","phone":"(619) 795-5000″},"timeZone":{"id":"America/Los_Angeles","offset":-7,"tz":"PDT"},"active":true},"springVenue":{"id":2530,"link":"/api/v1/venues/2530″},"teamCode":"sdn","fileCode":"sd","abbreviation":"SD","teamName":"Padres","locationName":"San Diego","firstYearOfPlay":"1968″,"league":{"id":104,"name":"National League","link":"/api/v1/league/104″},"division":{"id":203,"name":"National League West","link":"/api/v1/divisions/203″},"sport":{"id":1,"link":"/api/v1/sports/1″,"name":"Major League Baseball"},"shortName":"San Diego","franchiseName":"San Diego","clubName":"Padres","springLeague":{"id":114,"name":"Cactus League","link":"/api/v1/league/114″,"abbreviation":"CL"},"allStarStatus":"N","active":true},{"id":136,"name":"Seattle Mariners","link":"/api/v1/teams/136″,"season":2021,"venue":{"id":680,"name":"T-Mobile Park","link":"/api/v1/venues/680″,"location":{"address1″:"P.O. Box 4100″,"city":"Seattle","state":"Washington","stateAbbrev":"WA","postalCode":"98104″,"defaultCoordinates":{"latitude":47.591333,"longitude":-122.33251},"country":"USA","phone":"(206) 346-4000″},"timeZone":{"id":"America/Los_Angeles","offset":-7,"tz":"PDT"},"active":true},"springVenue":{"id":2530,"link":"/api/v1/venues/2530″},"teamCode":"sea","fileCode":"sea","abbreviation":"SEA","teamName":"Mariners","locationName":"Seattle","firstYearOfPlay":"1977″,"league":{"id":103,"name":"American League","link":"/api/v1/league/103″},"division":{"id":200,"name":"American League West","link":"/api/v1/divisions/200″},"sport":{"id":1,"link":"/api/v1/sports/1″,"name":"Major League Baseball"},"shortName":"Seattle","franchiseName":"Seattle","clubName":"Mariners","springLeague":{"id":114,"name":"Cactus League","link":"/api/v1/league/114″,"abbreviation":"CL"},"allStarStatus":"N","active":true},{"id":137,"name":"San Francisco Giants","link":"/api/v1/teams/137″,"season":2021,"venue":{"id":2395,"name":"Oracle Park","link":"/api/v1/venues/2395″,"location":{"address1″:"24 Willie Mays Plaza","city":"San Francisco","state":"California","stateAbbrev":"CA","postalCode":"94107″,"defaultCoordinates":{"latitude":37.778383,"longitude":-122.389448},"country":"USA","phone":"(415) 972-2000″},"timeZone":{"id":"America/Los_Angeles","offset":-7,"tz":"PDT"},"active":true},"springVenue":{"id":2532,"link":"/api/v1/venues/2532″},"teamCode":"sfn","fileCode":"sf","abbreviation":"SF","teamName":"Giants","locationName":"San Francisco","firstYearOfPlay":"1883″,"league":{"id":104,"name":"National League","link":"/api/v1/league/104″},"division":{"id":203,"name":"National League West","link":"/api/v1/divisions/203″},"sport":{"id":1,"link":"/api/v1/sports/1″,"name":"Major League Baseball"},"shortName":"San Francisco","franchiseName":"San Francisco","clubName":"Giants","springLeague":{"id":114,"name":"Cactus League","link":"/api/v1/league/114″,"abbreviation":"CL"},"allStarStatus":"N","active":true},{"id":138,"name":"St. Louis Cardinals","link":"/api/v1/teams/138″,"season":2021,"venue":{"id":2889,"name":"Busch Stadium","link":"/api/v1/venues/2889″,"location":{"address1″:"700 Clark Street","city":"St. Louis","state":"Missouri","stateAbbrev":"MO","postalCode":"63102″,"defaultCoordinates":{"latitude":38.62256667,"longitude":-90.19286667},"country":"USA","phone":"(314) 345-9600″},"timeZone":{"id":"America/Chicago","offset":-5,"tz":"CDT"},"active":true},"springVenue":{"id":2520,"link":"/api/v1/venues/2520″},"teamCode":"sln","fileCode":"stl","abbreviation":"STL","teamName":"Cardinals","locationName":"St. Louis","firstYearOfPlay":"1892″,"league":{"id":104,"name":"National League","link":"/api/v1/league/104″},"division":{"id":205,"name":"National League Central","link":"/api/v1/divisions/205″},"sport":{"id":1,"link":"/api/v1/sports/1″,"name":"Major League Baseball"},"shortName":"St. Louis","franchiseName":"St. Louis","clubName":"Cardinals","springLeague":{"id":115,"name":"Grapefruit League","link":"/api/v1/league/115″,"abbreviation":"GL"},"allStarStatus":"N","active":true},{"id":139,"name":"Tampa Bay Rays","link":"/api/v1/teams/139″,"season":2021,"venue":{"id":12,"name":"Tropicana Field","link":"/api/v1/venues/12″,"location":{"address1″:"One Tropicana Drive","city":"St. Petersburg","state":"Florida","stateAbbrev":"FL","postalCode":"33705″,"defaultCoordinates":{"latitude":27.767778,"longitude":-82.6525},"country":"USA","phone":"(727) 825-3137″},"timeZone":{"id":"America/New_York","offset":-4,"tz":"EDT"},"active":true},"springVenue":{"id":2534,"link":"/api/v1/venues/2534″},"teamCode":"tba","fileCode":"tb","abbreviation":"TB","teamName":"Rays","locationName":"St. Petersburg","firstYearOfPlay":"1996″,"league":{"id":103,"name":"American League","link":"/api/v1/league/103″},"division":{"id":201,"name":"American League East","link":"/api/v1/divisions/201″},"sport":{"id":1,"link":"/api/v1/sports/1″,"name":"Major League Baseball"},"shortName":"Tampa Bay","franchiseName":"Tampa Bay","clubName":"Rays","springLeague":{"id":115,"name":"Grapefruit League","link":"/api/v1/league/115″,"abbreviation":"GL"},"allStarStatus":"N","active":true},{"id":140,"name":"Texas Rangers","link":"/api/v1/teams/140″,"season":2021,"venue":{"id":5325,"name":"Globe Life Field","link":"/api/v1/venues/5325″,"location":{"address1″:"734 Stadium Drive","city":"Arlington","state":"Texas","stateAbbrev":"TX","postalCode":"76011″,"defaultCoordinates":{"latitude":32.747299,"longitude":-97.081818},"country":"USA","phone":"(817) 533-1972″},"timeZone":{"id":"America/Chicago","offset":-5,"tz":"CDT"},"active":true},"springVenue":{"id":2603,"link":"/api/v1/venues/2603″},"teamCode":"tex","fileCode":"tex","abbreviation":"TEX","teamName":"Rangers","locationName":"Arlington","firstYearOfPlay":"1961″,"league":{"id":103,"name":"American League","link":"/api/v1/league/103″},"division":{"id":200,"name":"American League West","link":"/api/v1/divisions/200″},"sport":{"id":1,"link":"/api/v1/sports/1″,"name":"Major League Baseball"},"shortName":"Texas","franchiseName":"Texas","clubName":"Rangers","springLeague":{"id":114,"name":"Cactus League","link":"/api/v1/league/114″,"abbreviation":"CL"},"allStarStatus":"N","active":true},{"id":141,"name":"Toronto Blue Jays","link":"/api/v1/teams/141″,"season":2021,"venue":{"id":14,"name":"Rogers Centre","link":"/api/v1/venues/14″,"location":{"address1″:"1 Blue Jays Way, Suite 3200″,"city":"Toronto","state":"Ontario","stateAbbrev":"ON","postalCode":"M5V1J1″,"defaultCoordinates":{"latitude":43.64155,"longitude":-79.38915},"country":"Canada","phone":"(416) 341-1000″},"timeZone":{"id":"America/Toronto","offset":-4,"tz":"EDT"},"active":true},"springVenue":{"id":2536,"link":"/api/v1/venues/2536″},"teamCode":"tor","fileCode":"tor","abbreviation":"TOR","teamName":"Blue Jays","locationName":"Toronto","firstYearOfPlay":"1977″,"league":{"id":103,"name":"American League","link":"/api/v1/league/103″},"division":{"id":201,"name":"American League East","link":"/api/v1/divisions/201″},"sport":{"id":1,"link":"/api/v1/sports/1″,"name":"Major League Baseball"},"shortName":"Toronto","franchiseName":"Toronto","clubName":"Blue Jays","springLeague":{"id":115,"name":"Grapefruit League","link":"/api/v1/league/115″,"abbreviation":"GL"},"allStarStatus":"N","active":true},{"id":142,"name":"Minnesota Twins","link":"/api/v1/teams/142″,"season":2021,"venue":{"id":3312,"name":"Target Field","link":"/api/v1/venues/3312″,"location":{"address1″:"1 Twins Way","city":"Minneapolis","state":"Minnesota","stateAbbrev":"MN","postalCode":"55403″,"defaultCoordinates":{"latitude":44.981829,"longitude":-93.277891},"country":"USA","phone":"(612) 659-3400″},"timeZone":{"id":"America/Chicago","offset":-5,"tz":"CDT"},"active":true},"springVenue":{"id":2862,"link":"/api/v1/venues/2862″},"teamCode":"min","fileCode":"min","abbreviation":"MIN","teamName":"Twins","locationName":"Minneapolis","firstYearOfPlay":"1901″,"league":{"id":103,"name":"American League","link":"/api/v1/league/103″},"division":{"id":202,"name":"American League Central","link":"/api/v1/divisions/202″},"sport":{"id":1,"link":"/api/v1/sports/1″,"name":"Major League Baseball"},"shortName":"Minnesota","franchiseName":"Minnesota","clubName":"Twins","springLeague":{"id":115,"name":"Grapefruit League","link":"/api/v1/league/115″,"abbreviation":"GL"},"allStarStatus":"N","active":true},{"id":143,"name":"Philadelphia Phillies","link":"/api/v1/teams/143″,"season":2021,"venue":{"id":2681,"name":"Citizens Bank Park","link":"/api/v1/venues/2681″,"location":{"address1″:"One Citizens Bank Way","city":"Philadelphia","state":"Pennsylvania","stateAbbrev":"PA","postalCode":"19148″,"defaultCoordinates":{"latitude":39.90539086,"longitude":-75.16716957},"country":"USA","phone":"(215) 463-6000″},"timeZone":{"id":"America/New_York","offset":-4,"tz":"EDT"},"active":true},"springVenue":{"id":2700,"link":"/api/v1/venues/2700″},"teamCode":"phi","fileCode":"phi","abbreviation":"PHI","teamName":"Phillies","locationName":"Philadelphia","firstYearOfPlay":"1883″,"league":{"id":104,"name":"National League","link":"/api/v1/league/104″},"division":{"id":204,"name":"National League East","link":"/api/v1/divisions/204″},"sport":{"id":1,"link":"/api/v1/sports/1″,"name":"Major League Baseball"},"shortName":"Philadelphia","franchiseName":"Philadelphia","clubName":"Phillies","springLeague":{"id":115,"name":"Grapefruit League","link":"/api/v1/league/115″,"abbreviation":"GL"},"allStarStatus":"N","active":true},{"id":144,"name":"Atlanta Braves","link":"/api/v1/teams/144″,"season":2021,"venue":{"id":4705,"name":"Truist Park","link":"/api/v1/venues/4705″,"location":{"address1″:"755 Battery Avenue","city":"Atlanta","state":"Georgia","stateAbbrev":"GA","postalCode":"30339″,"defaultCoordinates":{"latitude":33.890672,"longitude":-84.467641},"country":"USA"},"timeZone":{"id":"America/New_York","offset":-4,"tz":"EDT"},"active":true},"springVenue":{"id":5380,"link":"/api/v1/venues/5380″},"teamCode":"atl","fileCode":"atl","abbreviation":"ATL","teamName":"Braves","locationName":"Atlanta","firstYearOfPlay":"1871″,"league":{"id":104,"name":"National League","link":"/api/v1/league/104″},"division":{"id":204,"name":"National League East","link":"/api/v1/divisions/204″},"sport":{"id":1,"link":"/api/v1/sports/1″,"name":"Major League Baseball"},"shortName":"Atlanta","franchiseName":"Atlanta","clubName":"Braves","springLeague":{"id":115,"name":"Grapefruit League","link":"/api/v1/league/115″,"abbreviation":"GL"},"allStarStatus":"N","active":true},{"id":145,"name":"Chicago White Sox","link":"/api/v1/teams/145″,"season":2021,"venue":{"id":4,"name":"Guaranteed Rate Field","link":"/api/v1/venues/4″,"location":{"address1″:"333 West 35th Street","city":"Chicago","state":"Illinois","stateAbbrev":"IL","postalCode":"60616″,"defaultCoordinates":{"latitude":41.83,"longitude":-87.634167},"country":"USA","phone":"(312) 674-1000″},"timeZone":{"id":"America/Chicago","offset":-5,"tz":"CDT"},"active":true},"springVenue":{"id":3809,"link":"/api/v1/venues/3809″},"teamCode":"cha","fileCode":"cws","abbreviation":"CWS","teamName":"White Sox","locationName":"Chicago","firstYearOfPlay":"1901″,"league":{"id":103,"name":"American League","link":"/api/v1/league/103″},"division":{"id":202,"name":"American League Central","link":"/api/v1/divisions/202″},"sport":{"id":1,"link":"/api/v1/sports/1″,"name":"Major League Baseball"},"shortName":"Chi White Sox","franchiseName":"Chicago","clubName":"White Sox","springLeague":{"id":114,"name":"Cactus League","link":"/api/v1/league/114″,"abbreviation":"CL"},"allStarStatus":"N","active":true},{"id":146,"name":"Miami Marlins","link":"/api/v1/teams/146″,"season":2021,"venue":{"id":4169,"name":"loanDepot park","link":"/api/v1/venues/4169″,"location":{"address1″:"501 Marlins Way","city":"Miami","state":"Florida","stateAbbrev":"FL","postalCode":"33125″,"defaultCoordinates":{"latitude":25.77796236,"longitude":-80.21951795},"country":"USA"},"timeZone":{"id":"America/New_York","offset":-4,"tz":"EDT"},"active":true},"springVenue":{"id":2520,"link":"/api/v1/venues/2520″},"teamCode":"mia","fileCode":"mia","abbreviation":"MIA","teamName":"Marlins","locationName":"Miami","firstYearOfPlay":"1991″,"league":{"id":104,"name":"National League","link":"/api/v1/league/104″},"division":{"id":204,"name":"National League East","link":"/api/v1/divisions/204″},"sport":{"id":1,"link":"/api/v1/sports/1″,"name":"Major League Baseball"},"shortName":"Miami","franchiseName":"Miami","clubName":"Marlins","springLeague":{"id":115,"name":"Grapefruit League","link":"/api/v1/league/115″,"abbreviation":"GL"},"allStarStatus":"N","active":true},{"id":147,"name":"New York Yankees","link":"/api/v1/teams/147″,"season":2021,"venue":{"id":3313,"name":"Yankee Stadium","link":"/api/v1/venues/3313″,"location":{"address1″:"One East 161st Street","city":"Bronx","state":"New York","stateAbbrev":"NY","postalCode":"10451″,"defaultCoordinates":{"latitude":40.82919482,"longitude":-73.9264977},"country":"USA","phone":"(718) 293-4300″},"timeZone":{"id":"America/New_York","offset":-4,"tz":"EDT"},"active":true},"springVenue":{"id":2523,"link":"/api/v1/venues/2523″},"teamCode":"nya","fileCode":"nyy","abbreviation":"NYY","teamName":"Yankees","locationName":"Bronx","firstYearOfPlay":"1903″,"league":{"id":103,"name":"American League","link":"/api/v1/league/103″},"division":{"id":201,"name":"American League East","link":"/api/v1/divisions/201″},"sport":{"id":1,"link":"/api/v1/sports/1″,"name":"Major League Baseball"},"shortName":"NY Yankees","franchiseName":"New York","clubName":"Yankees","springLeague":{"id":115,"name":"Grapefruit League","link":"/api/v1/league/115″,"abbreviation":"GL"},"allStarStatus":"N","active":true},{"id":158,"name":"Milwaukee Brewers","link":"/api/v1/teams/158″,"season":2021,"venue":{"id":32,"name":"American Family Field","link":"/api/v1/venues/32″,"location":{"address1″:"One Brewers Way","city":"Milwaukee","state":"Wisconsin","stateAbbrev":"WI","postalCode":"53214″,"defaultCoordinates":{"latitude":43.02838,"longitude":-87.97099},"country":"USA","phone":"(414) 902-4400″},"timeZone":{"id":"America/Chicago","offset":-5,"tz":"CDT"},"active":true},"springVenue":{"id":2518,"link":"/api/v1/venues/2518″},"teamCode":"mil","fileCode":"mil","abbreviation":"MIL","teamName":"Brewers","locationName":"Milwaukee","firstYearOfPlay":"1968″,"league":{"id":104,"name":"National League","link":"/api/v1/league/104″},"division":{"id":205,"name":"National League Central","link":"/api/v1/divisions/205″},"sport":{"id":1,"link":"/api/v1/sports/1″,"name":"Major League Baseball"},"shortName":"Milwaukee","franchiseName":"Milwaukee","clubName":"Brewers","springLeague":{"id":114,"name":"Cactus League","link":"/api/v1/league/114″,"abbreviation":"CL"},"allStarStatus":"N","active":true},{"id":108,"name":"Los Angeles Angels","link":"/api/v1/teams/108″,"season":2021,"venue":{"id":1,"name":"Angel Stadium","link":"/api/v1/venues/1″,"location":{"address1″:"2000 Gene Autry Way","city":"Anaheim","state":"California","stateAbbrev":"CA","postalCode":"92806″,"defaultCoordinates":{"latitude":33.80019044,"longitude":-117.8823996},"country":"USA","phone":"(714) 940-2000″},"timeZone":{"id":"America/Los_Angeles","offset":-7,"tz":"PDT"},"active":true},"springVenue":{"id":2500,"link":"/api/v1/venues/2500″},"teamCode":"ana","fileCode":"ana","abbreviation":"LAA","teamName":"Angels","locationName":"Anaheim","firstYearOfPlay":"1961″,"league":{"id":103,"name":"American League","link":"/api/v1/league/103″},"division":{"id":200,"name":"American League West","link":"/api/v1/divisions/200″},"sport":{"id":1,"link":"/api/v1/sports/1″,"name":"Major League Baseball"},"shortName":"LA Angels","franchiseName":"Los Angeles","clubName":"Angels","springLeague":{"id":114,"name":"Cactus League","link":"/api/v1/league/114″,"abbreviation":"CL"},"allStarStatus":"N","active":true},{"id":109,"name":"Arizona Diamondbacks","link":"/api/v1/teams/109″,"season":2021,"venue":{"id":15,"name":"Chase Field","link":"/api/v1/venues/15″,"location":{"address1″:"401 East Jefferson Street","city":"Phoenix","state":"Arizona","stateAbbrev":"AZ","postalCode":"85004″,"defaultCoordinates":{"latitude":33.445302,"longitude":-112.066687},"country":"USA","phone":"(602) 462-6500″},"timeZone":{"id":"America/Phoenix","offset":-7,"tz":"MST"},"active":true},"springVenue":{"id":4249,"link":"/api/v1/venues/4249″},"teamCode":"ari","fileCode":"ari","abbreviation":"ARI","teamName":"D-backs","locationName":"Phoenix","firstYearOfPlay":"1996″,"league":{"id":104,"name":"National League","link":"/api/v1/league/104″},"division":{"id":203,"name":"National League West","link":"/api/v1/divisions/203″},"sport":{"id":1,"link":"/api/v1/sports/1″,"name":"Major League Baseball"},"shortName":"Arizona","franchiseName":"Arizona","clubName":"Diamondbacks","springLeague":{"id":114,"name":"Cactus League","link":"/api/v1/league/114″,"abbreviation":"CL"},"allStarStatus":"N","active":true},{"id":110,"name":"Baltimore Orioles","link":"/api/v1/teams/110″,"season":2021,"venue":{"id":2,"name":"Oriole Park at Camden Yards","link":"/api/v1/venues/2″,"location":{"address1″:"333 West Camden Street","city":"Baltimore","state":"Maryland","stateAbbrev":"MD","postalCode":"21201″,"defaultCoordinates":{"latitude":39.283787,"longitude":-76.621689},"country":"USA","phone":"(410) 685-9800″},"timeZone":{"id":"America/New_York","offset":-4,"tz":"EDT"},"active":true},"springVenue":{"id":2508,"link":"/api/v1/venues/2508″},"teamCode":"bal","fileCode":"bal","abbreviation":"BAL","teamName":"Orioles","locationName":"Baltimore","firstYearOfPlay":"1901″,"league":{"id":103,"name":"American League","link":"/api/v1/league/103″},"division":{"id":201,"name":"American League East","link":"/api/v1/divisions/201″},"sport":{"id":1,"link":"/api/v1/sports/1″,"name":"Major League Baseball"},"shortName":"Baltimore","franchiseName":"Baltimore","clubName":"Orioles","springLeague":{"id":115,"name":"Grapefruit League","link":"/api/v1/league/115″,"abbreviation":"GL"},"allStarStatus":"N","active":true},{"id":111,"name":"Boston Red Sox","link":"/api/v1/teams/111″,"season":2021,"venue":{"id":3,"name":"Fenway Park","link":"/api/v1/venues/3″,"location":{"address1″:"4 Yawkey Way","city":"Boston","state":"Massachusetts","stateAbbrev":"MA","postalCode":"2215″,"defaultCoordinates":{"latitude":42.346456,"longitude":-71.097441},"country":"USA","phone":"(617) 267-9440″},"timeZone":{"id":"America/New_York","offset":-4,"tz":"EDT"},"active":true},"springVenue":{"id":4309,"link":"/api/v1/venues/4309″},"teamCode":"bos","fileCode":"bos","abbreviation":"BOS","teamName":"Red Sox","locationName":"Boston","firstYearOfPlay":"1901″,"league":{"id":103,"name":"American League","link":"/api/v1/league/103″},"division":{"id":201,"name":"American League East","link":"/api/v1/divisions/201″},"sport":{"id":1,"link":"/api/v1/sports/1″,"name":"Major League Baseball"},"shortName":"Boston","franchiseName":"Boston","clubName":"Red Sox","springLeague":{"id":115,"name":"Grapefruit League","link":"/api/v1/league/115″,"abbreviation":"GL"},"allStarStatus":"N","active":true},{"id":112,"name":"Chicago Cubs","link":"/api/v1/teams/112″,"season":2021,"venue":{"id":17,"name":"Wrigley Field","link":"/api/v1/venues/17″,"location":{"address1″:"1060 West Addison","city":"Chicago","state":"Illinois","stateAbbrev":"IL","postalCode":"60613-4397″,"defaultCoordinates":{"latitude":41.948171,"longitude":-87.655503},"country":"USA","phone":"(773) 404-2827″},"timeZone":{"id":"America/Chicago","offset":-5,"tz":"CDT"},"active":true},"springVenue":{"id":4629,"link":"/api/v1/venues/4629″},"teamCode":"chn","fileCode":"chc","abbreviation":"CHC","teamName":"Cubs","locationName":"Chicago","firstYearOfPlay":"1874″,"league":{"id":104,"name":"National League","link":"/api/v1/league/104″},"division":{"id":205,"name":"National League Central","link":"/api/v1/divisions/205″},"sport":{"id":1,"link":"/api/v1/sports/1″,"name":"Major League Baseball"},"shortName":"Chi Cubs","franchiseName":"Chicago","clubName":"Cubs","springLeague":{"id":114,"name":"Cactus League","link":"/api/v1/league/114″,"abbreviation":"CL"},"allStarStatus":"N","active":true},{"id":113,"name":"Cincinnati Reds","link":"/api/v1/teams/113″,"season":2021,"venue":{"id":2602,"name":"Great American Ball Park","link":"/api/v1/venues/2602″,"location":{"address1″:"100 Main Street","city":"Cincinnati","state":"Ohio","stateAbbrev":"OH","postalCode":"45202-4109″,"defaultCoordinates":{"latitude":39.097389,"longitude":-84.506611},"country":"USA","phone":"(513) 765-7000″},"timeZone":{"id":"America/New_York","offset":-4,"tz":"EDT"},"active":true},"springVenue":{"id":3834,"link":"/api/v1/venues/3834″},"teamCode":"cin","fileCode":"cin","abbreviation":"CIN","teamName":"Reds","locationName":"Cincinnati","firstYearOfPlay":"1882″,"league":{"id":104,"name":"National League","link":"/api/v1/league/104″},"division":{"id":205,"name":"National League Central","link":"/api/v1/divisions/205″},"sport":{"id":1,"link":"/api/v1/sports/1″,"name":"Major League Baseball"},"shortName":"Cincinnati","franchiseName":"Cincinnati","clubName":"Reds","springLeague":{"id":114,"name":"Cactus League","link":"/api/v1/league/114″,"abbreviation":"CL"},"allStarStatus":"N","active":true},{"id":114,"name":"Cleveland Indians","link":"/api/v1/teams/114″,"season":2021,"venue":{"id":5,"name":"Progressive Field","link":"/api/v1/venues/5″,"location":{"address1″:"2401 Ontario Street","city":"Cleveland","state":"Ohio","stateAbbrev":"OH","postalCode":"44115″,"defaultCoordinates":{"latitude":41.495861,"longitude":-81.685255},"country":"USA","phone":"(216) 420-4200″},"timeZone":{"id":"America/New_York","offset":-4,"tz":"EDT"},"active":true},"springVenue":{"id":3834,"link":"/api/v1/venues/3834″},"teamCode":"cle","fileCode":"cle","abbreviation":"CLE","teamName":"Indians","locationName":"Cleveland","firstYearOfPlay":"1901″,"league":{"id":103,"name":"American League","link":"/api/v1/league/103″},"division":{"id":202,"name":"American League Central","link":"/api/v1/divisions/202″},"sport":{"id":1,"link":"/api/v1/sports/1″,"name":"Major League Baseball"},"shortName":"Cleveland","franchiseName":"Cleveland","clubName":"Indians","springLeague":{"id":114,"name":"Cactus League","link":"/api/v1/league/114″,"abbreviation":"CL"},"allStarStatus":"N","active":true},{"id":115,"name":"Colorado Rockies","link":"/api/v1/teams/115″,"season":2021,"venue":{"id":19,"name":"Coors Field","link":"/api/v1/venues/19″,"location":{"address1″:"2001 Blake Street","city":"Denver","state":"Colorado","stateAbbrev":"CO","postalCode":"80205-2000″,"defaultCoordinates":{"latitude":39.756042,"longitude":-104.994136},"country":"USA","phone":"(303) 292-0200″},"timeZone":{"id":"America/Denver","offset":-6,"tz":"MDT"},"active":true},"springVenue":{"id":4249,"link":"/api/v1/venues/4249″},"teamCode":"col","fileCode":"col","abbreviation":"COL","teamName":"Rockies","locationName":"Denver","firstYearOfPlay":"1992″,"league":{"id":104,"name":"National League","link":"/api/v1/league/104″},"division":{"id":203,"name":"National League West","link":"/api/v1/divisions/203″},"sport":{"id":1,"link":"/api/v1/sports/1″,"name":"Major League Baseball"},"shortName":"Colorado","franchiseName":"Colorado","clubName":"Rockies","springLeague":{"id":114,"name":"Cactus League","link":"/api/v1/league/114″,"abbreviation":"CL"},"allStarStatus":"N","active":true},{"id":116,"name":"Detroit Tigers","link":"/api/v1/teams/116″,"season":2021,"venue":{"id":2394,"name":"Comerica Park","link":"/api/v1/venues/2394″,"location":{"address1″:"2100 Woodward Avenue","city":"Detroit","state":"Michigan","stateAbbrev":"MI","postalCode":"48201″,"defaultCoordinates":{"latitude":42.3391151,"longitude":-83.048695},"country":"USA","phone":"(313) 471-2000″},"timeZone":{"id":"America/Detroit","offset":-4,"tz":"EDT"},"active":true},"springVenue":{"id":2511,"link":"/api/v1/venues/2511″},"teamCode":"det","fileCode":"det","abbreviation":"DET","teamName":"Tigers","locationName":"Detroit","firstYearOfPlay":"1901″,"league":{"id":103,"name":"American League","link":"/api/v1/league/103″},"division":{"id":202,"name":"American League Central","link":"/api/v1/divisions/202″},"sport":{"id":1,"link":"/api/v1/sports/1″,"name":"Major League Baseball"},"shortName":"Detroit","franchiseName":"Detroit","clubName":"Tigers","springLeague":{"id":115,"name":"Grapefruit League","link":"/api/v1/league/115″,"abbreviation":"GL"},"allStarStatus":"N","active":true},{"id":117,"name":"Houston Astros","link":"/api/v1/teams/117″,"season":2021,"venue":{"id":2392,"name":"Minute Maid Park","link":"/api/v1/venues/2392″,"location":{"address1″:"501 Crawford Street","city":"Houston","state":"Texas","stateAbbrev":"TX","postalCode":"77002″,"defaultCoordinates":{"latitude":29.756967,"longitude":-95.355509},"country":"USA","phone":"(713) 259-8000″},"timeZone":{"id":"America/Chicago","offset":-5,"tz":"CDT"},"active":true},"springVenue":{"id":5000,"link":"/api/v1/venues/5000″},"teamCode":"hou","fileCode":"hou","abbreviation":"HOU","teamName":"Astros","locationName":"Houston","firstYearOfPlay":"1962″,"league":{"id":103,"name":"American League","link":"/api/v1/league/103″},"division":{"id":200,"name":"American League West","link":"/api/v1/divisions/200″},"sport":{"id":1,"link":"/api/v1/sports/1″,"name":"Major League Baseball"},"shortName":"Houston","franchiseName":"Houston","clubName":"Astros","springLeague":{"id":115,"name":"Grapefruit League","link":"/api/v1/league/115″,"abbreviation":"GL"},"allStarStatus":"N","active":true},{"id":118,"name":"Kansas City Royals","link":"/api/v1/teams/118″,"season":2021,"venue":{"id":7,"name":"Kauffman Stadium","link":"/api/v1/venues/7″,"location":{"address1″:"One Royal Way","city":"Kansas City","state":"Missouri","stateAbbrev":"MO","postalCode":"64129″,"defaultCoordinates":{"latitude":39.051567,"longitude":-94.480483},"country":"USA","phone":"(816) 921-8000″},"timeZone":{"id":"America/Chicago","offset":-5,"tz":"CDT"},"active":true},"springVenue":{"id":2603,"link":"/api/v1/venues/2603″},"teamCode":"kca","fileCode":"kc","abbreviation":"KC","teamName":"Royals","locationName":"Kansas City","firstYearOfPlay":"1968″,"league":{"id":103,"name":"American League","link":"/api/v1/league/103″},"division":{"id":202,"name":"American League Central","link":"/api/v1/divisions/202″},"sport":{"id":1,"link":"/api/v1/sports/1″,"name":"Major League Baseball"},"shortName":"Kansas City","franchiseName":"Kansas City","clubName":"Royals","springLeague":{"id":114,"name":"Cactus League","link":"/api/v1/league/114″,"abbreviation":"CL"},"allStarStatus":"N","active":true},{"id":119,"name":"Los Angeles Dodgers","link":"/api/v1/teams/119″,"season":2021,"venue":{"id":22,"name":"Dodger Stadium","link":"/api/v1/venues/22″,"location":{"address1″:"1000 Vin Scully Avenue","city":"Los Angeles","state":"California","stateAbbrev":"CA","postalCode":"90012-1199″,"defaultCoordinates":{"latitude":34.07368,"longitude":-118.24053},"country":"USA","phone":"(323) 224-1500″},"timeZone":{"id":"America/Los_Angeles","offset":-7,"tz":"PDT"},"active":true},"springVenue":{"id":3809,"link":"/api/v1/venues/3809″},"teamCode":"lan","fileCode":"la","abbreviation":"LAD","teamName":"Dodgers","locationName":"Los Angeles","firstYearOfPlay":"1884″,"league":{"id":104,"name":"National League","link":"/api/v1/league/104″},"division":{"id":203,"name":"National League West","link":"/api/v1/divisions/203″},"sport":{"id":1,"link":"/api/v1/sports/1″,"name":"Major League Baseball"},"shortName":"LA Dodgers","franchiseName":"Los Angeles","clubName":"Dodgers","springLeague":{"id":114,"name":"Cactus League","link":"/api/v1/league/114″,"abbreviation":"CL"},"allStarStatus":"N","active":true},{"id":120,"name":"Washington Nationals","link":"/api/v1/teams/120″,"season":2021,"venue":{"id":3309,"name":"Nationals Park","link":"/api/v1/venues/3309″,"location":{"address1″:"1500 South Capitol Street, SE","city":"Washington","state":"District of Columbia","stateAbbrev":"DC","postalCode":"20003-1507″,"defaultCoordinates":{"latitude":38.872861,"longitude":-77.007501},"country":"USA","phone":"(202) 349-0400″},"timeZone":{"id":"America/New_York","offset":-4,"tz":"EDT"},"active":true},"springVenue":{"id":5000,"link":"/api/v1/venues/5000″},"teamCode":"was","fileCode":"was","abbreviation":"WSH","teamName":"Nationals","locationName":"Washington","firstYearOfPlay":"1968″,"league":{"id":104,"name":"National League","link":"/api/v1/league/104″},"division":{"id":204,"name":"National League East","link":"/api/v1/divisions/204″},"sport":{"id":1,"link":"/api/v1/sports/1″,"name":"Major League Baseball"},"shortName":"Washington","franchiseName":"Washington","clubName":"Nationals","springLeague":{"id":115,"name":"Grapefruit League","link":"/api/v1/league/115″,"abbreviation":"GL"},"allStarStatus":"N","active":true},{"id":121,"name":"New York Mets","link":"/api/v1/teams/121″,"season":2021,"venue":{"id":3289,"name":"Citi Field","link":"/api/v1/venues/3289″,"location":{"address1″:"Citi Field","city":"Flushing","state":"New York","stateAbbrev":"NY","postalCode":"11368″,"defaultCoordinates":{"latitude":40.75753012,"longitude":-73.84559155},"country":"USA","phone":"(718) 507-6387″},"timeZone":{"id":"America/New_York","offset":-4,"tz":"EDT"},"active":true},"springVenue":{"id":2856,"link":"/api/v1/venues/2856″},"teamCode":"nyn","fileCode":"nym","abbreviation":"NYM","teamName":"Mets","locationName":"Flushing","firstYearOfPlay":"1962″,"league":{"id":104,"name":"National League","link":"/api/v1/league/104″},"division":{"id":204,"name":"National League East","link":"/api/v1/divisions/204″},"sport":{"id":1,"link":"/api/v1/sports/1″,"name":"Major League Baseball"},"shortName":"NY Mets","franchiseName":"New York","clubName":"Mets","springLeague":{"id":115,"name":"Grapefruit League","link":"/api/v1/league/115″,"abbreviation":"GL"},"allStarStatus":"N","active":true}]},"isApp":false,"isCookieNoTrackQueryParam":false,"isPremiumQueryParam":false,"lang":"en","queryString":"","shareOptions":{"shareUrl":"https://www.mlb.com/news/brandon-crawford-giants-nominee-2021-roberto-clemente-award","twitterHandle":"mlb"},"storySlug":"brandon-crawford-giants-nominee-2021-roberto-clemente-award","topicSlug":"","userAgent":"Mozilla/5.0 (Macintosh; Intel Mac OS X 10_14_6) AppleWebKit/537.36 (KHTML, like Gecko) Chrome/83.0.4103.116 Safari/537.36″}}
window.adobeAnalytics = {"reportingSuiteId":"mlbglobal08,mlbcom08″,"linkInternalFilters":"mlb"}
window.globalState = {"tracking_title":"Major League Baseball","lang":"en"}
window.appId = "
/*–>*/
SAN FRANCISCO — Brandon Crawford has been playing at an MVP-caliber level for the Giants this year, but he's also making sure his impact is felt off the field.
Crawford's commitment to various philanthropic causes earned him his first career nomination for the prestigious Roberto Clemente Award, which is given annually to the "Major League player who best represents the game of baseball through extraordinary character, community involvement, philanthropy and positive contributions, both on and off the field."
Crawford was recognized as the Giants' nominee before Wednesday night's game against the Padres at Oracle Park as part of the celebration of Roberto Clemente Day.
"It's definitely a huge honor to be nominated for an award named after not only such a great baseball player, but such a good person off the field," Crawford said. "He was generous with his time and money and tried to help out any way he could off the field. That's what we try to do. If we're in a position where we can help others, we try to do the same thing."
Crawford and his wife, Jalynne, have lended their support to numerous charitable endeavors over the years, including the ALS Cure Project, which became the beneficiary of the annual Crawford Family Golf Tournament in 2019. Crawford's relationship to A's outfielder Stephen Piscotty, a fellow Pleasanton native who lost his mother, Gretchen, to ALS, helped inspire him to join the mission to find a cure for the disease.
"We try to spread it around a little bit to any project that needs a little bit of extra help, but knowing the Piscottys for a little while — our dads were friends for a long time — to be able to help with ALS Cure is definitely special to us," Crawford said.
Crawford also teamed up with the Giants Community Fund to help renovate Gilman Field in San Francisco's Bayview-Hunters Point neighborhood, just blocks from where the All-Star shortstop grew up attending Giants games at Candlestick Park. That project had been in the works since Crawford signed his first six-year, $75 million extension with the Giants in November 2015, as he elected to donate a portion of his contract to the Giants Community Fund. The field renovation was completed this year, with Crawford on hand for the official unveiling in July.
"We ended up landing on the Gilman Field project because of my history growing up in the Bay Area and going to Candlestick," Crawford said. "With Gilman Field being kind of in the shadow of Candlestick, it was kind of the perfect choice. It was nice, especially having a lot of the Junior Giants there and people from the community just thanking me for my help with putting it together. It was fun to be a part of."
The Crawfords also collaborated with former Giant Andrew McCutchen and his wife, Maria, on a "Catch a Cure" clothing line to raise money for the Peckham Center for Cancer and Blood Disorders at Rady Children's Hospital.
Wednesday marked the 20th annual Roberto Clemente Day, which will be held on Sept. 15 in perpetuity in conjunction with the beginning of Hispanic Heritage Month. Clemente, the first Latin American player to be elected to the Baseball Hall of Fame, starred for the Pirates for 18 seasons before he tragically died in a plane crash on New Year's Eve 1972 while attempting to deliver supplies to earthquake victims in Nicaragua.
Giants quality assurance coach Nick Ortiz, a native of Puerto Rico, presented Crawford with his Clemente Award on Wednesday and wore No. 21 in honor of his venerated countryman.