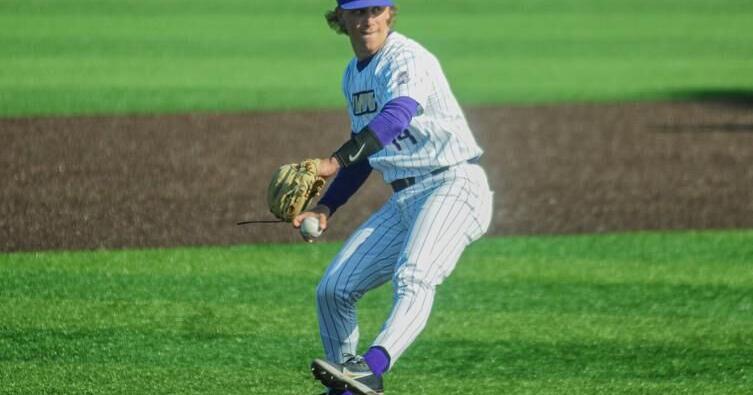 Fielding woes plague JMU, College of Charleston wins opener, 6-3 | Sports
Charleston's recent troubles didn't affect them as they beat the Dukes 6-3 in Friday's series opener. The Dukes (17-11, 4-2 CAA) came into this game strong, winning four of five games. The Cougars (16-12, 4-2 CAA) have dropped three of their last four games. Field issues caused the Dukes to lose today, recording three errors in the game, one of which resulted in a run.
Junior right-hander Ty Good went no-hitter in three innings and was the main catalyst for the Cougars' victory. In his six innings, he struck out two batters and finished with a 4.72 ERA. The Cougars bullpen combined for eight strikeouts.
The Cougars gave graduate right-hander Justin Showalter a hard time in his five innings pitched, who allowed six runs scored before being replaced by graduate left-hander Anthony Piccolino. Showalter finished with a 5.53 ERA.
Charleston opened the scoring with a two-run RBI brace from junior receiver JT Marr in the third inning. He was closely followed by an RBI from redshirt first-year first baseman Preston Hall to take a 3-0 lead over the Dukes through three.
Good's batting absence ended with a single by redshirt junior first baseman Kyle Novak, which was quickly driven home by a two-run homer from freshman left fielder Fenwick Trimble. Charleston quickly responded with another three-run inning, after RBI singles from junior second baseman Joseph Mershon and freshman center fielder Tyler Sorrentino. A solo shot by redshirt junior right fielder Carson Bell was the game's final score.
The Dukes (17-12, 4-3 CAA) meet the Cougars (17-12, 5-2 CAA) again Saturday at 2 p.m.
The score of the box
1 2 3 4 5 6 7 8 9
JMU(R 3 H 4 E 3) 0 0 0 2 0 1 0 0 0
COFC(R 6 H 8 E 0) 0 0 3 3 0 0 0 0 X
Contact the sports office at [email protected] For more baseball coverage, follow the Sports Bureau on Twitter @TheBreezeSports.