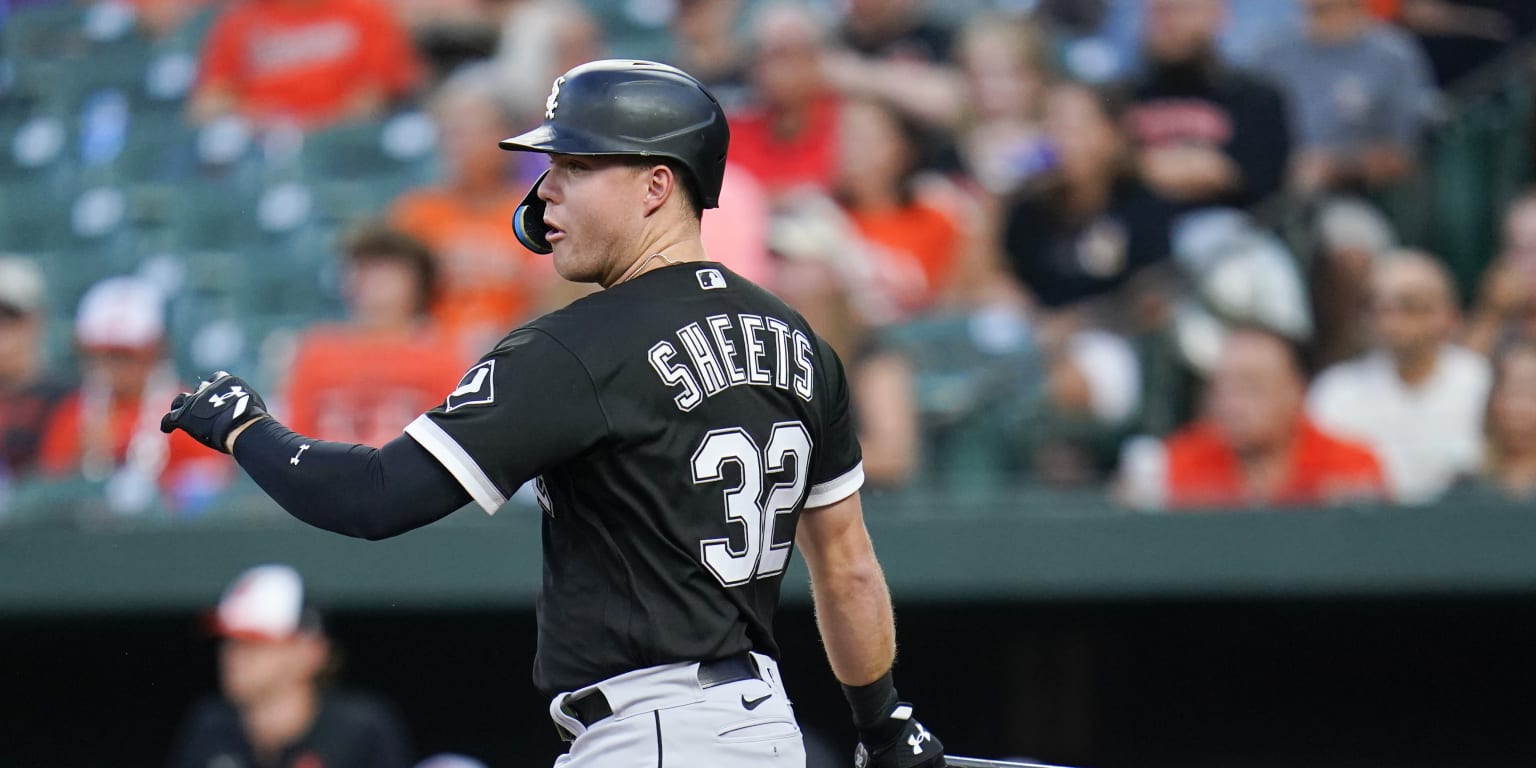 Gavin Sheets went for 3 points in the White Sox's win over the Orioles
BALTIMORE — The good feeling of returning to your home country and playing Major League Baseball in a stadium you grew up in was special for Gavin Sheets.
The 26-year-old White Sox outfielder was born in Lutherville, Md., 15 miles north of Oriole Park, and attended Gilman School in Baltimore. His father, Larry, played for the Orioles in the 1980s.
Sheets' comeback party took center stage Wednesday night in a three-hit, three-RBI clutch performance that — coupled with a rebound outing from No. 1 starter Lucas Giolito — led the White Sox of Chicago to an important 5-3 win over the Baltimore Orioles.
"[To] getting thrown into a big at-bat your first at bat, it's always nice to get us on the board and get things done early," Sheets said. "Furthermore, you give a pitcher like [Giolito] two runs is a long way. It was important to have those runs there and obviously it was good to start the night like that."
Sheets drilled a two-run single with the bases loaded in the first and beat a grounded player at shortstop for a bases-loaded single in the seventh as the contingent of his family and friends from his hometown rose in jubilation.
"My dad sat right behind us so I could hear him throughout the game," Sheets said. "I can see them all over the stadium, especially in right field, I have a group of friends there on that field and [in] these clubs, and a lot at these games. So it's great fun to come back here."
Larry Sheets played for the Orioles from 1984 to 1989, then Gavin grew up watching games at Oriole Park throughout his childhood.
"I didn't get to enjoy it as much last year because it was only my second or third week in the majors," Sheets said. "This year I'm taking it all in, embracing it a little more, enjoying it a little more. Having family and friends here that you grew up with and in the stadium you grew up in is great. ."
Giolito (10-7) was able to get early swings and misses with his elusive blend of slider, changeover and fastball to pitch at least six innings for the 10th time this season. He went 6 1/3 innings, allowing one run on four hits with three strikeouts and two walks.
"I felt a lot more myself tonight," Giolito said. "Like pace-wise, mentally I really broke free and tried to have conviction behind every pitch. Seby [Zavala] does a very good job of sequencing. Maybe he only changed his tone once or twice. We had a good game plan and a good rhythm. Just keep building from that."
Defense was important for the White Sox, especially in the hot corner, where Yoán Moncada made two brilliant plays to prevent extra hits.
After Giolito's exit in the seventh, reliever Kendall Graveman found himself in hot water when he charged the bases while walking Rougned Odor. But Jorge Mateo grounded Moncada, who took third and pitched first for a thrilling late-inning double play.
"Everything on [that play] was outstanding, especially the importance of the two-point game," manager Tony La Russa said. "When he goes to his right, he goes to his right as well as anyone in the league. And he makes that goofy throw as good as anyone. It was huge."
The victory was the fifth time this season that Giolito had pitched six or more innings while allowing an earned run or less.
"I was a bit frustrated because I kind of put us in a tight spot in the seventh and then we had the base-loaded situation, a very close game again, and I was a bit nervous," said- he declared. I'm not nervous when I play, but once I lose that control it starts to kick in.
"You can always count on [Yoán] to get the job done there, Gold Glove caliber third base. Having this clean defense, guys who make routine plays, spectacular plays, that goes a long way. It leads to victory."
Luis Robert suffered a bone contusion during an awkward swing in the eighth. La Russa doesn't think he'll save his talented hitter for the series finale. With a single in the seventh, Robert now has a 14-game hitting streak.
"That's the diagnosis," La Russa said. "It's a bone bruise and you tap it, 'ouch', but it doesn't make it worse. It may still hurt, but it's not like you're twisting a muscle or anything."