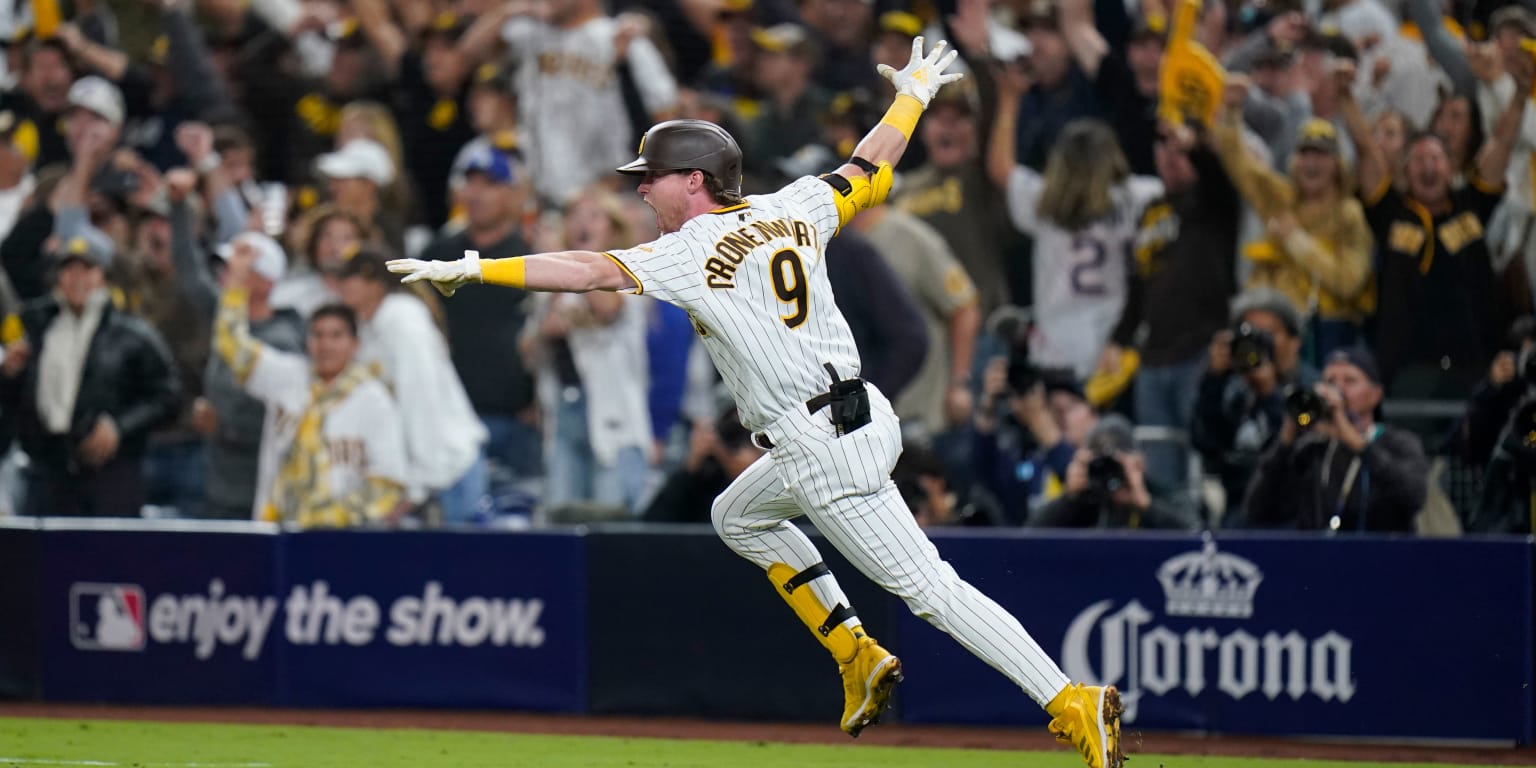 Jake Cronenworth's 2-pass single sends Padres to NLCS
SAN DIEGO — Jake Cronenworth may never have to buy a drink in San Diego again.
Cronenworth's two-run winning left-hander Alex Vesia capped a stunning five-run rally in the seventh inning that propelled the Padres to a wild 5-3 win over the Dodgers in Game 4 of the Division Series. the National League on Saturday night at Petco Park, sending San Diego to its first NL Championship Series appearance in 24 years.
Cronenworth delivered the knockout blow against the 111-win Dodgers, breaking a 3-3 tie with a two-hit, two-out center fielder that brought home the deciding runs and sparked a ruckus throughout the neighborhood of Gas lamp.
"It was amazing to hear the crowd go crazy," Cronenworth said. "Sheer elation."
After being shut out in the first six innings, the Padres' offense finally started to stir in the seventh, thanks in large part to table efforts from the bottom of their lineup. Jurickson Profar walked first and Trent Grisham picked to put runners in the corners for Austin Nola, who clipped a bouncer that deflected off first baseman Freddie Freeman's glove for an RBI single that reduced the Dodgers lead 3-1.
Ha-Seong Kim followed with an RBI brace before Juan Soto tied the game with another single to right field. That brought in Cronenworth, who took over against right-handed reliever Yency Almonte with runners in the corners and two outs. Cronenworth initially showed a bunt before pulling out and taking a 97mph fastball from Almonte for a ball.
After a pitch from Almonte, Dodgers manager Dave Roberts exited the dugout and made a mid-bat pitch change, summoning Vesia to face left-handed hitter Cronenworth.
"I thought they were going to get him in early at bat, just to start batting, but I knew he wasn't ready," Cronenworth said. "It was a little weird. I didn't really know at the time. When [catcher] Will be [Smith] went out to talk to Almonte, I knew they were going to bring in Vesia. I changed my approach and worked in a completely different way at bat.
Vesia inherited a 1-0 count, but tied it at 1-1 with a fastball to the outside corner that was called a strike by plate umpire John Tumpane. Cronenworth fouled another heater to get two strikes before taking Vesia's next pitch for a ball. Soto easily stole second place on the play, moving into scoring position without a Dodgers pitch.
"In this situation, most teams won't throw just because they don't want the winning run to score," Cronenworth said. "Obviously he was trying to bait them into doing something, but they weren't going to pitch anyway. But yeah, coming second was huge.
"It's all part of the strategy," Soto said. "We were ready for this."
Cronenworth moved onto the next pitch, lining up a hanging slider from Vesia down the center to score Kim and Soto and put the Padres ahead by two. The 28-year-old infielder pumped his fist and roared after reaching second base, sparking a rocking celebration at Petco Park.
"Madness," said starter Joe Musgrove. "I can't even explain it."
Padres manager Bob Melvin said Cronenworth's free kick was huge in more ways than one. Had San Diego failed to take the lead, Melvin could have been forced to burn many of his high-leveraged relievers in a tie game, which could have jeopardized his bullpen if the Dodgers rallied. to force a deciding Game 5 at Dodger Stadium on Sunday.
"Being able to take the lead was huge because in a draw, if we end up losing this game, we're going to LA tomorrow with a really beaten bullpen," Melvin said.
Thanks to Cronenworth, the Padres won't have to worry about making another trip to Los Angeles this year. Instead, they'll turn their attention to the Phillies, who they host in Game 1 of the NLCS on Tuesday night at Petco.
"They had our number in the regular season, but we knocked it down at the end of the year," Cronenworth said of the Dodgers. "We're playing our best baseball right now."