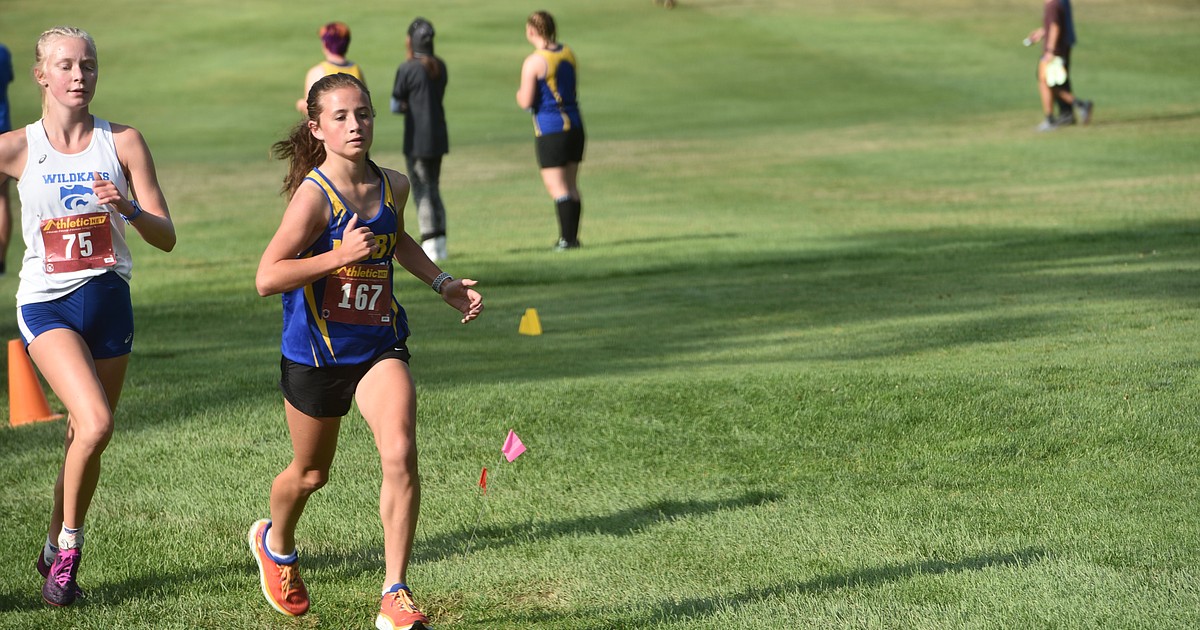 Libby's Cross Country Teams Host Invitational
Libby Loggers freshman head coach Brittany Katzer's summer club and recruiting efforts are paying off in her first year at the helm.
Girls and boys teams field full teams that can score as a team. Katzer said between the varsity, junior and intermediate teams there are 40 runners.
"I'm working on a grant through Flathead Electric so we can get a tent and new uniforms to help us build an identity," Katzer said.
For Katzer, she knows there is a long way to go, but she is already happy with the improvement over last year.
"We set up simple incentives for the kids during the summer program in terms of miles run and they're already running better now than they were at the end of last year," Katzer said.
Katzer enlists professionals in the fields of fitness, yoga, physiotherapy, nutrition, personal training and weightlifting to help runners progress throughout the season.
At Friday's Libby Invitational, sophomore Madison Vincent led the Lady Loggers with a fifth-place finish in 21:01.58. Classmate Bergen Fortner was 25th in 26:08.06, senior Aurora Smith was 27th in 28:03.6, junior Jossalyn White was 31st in 29:42.93, junior Annika Benner was 33rd, sophomores Taryn Greene and Taylor Greene were 34th and 35th respectively.
The Lady Loggers were third in the team standings. Columbia Falls finished first while Class AA Flathead finished second and Browning finished fourth.
On the boys' side, second Rowen Sherbo placed 17th in 18:44.99.
"That's 22 seconds better than his best time at the end of last year," Katzer said.
Senior Gabe Hollingsworth was the Loggers' second-best finisher. He placed 19th in 18:53.83. Junior Greysen Thompson was 26th in 19:36.81, second Wyatt Gregg was 34th, junior Casey Rusdal was 53rd, junior Johnny Shao was 56th and senior Cael Schwindt was 61st.
The Loggers finished fifth in the team standings, ahead of Eureka, Lakeland and Bonners Ferry. Class AA Flathead finished first, Columbia Falls second, Browning third and Bigfork fourth.
Libby returns to action Thursday at Indian Head Golf Course in Eureka. The teams' next and final home meeting will be Saturday, October 1 when it hosts the Wilderness Run. Katzer said the children's race will be part of the event.