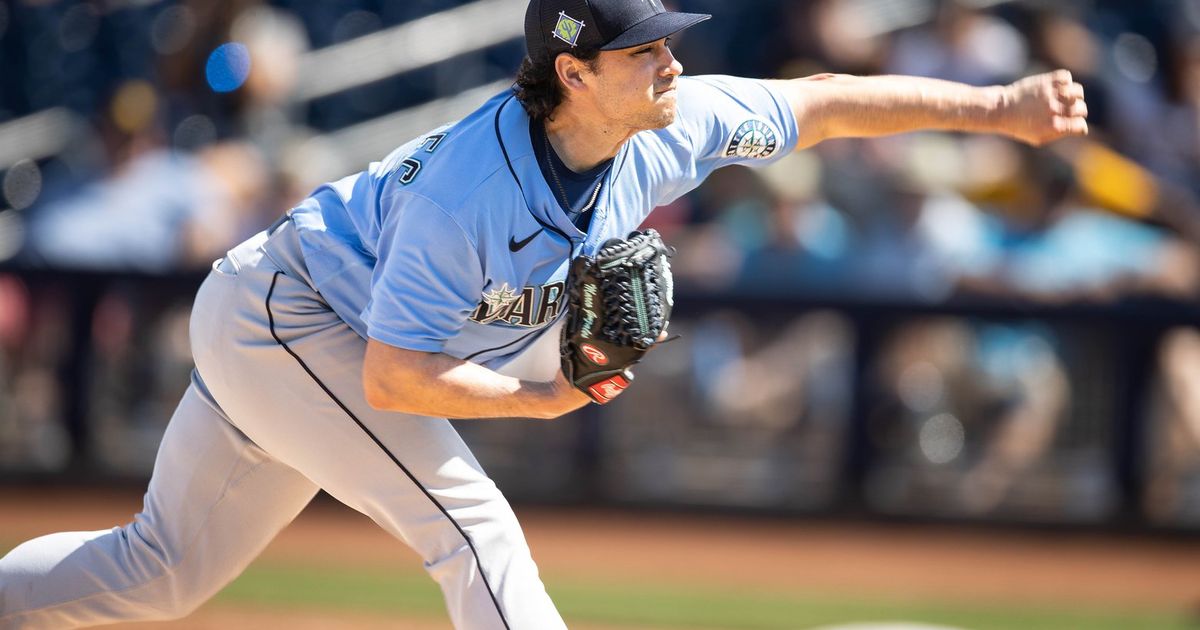 Now that the lockout is over and the Mariners have finally formed a team, what will it look like on opening day?
PEORIA, Ariz. — The irritation in Scott Servais' voice was noticeable as he discussed the situation.
During Wednesday morning's media rally, when asked about a possible roster rule requiring a team to have at least 13 position players and only 13 pitchers, Servais expressed his displeasure.
"I'm not happy about it," he said. "I think it's a horrible idea. And I will say publicly that I think it's brutal; you don't have to tell teams how to make their rosters. I understand why they think of doing it. But especially where we are with a shortened spring to do that, I don't think that's a good idea.
Servais wants to be able to carry 14 pitches and only 12 position players.
"Everyone has DH now, so how much does that extra bench player actually play? Yeah, not a lot," Servais said.
But an additional relief pitcher will get used.
"It changes everything," Servais said. "They're trying to get starting pitchers to stay in the game longer, but you should try to keep people healthy, certainly in April and May."
Saturday morning, Servais was asked about setting up his roster and clarified a few points.
"It has come to my attention that after making the comment the other day, nothing has been set in stone yet with regards to player/pitcher position limits and what the roster looks like," did he declare. "It hasn't been implemented yet. We'll see how that plays out, if it's still up to the teams to build their rosters or if it will be mandated by the league.
If MLB doesn't force the limits, the Mariners will likely go with 14 pitchers — five starters and nine relievers — with just three bench players.
"I just think the value of having the extra pitcher will really help us and other teams," he said. "I suspect other teams will as well. I just don't know if that extra position player has the chance to play too much. Teams that could benefit from that are if you're in the straight peloton in a lot of different places. It's nice to have the extra bat I don't know how many platoons we're going to do in that regard.
Surely MLB's decision-making forces wouldn't make a decision that seems illogical and goes against what's preferred or best for the teams, would they?
Wait, don't answer.
With that in mind, and until a decision is made on roster limits, the Mariners' first projected Opening Day roster will follow Servais' plan of 14 pitchers and 12 position players.
Start spin (5)
Robbie Ray, LHP
Marco Gonzales, LHP
Chris Flexen, RHP
Logan Gilbert, RHP
Matt Brash, RHP
Remarks: Four of the five spots are locked with the addition of Ray and Gonzales, Flexen and Gilbert returning from last season. Jerry Dipoto, president of baseball operations for the Mariners, has said several times over the past week that he would like to add another starting pitcher who could be near the top of the rotation. Possible targets include Oakland's Frankie Montas or Sean Manaea and Cincinnati's Tyler Mahle and Luis Castillo. The price requested in return of prospect will be decisive for the conclusion of a transaction.
Until then or if a trade cannot be made, the Mariners will leave the last spot in the rotation for the competition. Left-handers Justus Sheffield and Nick Margevicius, who have both played in the rotation, will get a preview. But the Mariners will also let their top three starting pitchers – right-handers George Kirby, Matt Brash and Levi Stoudt – compete for the spot. Of that group, Brash is already on the 40-man roster, having been called up for the final week of the 2021 season. Although he hasn't pitched in an MLB game.
All three pitchers will have their inning totals monitored. The easiest way to do this is in the minor leagues. If Seattle wants Kirby available for use in September and possibly in the playoffs, they could pitch him in Class AA Arkansas for the first month of the season.
Enclosure (9)
Ken Giles, RHP
Paul Sewald, RHP
Drew Steckenrider, RHP
Erik Swanson, RHP
Diego Castillo, RHP
Matt Festa, RHP
Yohan Ramirez, RHP
Anthony Misiewicz, LHP
Nick Margevicius, LHP
Remarks: This list does not include right-hander Casey Sadler, who was one of the Mariners' most effective relievers last season. Typically pitching in the seventh or eighth inning ahead of Steckenrider and Sewald, Sadler hasn't allowed a run in his last 29 appearances (27 2/3 innings pitched) of the 2021 season, which is a franchise record. But some shoulder fatigue kept him off the mound this spring. Given the shortened spring schedule, it might be difficult for him to be ready on opening day.
Giles and Munoz, bring two more power arms to the bullpen. Festa has MLB experience and a much improved slider that could come in handy. One thing keeping him from making the bullpen on Opening Day is not being on the 40-man roster.
The last spot in the bullpen will likely go to a southpaw who can throw multiple innings. Margevicius or Sheffield easily fulfill this role. Given his age and past command issues, Sheffield would likely be sent to Tacoma to remain stretched out in the Rainiers' starting rotation.
Voltigeurs (4)
Jarred Kelenic, CF/LF
Mitch Haniger, RF
Jesse Winker, LF
Julio Rodriguez, CF/RF
Remarks: Yes, this showing has Rodriguez, the Mariners' most beloved prospect since Alex Rodriguez, making the opening day roster. No, it's not just based on his lasing off a three-point homer in his first spring batting practice – although that has to be taken into account.
With Kyle Lewis still limited in his activity on the field during practices and not expected to be ready to play on opening day, there is a vacancy for an outfielder. Rodriguez is the best remaining outfielder to choose from based on pure talent and potential. Yes, veteran non-roster invites Steven Souza Jr., who hit a grand slam on Saturday, and Taylor Trammell, the starting center back for the Mariners on opening day in 2021, have more experience. But Rodriguez could improve his composition even better. Moreover, his ability to handle central field duties makes him a logical choice.
If Rodriguez is playing anywhere near his potential this spring, the Mariners should put him on the Opening Day roster and not look back — service time be damned.
So how would they get everyone at bat?
"We don't have an immutable DH," Servais said. "So I want to use that position to spin guys. I feel like we did a good job with Haniger last year. In that sense, Julio, when he shows up, you might have a Kelenic DH day. We played against Jared every day when he was in the big leagues last year because we really didn't have anyone else to put in center field at that time. It just gives you more options in how you work with guys.
Infielders (6)
Ty France, 1B
Adam Frazier, 2B
J. P. Crawford, SS
Eugenio Suarez, 3B
Dylan Moore, Utility
Abraham Toro, Utility
Remarks: This group is pretty well established with Moore and Toro as bench players. Moore can handle the shortstop and outfield if needed while Toro begins to learn a first base.
Seekers (2)
Remarks: The Mariners can't use Torrens as a full-time DH like they did at the end of last season. He'll have to make up games to find playing time. Given his struggles at the plate last season, Cal Raleigh will likely start at Class AAA Tacoma to get daily playing time.