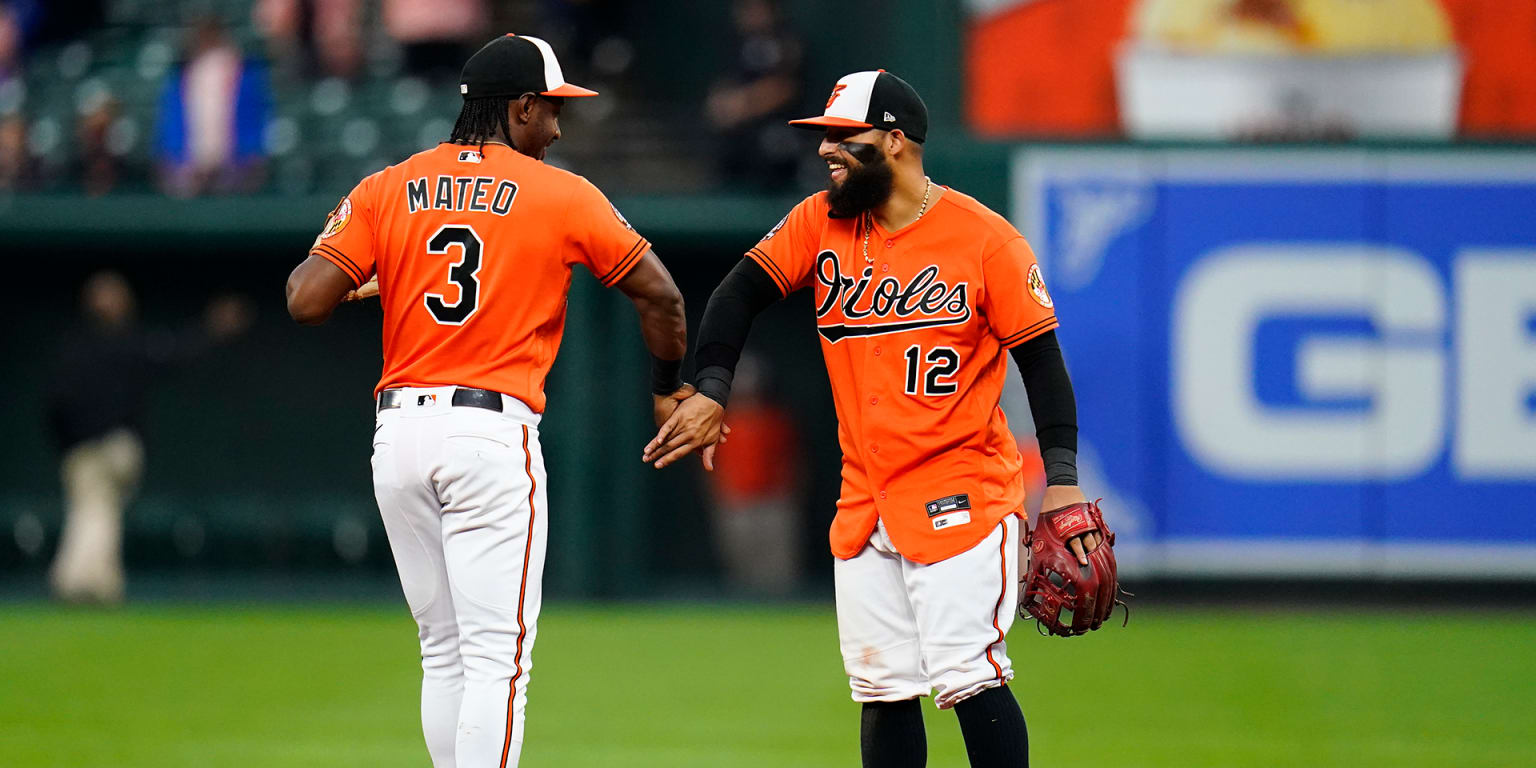 Orioles win seventh straight shutout game against Angels
BALTIMORE — The Orioles have taken the baseball world by storm, this wave of victories unprecedented in recent years and downright unpredictable by league pundits. Still, in the clubhouse and front office as a whole, you won't quite get admission, even if this team is even more exciting.
"I'm not surprised by baseball," executive vice president and general manager Mike Elias said before Saturday's game against the Angels.
Even still, after Saturday's 1-0 win at Camden Yards for Baltimore's unlikely seventh straight victory, the questions about which path the Orioles should take at the August 2 trade deadline are mounting:
• Should they sell, as widely predicted this winter?
• Should they hold on and let the good vibes of this clubhouse shine through?
"Everything I do or we do has trade-offs. And all I can say is that we're doing everything from a very holistic and very thoughtful perspective on what's the right thing to do for the health of the Orioles franchise," Elias said. "It's all factored in for the draft, but also for the trade deadline coming up, and I don't know what's going to happen. What I'm saying is we're looking at everything as we go along. we make those decisions, and we'll see what happens.
This group of Orioles – especially lately – are doing what they can to try to force the issue for progressives. Saturday's victory propelled them to just two games under .500 and moved them within 4 1/2 games of second place in the AL East and 3 1/2 games of last place AL Wild Card in the last outing on Saturday.
They are winning in a way never before seen under manager Brandon Hyde and the Elias regime, achieving their first seven-game winning streak since before the Reconstruction, from August 23-30, 2017.
"It's been tough, because we've lost so many games, it's hard to bring him back every day," Hyde said. "Right now I'm just happy to see smiles on people's faces, honestly. … I just like seeing our guys doing well, really enjoying this time.
"It's something special," said starting pitcher Dean Kremer, who battled his way to five scoreless innings with seven strikeouts. " It was really fun. The only time I had that was in the minor leagues, and it's much better.
While it is known that anyone could be moved at any time, the clubhouse publicly affirms a day-to-day mindset. The players show up at the stadium with a new swagger, only interested in the playing surface.
One of baseball's biggest clichés: control what you can control.
"I don't feel any sort of 'what if?' But we're all professionals and we understand the nature and activity of the game," Hyde said Friday afternoon, after five straight games. "And right now, we're in last place in our division. One day we'll be number one in our division, but right now we're only one foot ahead of the other, and we'll see what happens.
If the Orioles chose to sell, the obvious candidates would seismically change the composition of their clubhouse. The biggest trading chips are Trey Mancini, Anthony Santander and Jorge López. Mancini is the oldest Oriole. Santander is right behind him, here since 2017 as a Rule 5 draft pick. López is an inspiration to the organization, the team's most likely All-Star who has a touching story.
Mancini produced the starting swing on Friday; Santander and López played key roles on Saturday, the former tossing the game-winning single in the fourth and the latter locking down his 16th stoppage of the season in front of 32,286 fans, mostly dressed in Hawaiian shirts.
Orioles may well believe they can produce while selling. Soon, top prospects such as Kyle Stowers, DL Hall and Terrin Vavra will be in the Majors. When they knocked down grab arms Cole Sulser and Tanner Scott for three prospects and a high draft pick, their pitching lab still developed one of the majors' best bullpen to date.
If the Orioles chose to buy, they would almost certainly only do so for younger, controllable players — and pitchers in particular. They have yet to trade a player — current big leaguer or prospect — for another player with extensive big league experience under Elias' management.
Whichever way they decide to shoot at the trade deadline, the 26 in the Baltimore clubhouse – and the countless other support staff, coaches, stadium workers and stadium fans – will be witnesses of the journey to the end. It's already been a whirlwind so far.
"I'm very happy, I'm very encouraged by it," Elias said. "I'm very proud of our players, and I credit them and the Major League coaches with not the results of those games, but the style of play and the level of effort that I think we all see. . … I think we have a lot of good things in store here over the next few years, and I'm very happy that this is being reflected right now during this period of play so clearly for our fans.