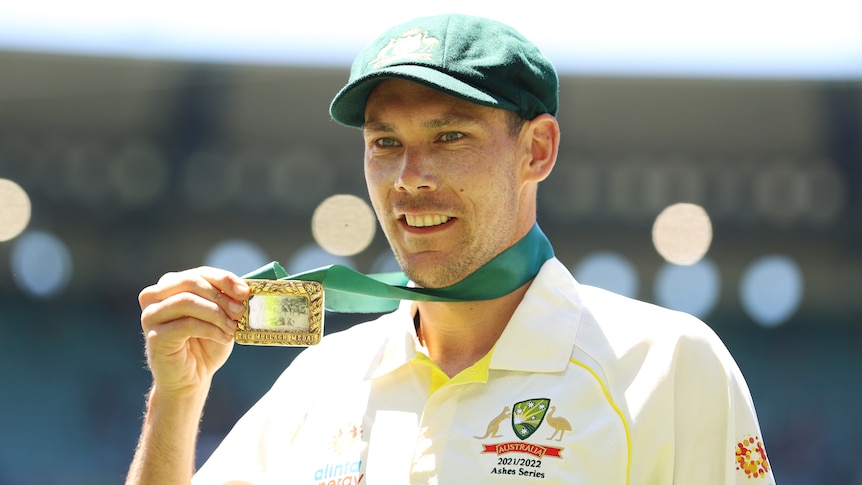 Scott Boland's MCG Ashes debut highlights England's weaknesses with no easy answer
In the pursuit of a cricket team's excellence, few events are more satisfying than a plan that comes to fruition.
On Tuesday in Melbourne, Australian race leader Scott Boland confirmed his selection as an MCG specialist with bowling numbers that might have looked absurd in games at his youthful Parkdale Cricket Club: 6-7 on four occasions for eliminate England for a disastrous 68.
The Dreams start secured Australia a one-set, 14-point victory and gave them an unassailable 3-0 lead in the Ashes. Boland won the Johnny Mullagh medal as player of the match.
Boland became Australia's fourth native test player this week. Her unfailingly consistent bowling has been the cornerstone of Victoria's rise to the Sheffield Shield's best-drilled unit of the past decade.
Boland is normally modest. This week he was received by fans in Melbourne as Merv Hughes' second coming.
Subsequently, Boland said nothing ever happened to him so quickly, but at 32 he put in over a decade of hard work and defied the skeptics who watched his beefy body and the have found displaced in the ranks of first class. In that sense, too, he looks a lot like Hughes.
When Boland isn't playing for Victoria, he's leading his club team, Frankston-Peninsula, perhaps the less glamorous destination in the Victorian Premier competition. Her reception area sits awkwardly on a hill between the loading dock of a housewives center and the tracks of the little-used Stony Point railway line.
In general, this is the kind of club that should attract the best players from the big clubs. Yet in its 20 year history it has also produced two test players.
The identity of the other is a reminder of how intimidating the jumps are between club and Shield cricket, and Shield and Test cricket: Bryce McGain had a scorching international debut and never had another chance.
Boland could now take his chance, and it is a tribute to Australia's first-class system that a marginal player was able to enter the main trial cricket scene so easily, where England's top players have failed so consistently. and so miserable.
Vote now: Boland's debut will be here next time, but what's the biggest Ashes moment of the past 40 years?
Rarely will Boland face a batting team with less steel. England's disastrous collapse at the end of the second day seemed impossible to match. Somehow he was eclipsed by the general embarrassment of the third morning: 6-37 in 16 chaotic overs, the contest ended at noon.
"It is what it is," stammered England captain Joe Root. Waste on an industrial scale, that's what he meant.
England seeks answers to deep unease
Root provided the only relatively normal times of the morning, to be fair. At the stroke of 10:30 am, he sprinted through the middle of the MCG to emphasize his taste for the contest and sent Mitchell Starc to the fence with a pair of superb straight workouts.
It was the kind of clichés you might imagine from reading the tales of Jack Hobbs' art in Edwardian times. Neville Cardus once noted that he had never seen Hobbs play a foul play, and he reportedly wrote the same of Root.
But poor old Neville's famous aesthetic sensibility would have been seriously tested by the sight of other English hitters in this Ashes series. Watching Ben Stokes, Jos Buttler, and Jonny Bairstow surrender their wickets in the morning, you can imagine Cardus falling apart.
It's not just the lopsidedness of the results that makes it so overwhelming for fans of a tie competition – it's hard to imagine anything other than the COVID-19 test results preventing a 5-0 scrape – but the England's gloomy outlook for the future.
Root is the only world-class batsman on this current squad and there is no sign that another is emerging soon.
England's sense of hopelessness could be gauged by the virality of an article published on Monday by Cricbuzz English cricketer correspondent Rob Johnston, who was looking for answers beyond the obvious for the England bat's deep unease.
The usual theories look something like this: England is too focused on white ball cricket, which won them a World Cup but cost them much more; its sewn-in green wickets leave English drummers unprepared for hard, bouncy surfaces like those of Australia; the schedule constraints caused by the stunted formats mean that England internationals play too little red ball cricket.
This latter conclusion has a lot of merit, although its counterpoint is that Cricket Australia has managed to program the Sheffield Shield into mounting slabs that provide crucial match training for test contenders and starters alike.
Johnston's thesis, supported by former England assistant coach Paul Farbrace and a number of English cricket luminaries who republished the article, is that English coaches of all skill levels do not produce hitters with technique or state of mind required in the test arena.
"There are too many original techniques in English cricket. People have become too original and too great," said Farbrace, highlighting issues that could take a generation to resolve.
"You know this idea of ​​hitting the stump, the bats coming down the ravine with three or four moves before the ball is thrown. And there are too many people who don't have the temperament to want to hit for long. long periods.
Coaching in England has gone from instilling the basics in young players to telling them, 'Play your game, play your way.'
If, as Root might say, this is what it is, it's not just England's reputation at stake but the Ashes' primacy.