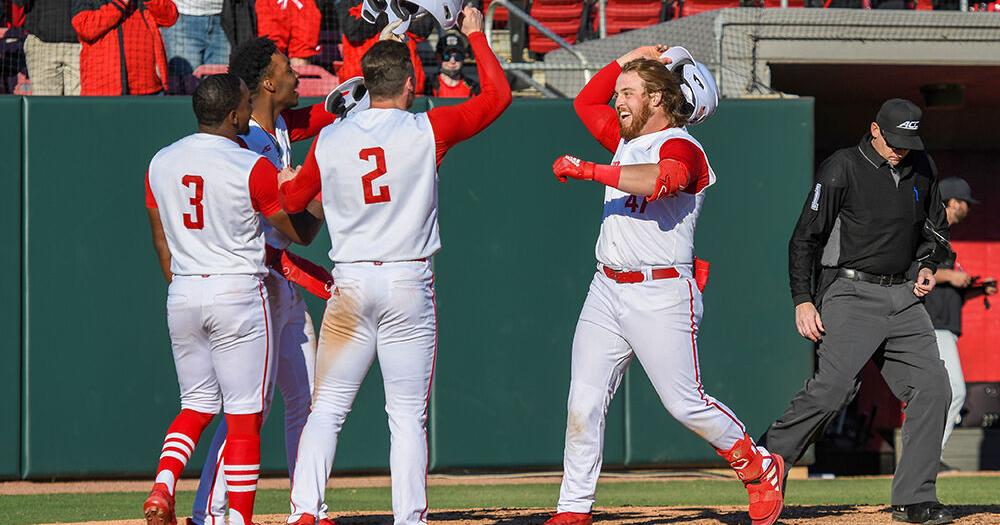 Takeaways from the baseball opening series: White leads the charge for young pack bats | Sports
NC State's No. 9 baseball team swept the Evansville Purple Aces in their season-opening series, outscoring them 37-10. As the Pack9 begin their attempt to return to the College World Series, let's see what NC State looks like so far.
Tommy White is the real deal
Freshman first baseman Tommy White's college debut was arguably the biggest headline in all of college baseball this weekend, let alone the Pack9. White jumped against Evansville at the rate of five home runs, including three on opening day, a total that put him at the top of the national home run rankings.
Don't get me wrong, he's not a case of beginner's luck or a decent power hitter who just does a good job shooting the ball. All five of White's home runs have gone over the fence into center or left field, showing he can use his raw power to line up pitches and drive the ball into the deepest part of the baseball field.
TOMMY TANKS‼️ Safe to say @tommywhite44 is the real deal.B4 | #Pack9 6 Evansville 0 pic.twitter.com/kwW8lXprPI

— #Pack9 ⚾️ (@NCStateBaseball) February 20, 2022
These "Tom Bombs" were also not inflated by an easy opponent. While Evansville isn't an eternal playoff contender, it's still a reasonably strong program, especially early in the year. The Purple Aces eliminated then-No. 12 Georgia on Opening Day in 2021, so White has had to work at least a little for his travels around the bases.
It will be interesting to see how he handles the tougher Pack opponents that await him, especially in conference games. But at least for now, White is swinging the hottest bat in college baseball.
The Pack9 Offense Reloads, Not Rebuilds
White's early success is accompanied by a host of new bats in the Wolfpack line. With seven of the Pack's nine starters turning pro after last season, there were concerns that NC State's offensive output would drop significantly. A combination of promising youngsters and classy transfers ensures there is no shortage of races for Pack9.
Sophomore designated hitter Dominic Pilolli is also going deep off the bat after transferring from UNC-Charlotte last offseason. Pilolli owns the other two Wolfpack home runs by an unnamed Tommy White while producing the second most RBIs on the team.
Redshirt junior third baseman Josh Hood also provides valuable veteran presence with a stable glove and the most doubles on the team. Hood was traded from Penn to NC State after deciding not to sign with the Boston Red Sox, who selected him in the 20th round of the 2021 MLB Draft.
Freshman receiver Jacob Cozart also looks like a promising youngster. Although the hit numbers aren't there yet, Cozart's patient batting leads the pack with four walks. Likewise, second-year right fielder Noah Soles doesn't have eye-popping numbers so far, but he's been providing consistent production in right field as senior fielder Devonte Brown moves to center this season.
The ground must improve
It's easy to point and ogle at NC State's batting prowess and call it a day, but there are a few weaknesses in the Wolfpack's strong overall results. One of the biggest concerns the often overlooked aspect of the terrain. While it hasn't cost the Pack any wins yet, seven errors in three games isn't exactly the best way to start a season.
Although most of this figure can be attributed to early season jitters, there is still cause for concern. In particular, senior second baseman JT Jarrett's two errors during the season are surprising given that Jarrett has been a solid defenseman throughout his career. The small sample size keeps the pack's terrain issues from being too alarming, but this opening weekend anomaly needs to be addressed sooner rather than later.
Bullpen is the main question mark
Field errors can be corrected in practice, but inexperienced relievers at NC State can only improve with more experience. Sophomore left-hander Chris Villaman is virtually the only proven product in the state's bullpen, but he didn't see the pitch this weekend as several youngsters had sea legs on the mound .
Five different Wolfpack relievers took the field on opening day, but none of them pitched more than one inning. The quintet gave up a combined three earned runs in 3.2 IP, but the past two games have provided a more representative sample of NC State's bullpen prospects this season.
The last two games have seen just two calls to the bullpen each by head coach Elliott Avent. The four total relievers combined for two earned runs on four hits in 7.1 innings pitched with seven strikeouts. NC State's very green bullpen will need Villaman and senior southpaw Canaan Silver to take the bulk of relief appearances later in the season, but for now, the Wolfpack are hoarding vital experience for their young arms.
Veterans prepare for the long season
On the other hand of the pitching staff, the Pack rotation is set for another heavy load this season as the bullpen gets its bearings. Sophomore right-hander Sam Highfill faltered a bit in the sixth inning of the opener, prompting Avent to take him out of the game, but that decision was probably more about load management than anything else.
In keeping with that theme of avoiding unnecessary mileage on starters in the first series of the season, sophomore right-hander Matt Willadsen left Saturday's contest in the fifth inning after throwing 94 pitches. Willadsen struggled with his command early in the outing with four walks, but he also kept the Purple Aces to zero on a single hit while striking out six.
Senior left-hander David Harrison finished the weekend in style, pitching seven shutout innings with just four hits allowed, two walks and four strikeouts. With Highfill and Willadsen coming off a long but successful 2021 season, Harrison will need to continue to deepen games for the Pack to succeed on the mound.