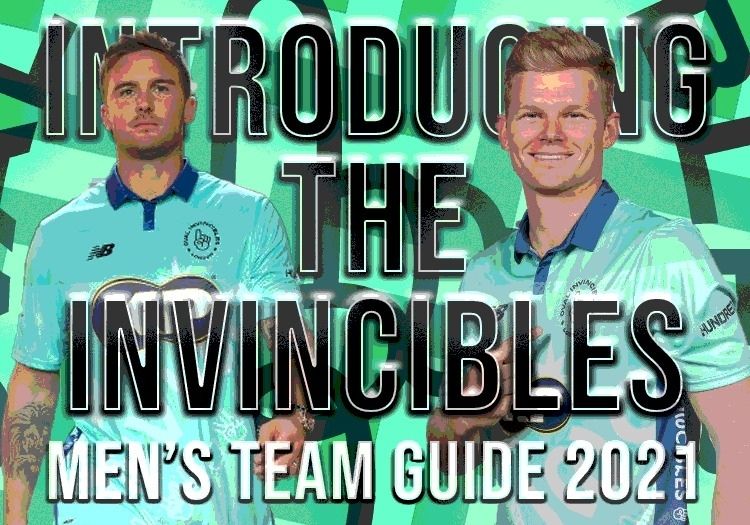 The Hundred 2021: Men's Team Guide
Who are the stars overseas? Where will the games be won and lost? What has changed since 2020? Cricketer dives deep into Oval Invincibles ahead of The Hundred's first season
Coach
Tom Moody: The Australian has extensive experience in a number of coaching roles after retiring from a successful playing career in 2001. Most recently he was a consultant coach in Sri Lanka during their tour to England in 2021. He coached Kings XI Punjab, Sunrisers Hyderabad and Melbourne. Renegades among the other sides of the T20. His six-year stint with the Sunrisers included an IPL trophy in 2016.
Captain: to be confirmed
Overseas stars
Colin Ingram: Ingram, 36, is one of those players that those who don't follow the domestic T20 closely may not be very familiar with, but having last played for South Africa eight years ago. He's been honing his white ball game in England for years – expect the all-rounder to return to his best level of aggression.
Sunil Narine: It wouldn't be a franchise competition without the mysterious Caribbean spinner. Narine has not played a competitive game since the IPL was interrupted and his recent performances are far from completely convincing. Nonetheless, he completes a solid mid-order of allrounders who, in their day, can blow up any side.
Sandeep Lamichhane: Lamichhane, the Nepalese spinner, is only 20 years old and is one of the most exciting talents in cricket. After shining in the Big Bash League, red tape prevented him from getting a visa to play in the current T20 Blast with Worcestershire Rapids, but he has the green light to wow the oval crowd in July and August.
Jason Roy from England and Surrey
english star
Sam Curran: There is an array of English talent out there and it's hard to pick just one to call the star. However, here we will highlight the Surrey southpaw – the local center-contract player who has had a phenomenal international summer so far. After winning the Vitality Player of the Series award in the T20Is against Sri Lanka, he also has over 1,200 points and 100 wickets in white ball cricket to his name – a form he will be eager to replicate on familiar terrain. during the Cent.
Generic character
Jordan Cox: The Invincibles had the second pick with their draft pick. They went for wicket-batter keeper Cox, and it's easy to see why: the 20-year-old has had a successful season with the Kent Spitfires, coming in exactly 300 points in nine innings. With Sam Billings, who is 10 years his senior but has yet to return a negative test for Covid-19, he could be called into action with the gloves on for the opening of the sides. Even though he is the second-choice wicket keeper, he made a strong case to be included in what is already a very strong middle order.
Powerful hitters: Jason Roy. This one, for those following the opener shape, is pretty self-explanatory. The 30-year-old simply thrives in the white ball game, scoring three scores of 30 or more in his last four appearances for Surrey T20, before adding half a century against Sri Lanka – then having to join his teammates in isolation. It is only at red ball cricket that Roy's strike rate is less than 100: even then, he is still over 50. His simple 6,277 T20 runs are a testament to his hard-hitting and dazzling style: something that seems perfectly designed for The Hundred.
Anchor: Rory Burns. Compared to Roy, Burns always knows how to find the limit, but does it just a little less in a hurry. Of course, there are no balls to lose in The Hundred – but Burns' vast experience, from the test team's opening in England to the four-way strike for Surrey, means he's exactly the one the Invincibles will want to guide the team throughout the heats. With a strike rate of 119.66 also in the domestic T20, the right-hander is no slouch to score points when the time comes.
Finisher: There are a number of players on this team who could fill this role. But here we cannot look beyond Sunil Narine. At 33, the versatile Trinidadian is the ace in the Invincibles round with more than 400 appearances in T20 and 2,800 races. After making his international debut in 2009, he beats at a hit rate of 146.10 in T20, something one would expect to replicate – if not better – in The Hundred.
Problem areas: It's hard to identify an area with obvious weakness on that side when you can make an argument for each member of their 17-man squad making any XI. However, that depth can be put to the test with so many English talent that could be blown away by international service – with India visiting for their five-game streak soon, you can expect Sam Curran, Burns. , Roy and Mahmood are forced to leave. The Hundred behind.
Sandeep Lamicchane celebrates playing for Hobart Hurricanes
Bowling
Speed ​​merchants: One can expect the speed of the two Curran brothers. Sam has recently taken most of the spotlight on the international stage, but his older brother Tom enters the tournament after winning four wickets in his last appearance in a competition: what was England's second ODI against Sri Lanka, and after a much less intense fight. season than many of his colleagues, which means he is completely rested. He still has 161 domestic T20 wickets, something that seems to have gone unnoticed given his younger sibling's recent form, but expect Tom Curran and his famous Yorker to return to the limelight as the tournament continues. started.
Variation: Leg-breaking pitcher Nathan Sowter will provide the changes with Lamichhane as the tournament progresses. Despite being Australian by birth, eligibility for a British passport on his mother's side has allowed him to avoid most of the issues that plagued would-be international players in England, meaning he doesn't miss out on of experience on the circuit. Recorded at Middlesex, he was drafted to play across the river and not for the London Spirit. He enters The Hundred after a solid T20 Blast campaign in which he was one of the brightest lights of a bad team season.
Line and length: Reece Topley. The large left arm paceman has suffered injuries throughout his career, but is still widely known for his yorker or inswinger, which he can deliver with the added benefit that his size gives him. With the rotation and national day-long commitments in mind, he might not start in every game, but provide key depth to his squad on their return.
Candidate ten balls above: Saqib Mahmood. After a successful national season in the Blast and County Championship, Mahmood did not wait when the chance to play the ODI Series against Pakistan presented itself. Having nine wickets in the series, he will step into the 100 brimming with confidence – and having played two of the last five overs the last time in the last ODI, Mahmood's bowling game of death is still only in the dark. rise.
Sam Curran in great shape in Sri Lanka's ODI
Fielding / wicket keeper
Gun thief: There is no shortage of talent on the pitch in this team and a player to watch here is Jason Roy as well. The opener is known for his athleticism and frontier creativity, having won highlights while playing in Bangladesh's Big Bash League and Premier League, something he'll want to do again to entertain the local crowd.
Who takes the gloves? : Sam Billings. It's tough, given that a wicket keeper was brought in as a Wildcard pick, but we'd expect Billings to get the nod given his extra years of experience on Cox: but as mentioned below above, do not rule out seeing the two on the same team.
Changes since 2020: The Invincibles weren't hit as hard as some of their rivals by Kolpak's change of status, the pandemic, and the 12-month delay. Rilee Rossouw and Fabian Allen are absent, with Colin Ingram coming. A dozen of the original squad were shortlisted and are set to feature, a group that were joined by Saqib Mahmood, who had previously been with Manchester Originals. Jordan Clark and Brandon Glover also arrived during the window.
Earth: The Oval is delighted to welcome a capacity of 23,500 fans on a field that has a lot to offer for batsmen and bowlers. The ground is known for its rebound, offering something for leaders and any offensive hitter, but the spin is known to kick in, especially if the English summer goes in the right direction and leaves the pitch dry.
Ground sound: The Oval will showcase a range of talent, local artists, such as Oscar Welsh, 18, unsigned. BBC Radio presenter and producer Abbie McCarthy will be The Oval's in-house DJ.
Arrangements:
Team: Sam Curran, Rory Burns, Tom Curran, Reece Topley, Alex Blake, Sunil Narine, Jason Roy, Nathan Sowter, Sam Billings, Laurie Evans, Will Jacks, Sandeep Lamichhane, Saqib Mahmood, Colin Ingram, Brandon Glover, Jordan Clark, Jordan Cox
Possible XI: Jason Roy, Will Jacks, Laurie Evans, Colin Ingram, Sam Billings, Sam Curran, Sunil Narine, Tom Curran, Reece Topley, Saqib Mahmood, Sandeep Lamichhane
Please make sure all fields are filled out before submitting your comment!