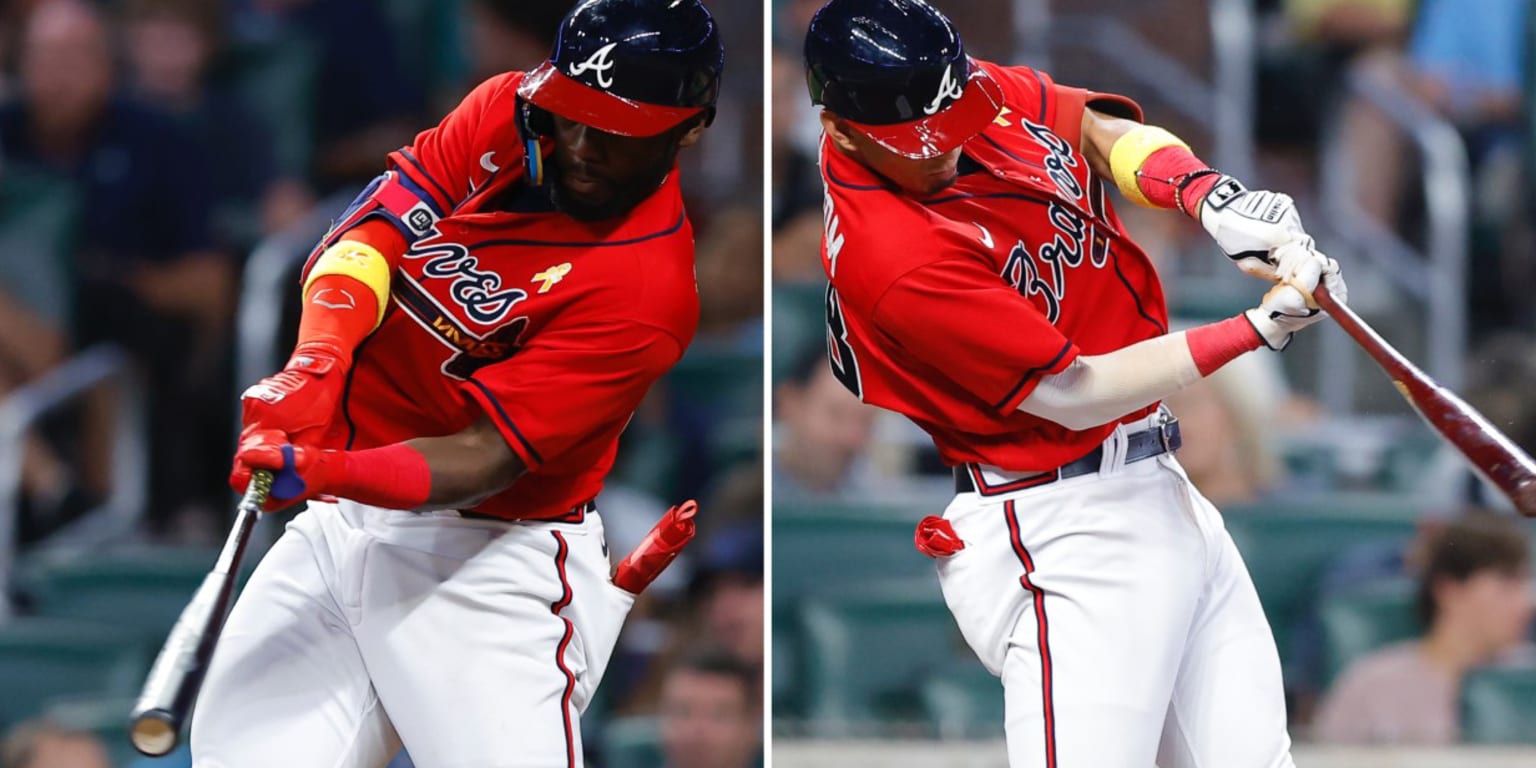 Vaughn Grissom and Michael Harris II a dynamic duo for Braves
ATLANTA — When dynamic duos come to mind, many people think of: Tom and Jerry, Batman and Robin, Mario and Luigi. But the Braves have a young tandem on the scene ready to take center stage again: Michael Harris II and Vaughn Grissom.
"They handled every situation," manager Brian Snitker said. "They're really good, they're comfortable playing, they love competing. You see them both continuing to grow, and they're not a finished product."
In the Braves' 8-1 victory over the Marlins on Friday night at Truist Park, Atlanta scored all of its points on the long ball, hitting several milestones in the process. Travis d'Arnaud delivered Game 6 to multiple home runs of his career, Grissom and Harris threw a pair of two-run home runs and Austin Riley contributed his 34th homer of the season, setting a new career high.
The five home runs — three against National League Cy Young leader Sandy Alcantara — pushed Atlanta past the 200 home run mark for the eighth time in franchise history. With 201 homers this season, the Braves trail the Yankees (205) for the Major League lead and edge the third-place Brewers by 20 jacks.
"We hit home runs," Snitker said with a shrug. "That's what we do. We didn't build [the team] be like that, it just happens to be what we do. We hit a lot of homers, and thank goodness."
Of course, Atlanta fans have come to know and love "Kid Row," the core of youngsters who have their lockers lined up in the Braves clubhouse. Still, Grissom and Harris — who was named NL Rookie of the Month for the second time — stand out for how quickly they adapted to the major leagues.
"It's an unmatched feeling, honestly," Harris said of playing with Grissom. "I mean, we were drafted the same year, [and] we've been together ever since. Together the same year with [the reigning] World Series champions, early [our careers]it's kind of unreal, and we're just living in the moment."
Both were drafted in 2019. Harris was selected with the 98th overall pick and Grissom was selected in the 11th round. They played together for most of their career before Harris was promoted from Double-A to the big boys on May 28. Grissom — now ranked by MLB Pipeline as the No. 1 prospect for the Braves — had to wait a bit longer, but he was called up shortly after Aug. 10, making the same jump from Mississippi. And the two have not looked back.
"I used to ask [Harris] when I was still in the minor leagues, and he just confirmed it to me. I'm just like, 'It's the same game, right?' He's like, 'Same game.' … Yeah, everyone's a Major Leaguer, and they all have their stuff, but we're both here too.
Although Grissom had a smaller sample, the 6-foot-3, 210-pound early performances gave the Braves plenty of reason to keep him in the Majors. Harris, meanwhile, secured his place in the Braves' foreseeable future when he signed an eight-year, $72 million contract on Aug. 16.
Grissom was initially called up to play second base when Ozzie Albies and Orlando Arcia landed on the injured list. But with Albies nearing his comeback, Snitker will need to find a place for Grissom in the roster. The 21-year-old rookie cut .313/.360/.500 with four home runs and 12 RBIs in less than a month with the Braves.
"If they're going to knock, we're going to find them a place to play," Snitker said.
Although Grissom hasn't played in the outfield in his three years of professional baseball, he may soon join Harris. In fact, Grissom received his outfield glove in the mail before the series opener against Miami and received instructions from Braves first base coach Eric Young Sr. to work on some drills.
"I'm a little excited, honestly," Grissom said of the possible move to the outfield. "I'm a baseball player, so I don't think about it too much. Just catch the ball. If you catch the ball, you'll be fine. … At the end of the day, it's just baseball. And if I'm in the outfield, I know [Harris has] got at least 80 percent of the grass there."