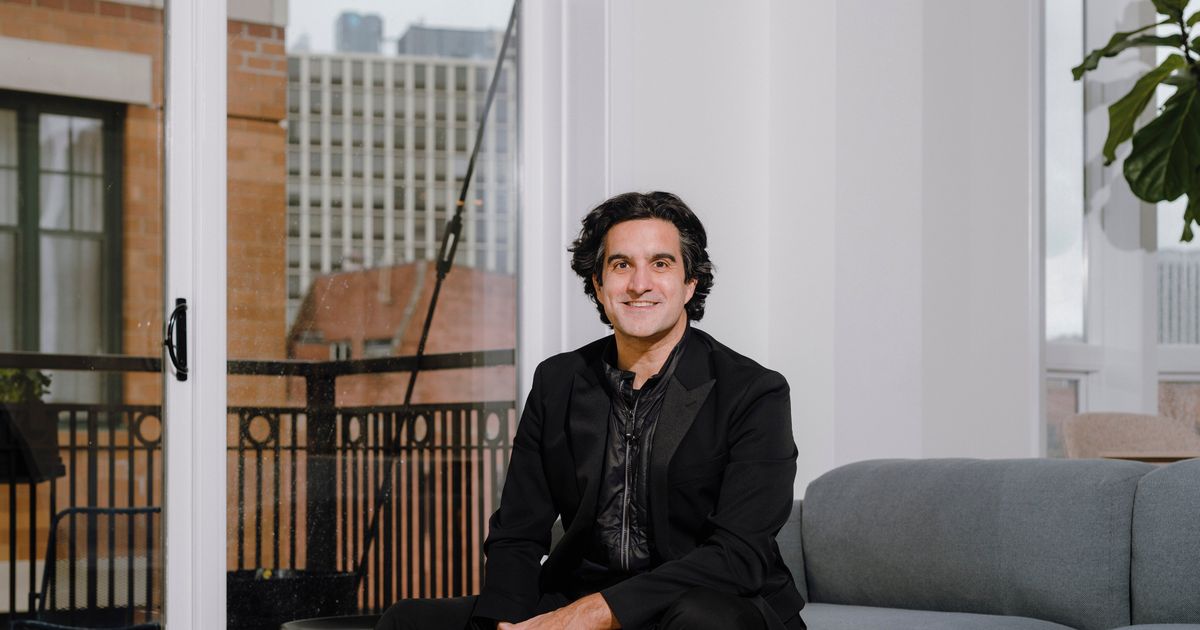 When your boss cries, but you are the one who is fired
If you had told Ryan Caldbeck in his first job that he would one day cry in front of a room full of employees, he might have simply told you – with the characteristic swagger of any corporate worker – that you were wrong.
But somewhere between tumultuous markets and shifting national conversations about mental health, Caldbeck's perspective has shifted. In 2016, he laid off around 15% of his 45-person team at fintech company CircleUp and burst into tears. Now, he says, he shares his feelings more openly with his colleagues. He also sometimes struggles to find the line between buttoned-up executive reluctance and oversharing.
"There was a time when I would go to work, and in a meeting, we would walk around the room saying 'how was your weekend', and I said, 'Oh, I fought hard with my wife,'" Caldbeck said. , 43, who was previously CEO of CircleUp. "Everyone's mouth dropped. I realized that I had gone too far. It was not appropriate. That's not how you show your vulnerability at work.
CEOs have long studied how to deliver good news and bad news. They practiced throwing big ideas and knocking down averages. Now they have a new skill to learn: the art of being vulnerable. Emotional intelligence has landed at the top of the lists of best-selling management guides, such as "Dare to Lead," by Brené Brown, whose books on vulnerability have sold more than a million copies. At the Stanford Graduate School of Business, the most popular elective for years has been Interpersonal Dynamics, more commonly known as "Touchy Feely."
"Business people are socialized to leave their feelings in the parking lot," said Carole Robin, co-writer of "Connect," who taught "Touchy Feely." "There is a generation of leaders now – those who could be the truly promising leaders of the future – who have discovered that in fact it is almost impossible to truly inspire people in the absence of feelings."
So, as companies go through tough economic times, leaders are rushing to let their employees know they're not just empty suits. They are humans, with emotions, which they share on Twitter, in memoirs and in all-staff meetings. But their employees don't always benefit from the results of all that sharing. And, in some cases, they feel compelled to respond to their bosses by giving up their own privacy.
"IMT can lead to more vulnerability than you want," said Robin, who noted the distinction between appropriate and inappropriate vulnerability in the workplace.
Braden Wallake recently laid off two of his 17 employees at HyperSocial, the sales and marketing company he runs. He then took to LinkedIn to post his thoughts. "This will be the most vulnerable thing I will ever share," he wrote.
Wallake, 32, has always had a tendency to be vulnerable, a leadership approach he attributes to podcaster Joe Rogan. He hosts a weekly "winning call" in which employees talk about triumphs in their professional and personal lives. He's traveled the country parking his van in some of his employees' driveways (including, a few weeks ago, at the home of one of the workers he had just laid off). When he started bawling, moments after firing two workers, he couldn't imagine hiding that emotional reaction. He took a tearful selfie for LinkedIn.
"I just want people to see that not all CEOs are cold-hearted," Wallake wrote. "I know it's unprofessional to tell my employees that I like them. But from the bottom of my heart, I hope they know everything I do.
The backlash was quick. The post generated more than 10,000 comments, with many noting that Wallake had highlighted his own grief at a time when his employees were suffering.
"This vulnerability 'you don't know how hard it is for me to fire you all' is something people can please stop doing," said Edward Sullivan, executive coach and co-author from "Leading With Heart".
Nancy Rothbard, a professor at the Wharton School at the University of Pennsylvania who has studied emotions in the workplace, said her research indicated that people are increasingly expecting people to bring their "self complete" at work, prompted by technologies that blur the lines between work and life. Surveys indicate that people tend to prefer segmenting their professional and personal lives rather than integrating them. But often they don't feel like they have a choice.
Julie Brosnan, who works in communications in Washington, DC, recalled preparing for morning meetings with her boss at a previous job, when they covered topics such as: What did you did last night? What did you do Last week-end ? Then the boss talked about her family disputes, her husband and her affair.
Brosnan officials called the staff "family." A worker's business was everyone's business. Brosnan was constantly answering questions about his vacations, his children, and his family life.
"If I was in a PTO, everyone would come up to me and be like, 'Where were you on Friday?' ", she recalled. "If I was like, 'I'm going to the dentist,' they would be like, 'What did you do at the dentist?' Like, I don't know!"
It's a delicate balance. Many executives are relieved that the companies they run don't have the stuffy environments they grew accustomed to early in their careers.
Andy Dunn, for example, who co-founded clothing company Bonobos and now runs social app startup Pumpkin Pie, recently gathered his employees on a video call to tell them about his diagnosis of bipolar disorder, which makes the subject of a book he released this year, "Burn Rate".
"Once I started rolling, I kind of overshared," he said. He hung up and immediately sent a Slack message to his CTO asking if the conversation had been a "disaster."
Yet Dunn found that his own vulnerability prompted his employees to emotional revelations. A person told her that she felt lonely at the current stage of her life.
"Would she say these things to me some other time?" I don't know," Dunn said, adding that he felt his staff took advantage of this openness.
The CEO of dating app Hinge, Justin McLeod, recalled the relief he felt at being completely candid with his staff when the company reassessed its business model in 2016, in the face of fierce competition from Tinder. McLeod laid off half his staff, so he knew he couldn't keep the rest of the team from weathering the turbulence.
"You can water down all you want, but it makes people less confident in leadership," he said.
This summer's economic turmoil has presented a new set of emotional challenges for business leaders. Ariane Goldman, founder of maternity clothing startup Hatch, has tried to strike a balance between shielding her team from her own anxieties while being candid about market downturns.
"It's really a positive thing for your team to understand where you're coming from," she said. "I'm a founding CEO, not just a corporate gun for hire, so I bring that baggage to the table with me."
And with the strength of the job market, some people are realizing that they can seek out the work environments in which they feel most comfortable and leave behind boundary-breaking bosses.
Brosnan, for example, now has a group chat with friends who vent their frustrations about boundaries in the workplace. Some feel that their colleagues are asking too much of them; others feel surprisingly distant from their teammates, especially when interacting with them primarily through video calls. Now Brosnan, who recently started a new job, has finally found a Goldilocks position.
"There's no expectation that I would need to share photos of my child or talk about why I'm on a PTO," she said. "We're not pushing it, but we're open and receptive to hearing about it if you're going through a tough time."