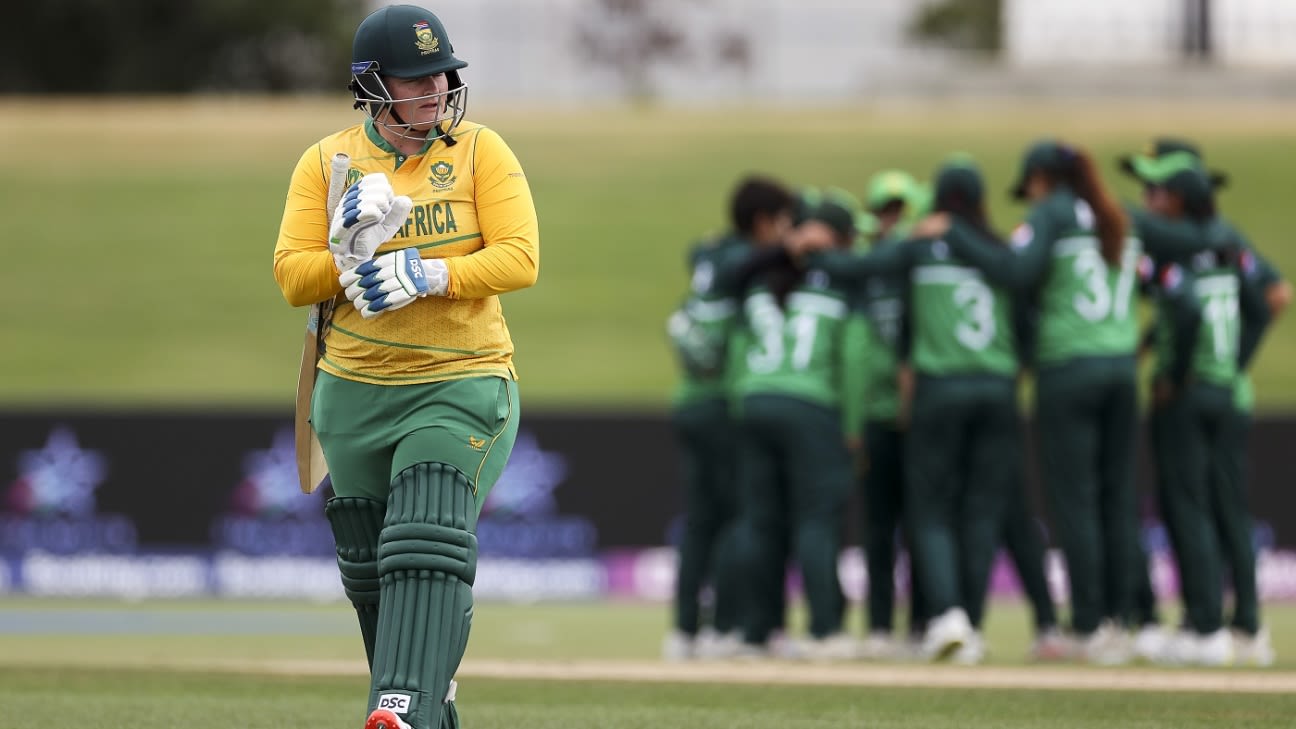 Women's World Cup 2022 – The biggest challenge for South Africa and Pakistan
Characteristic
They may be at different ends of the points table, but there's a common factor that plagues both sides.
More runs, faster is the primary focus for South Africa and Pakistan as the Women's World Cup continues, despite being at almost opposite ends of the points table.
South Africa have the most points, four, and are in contention for the semi-finals despite not playing their best cricket and working hard on what many thought were their two easiest games against Bangladesh and Pakistan. They are yet to score over 223 and none of their hitters have hit triple digits, which other top four teams have already achieved.
Pakistan, on the other side, remain in last place with three defeats in three matches, but have already put up better batting performances than at any other World Cup they have attended. Against South Africa Pakistan recorded their highest World Cup tally of 217 and against Australia both their best partnership – 99 between Aliya Riaz and Bismah Maroof – and their best individual score – 79 of Nahida Khan – but races don't translate into results.
So what's blocking these two sides?
Between them they have played all three matches at the Bay Oval and South Africa have played one in Dunedin, and conditions have been fairly slow at both venues. They also both faced disciplined attacks with strong spin contingents – Pakistan could barely fend off India's Rajeshwari Gayakwad while Australia's Alana King, Jess Jonassen and Amanda-Jade Wellington tied them down – while that South Africa was battling Bangladesh legpinner Rumana Ahmed and Pakistan's Ghulam Fatima. But there are also concerns within their rosters that both want to resolve before the tournament enters its second half.
For South Africa, poor starts became problematic as they had to do without Lizelle Lee in warm-ups and for the opener. In the four matches they played during the trip (two warm-up matches and two in the tournament proper), one of their first matches was knocked out in single digits, which made things difficult for the rest of the training. "One of the things we need is to get off to a better start with the bat," South Africa's opening batsman Laura Wolvaardt said at the post-match press conference. "That's one of the things we'll continue to highlight – to put it in place for people coming in from the back."
Wolvaardt has only been dismissed without scoring once in the four legs she has played in New Zealand and has scored two half-centuries, including her best 75 in the World Cup against Pakistan. She is 13 races away from becoming South Africa's top runner at the World Cups and wants to take on the job of converting her starts. "I was very upset today when I walked out. I get very angry when I feel like I've worked hard but I don't take it through. The way I walked out today t seemed very stupid to me," she said. .
She was fired for 75, on a leading edge when she tried to work Ghulam to the side of the leg, but was too early on the stroke and offered a return catch to the bowler. It sparked a slump which saw South Africa lose three wickets for 10 and tumble to 120 for 5. is just to focus more around the 70s."
Pakistan haven't had the best start either, but hope that will improve when Javeria Khan returns from a groin injury, but are also worried about partnerships. In their two tournament matches before the game against South Africa, only the Mahroof-Riaz position was above 35. Against South Africa, they had a 69-point third wicket between Nahida and Omaima Sohail and a fourth wicket of 49 runs. stand between Sohail and Nida Dar who kept them in the game and Mahroof wants to see more. "We talked a lot about the stick. Today it was good to see Omaima and Nida Dar taking the game deep," Mahroof said. "We thought we could do it and we'll take positives in the next game, especially our partnerships."
What both teams lacked was a sufficient attacking approach at the crucial stages of the game. South Africa identified the opening Powerplay as their downfall. They only scored 29 points in that span. "We didn't show enough intention. We let them play," Wolvaardt said. "As soon as the legpinner came and I used my feet and showed a bit more intention, it became easier. Even if you just show some intention to play with the bowler (it can help). We'll have to find a way to score more points in Powerplay, whether it's spinning better (hitting) or hitting the slower balls across the court."
The opportunity for Pakistan to push harder came as the required fill rate increased and lower order counters decreased. With Dar installed, they could have promoted Diana Baig in order to begin finishing work, but they stuck to their usual roster and when Baig's turn to beat came, in the 47th, he didn't. there wasn't enough time for her to make a winning impact. Mahroof said Pakistan made the decision to keep the roster as it was because 'Nida and Sidra were also playing well' and if 'Nida had stayed till the end I think she could have finished the game' . She conceded that Baig, who hit 13 runs on nine balls, "showed she can score runs for us", but said changing her batting position had not yet been discussed, although it could be before their next game against Bangladesh on Monday. .
It's a game some might expect Pakistan to win given it's Bangladesh's World Cup debut, but Bangladesh beat Pakistan in the qualifiers and could see in this match his chance to win a first tournament. But for Pakistan, this may be the match they are aiming for as the one to claim victory after 17 consecutive World Cup defeats, a streak Wolvaardt expects to break at this tournament. "They've come a long way. Hopefully they can upset later in the tournament. I'm glad it's not against us," she said.
South Africa will also play against England on Monday, who have lost their first two matches and will be desperate to score points.
Firdose Moonda is ESPNcricinfo's correspondent in South Africa