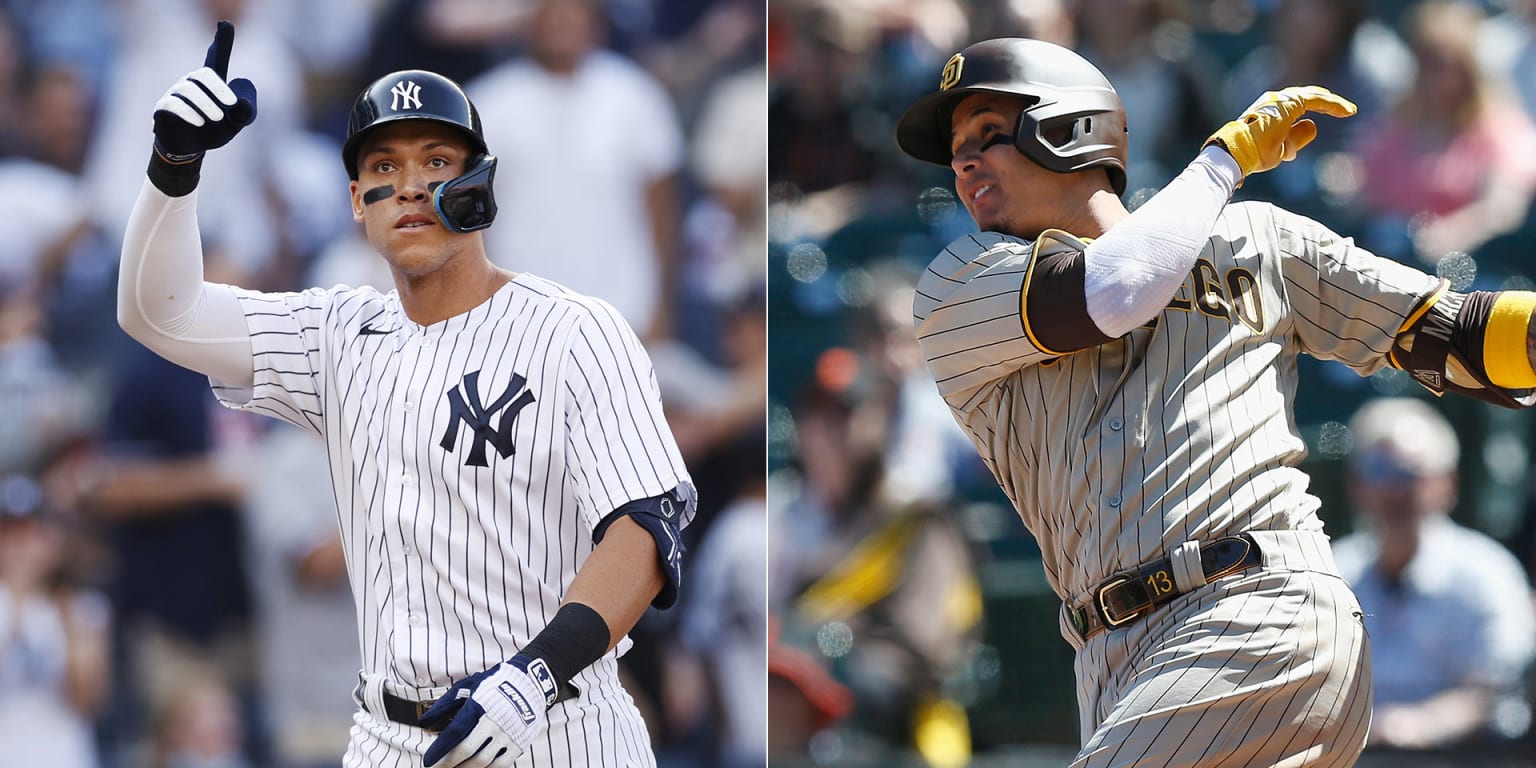 World Series Odds Power Ranking: May 22, 2022
This article was contributed by DraftKings. For more information on sports betting, see DraftKings.com.
Two things we like to do on Mondays: Ranking the 30 MLB teams and talking about their World Series Odds. It's the Monday tradition you didn't know you needed, but now crave. The power ratings have been released and now we'll cut it out with the current odds on DraftKings Sportsbook. Let's go.
New York Yankees
Power Ranking: 1st (last week: 1st)
World Series Odds: +550
The top of the Power Rankings hasn't changed, but the Yankees' chances of winning the World Series have increased. It wasn't a big drop, but the Yankees were at +600 to win it all and are now at +550. Of course, you haven't missed the boat yet, but if the Yankees keep playing the way they do, you WILL be left at the dock. They ended the week on a sour note, dropping both games of the doubleheader against the White Sox, but this team is still on course to win 115 games, which is an insane number. They'll be looking to keep that pace going when they start a three-game series against the Orioles, followed by a three-game series against the Rays. Short of a completely unusual Yankees week, that number is dropping fast, so play your World Series while you can.
New York food
Power Ranking: 4th (last week 3rd)
World Series Odds: +800
This is the first time in the Power Rankings that I think we need to hold them back a bit. Despite losing another major part of their team to Max Scherzer, their World Series odds haven't budged yet. Coming up this week are three games against the Giants followed by three against the Phillies. With the Mets without Scherzer and Jacob deGrom, is it fair to say that this team could soon take a step back? I think it is extremely possible. Looking at this Mets rotation, Scherzer led the team in nearly every category, including innings pitched (49 2/3), K/9 (10.6), ERA (2.54), and xERA (2. 80). Losing him for up to two months would put him on track to return after the all-star break and near the trade deadline (which is scheduled for August 2).
At this rate, I think it's worth the wait to take on the Mets if you haven't already. I think without Scherzer this team could go down a bit, and eventually you'll have at least 10 to 1 for them to win the World Series. This offense is still going to roll, but we could see a closing of their gap in the points differential, which stands at +42 on Monday. Overall, this team isn't as strong without Scherzer, who in some weird way could work to our advantage. Wait for the Mets until you can get a more appealing number.
San Diego Padres
Power Ranking: 6th (last week 8th)
World Series Odds: +1500
Aren't the Padres respected with these World Series odds? As it stands, the Padres are half a game away from first place in National League West and yet hold the seventh-best odds on DraftKings Sportsbook. In fact, they share the same odds as the Braves, who are currently 19-22 with a minus 11 point differential. What a difference in the performance of these two teams, isn't it?
The scary thing is that this Padres team is going to get better. Fernando Tatis Jr. works at the Padres' spring training facility and hopes to be cleared to swing a bat soon. Even arguably their best hitter, the Padres are ninth in runs scored with 185 points. Imagine what this team, which is 27-14, can do with him in the lineup? The 15-to-1 odds honestly seem like a giveaway at this point, especially when you consider that's the same as a team that's currently below .500. As it stands, it's my favorite value on the board and it's not even close.
Toronto Blue Jays
Power Ranking: 11th (11th last week)
World Series Odds: +1000
It's extremely difficult to feel good about this Blue Jays team right now. They haven't budged in our power rankings and are still at 10-to-1 odds to win it all. Right now those odds are better than teams like the Padres, Angels (22-1) and Giants (22-1), who I would say are playing much, much better. It's been so bad for this Toronto offense that during the month of May they were one of the worst performing teams, not only in the American League, but in all of baseball. Would you be shocked to learn that as of Sunday, the only teams the Blue Jays (58 points) have outscored this month are the Pirates and Tigers? Teams like the Nationals, Orioles, D-backs and Reds have all beaten the Blue Jays. The time will come when these odds adjust properly, and I might be back on board. At 10-1, which is the same as the Brewers, I just can't take those chances seriously.
Cardinals of St. Louis
Power Ranking: 12th (last week 12th)
World Series Odds: +3500
The future of the Cardinals arrived this week with Nolan Gorman and Matthew Liberatore making their Major League debuts. Gorman, who was wiping out the Triple-A pitch, was slashing .308/.367/.677 with 15 homers, 23 RBIs and 31 runs scored in 34 games. Liberatore has made seven starts in Triple-A, with a 3.83 ERA, a 10.4 K/9, a 2.7 BB/9 and a 1.1 HR/9. The Cardinals thought both were ready and with a few injuries on the club, it was time. They both quickly made an impact on this team and seem to be here to stay, especially Gorman. He is going to produce high numbers of strikeouts, but that will be worked on in due time. He brings a little essential pop to a team that ranks 19th in ISO and 17th in circuits.
Do I think the Cardinals have what it takes to win it all? Maybe not yet. However, I think they have an extremely strong chance of making the playoffs. Grabbing them at 35-1 is the real key here because, like the Padres, the odds seem too long to ignore.
If you or someone you know has a gambling problem, crisis counseling and referral services are available by calling 1-800-GAMBLER (1-800-426-2537) (IL/IN /MI/NJ/PA/WV/WY), 1-800-NEXT STEP (AZ), 1-800-522-4700 (CO/NH), 888-789-7777/visit ccpg.org/chat (CT) , 1-800-BETS OFF (IA), 1-877-770-STOP (7867) (LA), 877-8-HOPENY/text HOPENY (467369) (NY), visit OPGR.org (OR), call/ text TN REDLINE 1-800-889-9789 (TN), ConnexOntario 1-866-531-2600 (ONT) or 1-888-532-3500 (VA).
21+ (18+ NH/WY; 19+ ONT). Physically present in AZ/CO/CT/IL/IN/IA/LA/MI/NH/NJ/NY/ONT/OR/PA/TN/VA/WV/WY only. Eligibility restrictions apply. See draftkings.com/sportsbook for full terms and conditions. DraftKings operates under an operating agreement with iGaming Ontario. Please gamble responsibly.